AudioControl Maestro M2e Preamp/Processor and Savoy Power Amp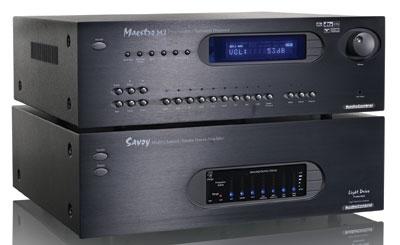 AudioControl is that rara avis, an American company that actually manufactures A/V electronics - carrying comparatively rational price tags - in the U.S. of A. The Washington State firm's roots are in the Pacific North-wet's longstanding pro-audio tradition, but the company is probably best known for its range of widely respected high-end car-stereo gear.
Home theater is a newer segment for the company, but the AudioControl Maestro M2e preamp/processor and Savoy power amplifier are already second- or third-generation designs. (The company also makes a very precise and flexible multichannel equalizer, the Diva, often seen in high-end custom theaters.) Right out of the box, it was obvious that this stack incorporates equal measures of refinement and the fresh-think design I've learned to expect from the AudioControl.
To begin, the M2e has no supplied remote control, on the theory that the owner or designer/installer will choose a universal remote or a media controller - so why throw money away? Complete sets of both RS-232 serial and infrared control codes are printed in the manual and available for download from AudioControl's Web site. And I do mean complete: The RS-232 codes fill four printed pages.
Remote-less though it be, the M2e does arrive with one unusual extra, and it's built right in. Namely, the preamp has a balanced A/V output that can send HD component-video (up to 1080i), along with bitstream digital audio, to components up to 300 feet away. The connection is made through a single run of conventional, easily hidden CAT5 cabling, similar to other "balun" systems now finding favor with installers. AudioControl offers both in-wall and freestanding destination-end boxes, either of which adds about $300 to the the pre/pro's price.
The Savoy power amp, too, is less than entirely conventional. It employs Class H circuit topology, a layout where a multi-voltage "smart" (or at least, less-dumb) power supply can achieve more than double the efficiency of the conventional Class AB design used in most amps, thereby running much cooler. Consequently, the 7 x 150-watt Savoy is almost precisely the same size as, and only modestly heavier than, the M2e.