AudioControl Maestro M2e Preamp/Processor and Savoy Power Amp Page 3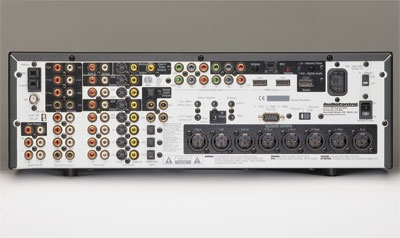 I found no cause for complaint on the music side of the equation either. Here, too, the Savoy amp demonstrated huge dynamic reserves - there's no substitute for power if you want to listen to natural-dynamic music at lifelike levels - as well as the finesse to bring top-shelf multichannel recordings to life. The Maestro pre/pro incorporates all the usual surround-mode suspects: Dolby Digital/EX/PLII/x and DTS/ES/Neo:6 in all their interesting varieties, plus a handful of DSP modes for two-channel playback. Of these, "Music," which is pure ambience-extraction without reverb or delay manipulations, is probably the most musically valuable. There's also a "Mono" mode that will please classic-film buffs by mixing all content to the center speaker and the subwoofer, thus improving the perceived intelligibility and dynamic range.
Ergonomics The lack of a supplied remote control for the Maestro means that, as a practical matter, everyday ergonomics are really up to you (or your installer). For starters, AudioControl does make available at extra cost a version of Universal Remote's MX-500, a popular OEM remote, preloaded with the M2e IR codes. These codes are also available on the company's Web site in Philips Pronto CCF format, which worked fine with the Pronto TSU9600 touchscreen controller I had on hand. Serial (RS-232) control is the real shiz, however, since the Maestro's serial-command set is more extensive and more flexibly programmable.
AudioControl was good enough to throw in a sample of its BVR-25 active-balanced receiver - an in-wall destination-end for the component-video balun output built into the Maestro. (The BVR-25 fits a standard wallbox; as noted earlier, there's also a tabletop variant.) This actually handles four signal "legs"; since component video requires only three, the fourth carries bitstream digital audio from the selected source to bring PCM, Dolby Digital, DTS, or whatever to the remote system. (Alternatively, you can use this line to phantom-power the BVR-25.) I used a 50-foot CAT5 cable to link our family room to my listening studio, jacking the BVR-25 into the small system residing there. (I also strung along a plain two-wire cable for an IR remote receiver to send commands back to the home system's HD cable box.) The extension worked perfectly: I tried hard to see any meaningful effect on cable-HD and 1080i Blu-ray video, and couldn't. The digital-audio feed also worked fine. And in the great-minds-think-alike department, while I was finishing this report, AudioControl introduced a new range of external balanced video-extender components that incorporate IR/serial-control send/receive, built right in.
Bottom Line If ever there was one, the AudioControl Maestro M2e preamp/processor and Savoy power amp combo is a system for the custom-installed, customer-tailored home theater - whether the tailor is a paid professional or a serious DIY-er. AudioControl's separates may not be the most up-to-the-minute in HDMI-handling or onscreen graphics. But their superb video and audio - and the Maestro M2e's near-limitless control-access and balanced-video expandability - will recommend them anywhere that serious home theater is spoken.
Full Lab Results Test Reports RSS Feed More Test Reports Back to Homepage What's New on S&V
LATEST VIDEO