AudioControl Concert AVR-1 A/V Receiver Page 2
Associated gear for this review included five Paradigm Reference Studio 20 v4 speakers running full range, a Panasonic DMP-BD35 Blu-ray player, Luxman PD-289 turntable, Shure V97xE cartridge, and Bellari VP530 phono preamp. All movie demos were Blu-ray Discs.
During the review period, the Class H amp ran no hotter than a conventional mid- to top-line model. However, I should note that a couple of times, the receiver wouldn't accept commands from the front panel or remote. Full powering down, then up (a cold reboot, in computer terms) fixed the problem.

Adventures with Dolby Volume
With the Matrix boxed set that recently landed in my slush pile, I expect to be spending a lot of time with Keanu Reeves over the next few reviews. As a 21st-century viewer, I noticed the now-retro details in the films, such as direct-view PC monitors and clunky cell phones. I recall that the original DVD, with Dolby Digital 5.1, was memorably uncomfortable for its ridiculous dynamic swings, especially during the final act's over-the-top ballistics. When I re-auditioned it via the Dolby TrueHD Blu-ray version, I got four minutes into the movie before I switched on the Dolby Volume Cinema mode (there's also a Music mode). The relief was immediate.
However, it needed a further adjustment. Dolby Volume can be used at a range of compensation levels from low to high. At the lowest listening level, for instance, I'd crank up Dolby Volume's leveling control all the way to maximize the circuit's sophisticated yet powerful dynamic range compression. Since I was listening at a moderate level, I needed to back off the leveling control. The need became apparent in a disco scene, when Dolby Volume hiked the background music relative to the dialogue, and it seemed quite loud. I backed off the Dolby Volume leveling control by about a third and chose the sixth increment out of a possible nine.
This brought a comfort level that satisfied me for the remainder of the movie. Dialogue was always clear, yet the more aggressive effects didn't become too oppressive. Dolby Volume didn't inhibit the effectiveness of such inspired touches as water streaming down a tall building's courtyard from the surround channels to the front, or the slow-mo trajectories of bullets dodged on a rooftop.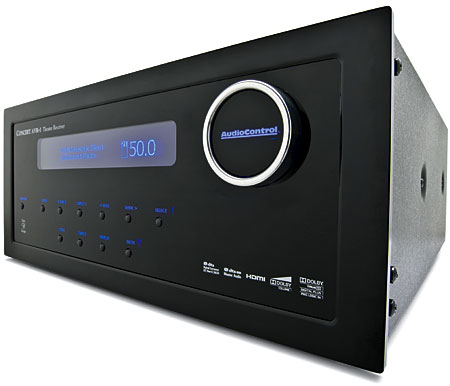 Horsemen is only slightly hobbled by its old-style Dolby Digital soundtrack. Once again, superior source material thrives even in an aging surround codec. Effects like a truck roaring from surround right to front left, or a car from surround right to front right, were no less pleasing for being obvious. The ambience of a church was quietly impressive: The AudioControl could conjure a large soundfield. Bass impact was good.
I inadvertently started Bride Wars in Dolby Volume, but I switched it off five minutes into the movie. It was a good thing I did. Unlike the majority of movie comedies—which are most often mixed like TV sitcoms—this DTS-HD Master Audio soundtrack offered occasional dynamic swings. Sudden loudness was well suited to a dance romp and a subsequent strip-club scene. When I turned on Dolby Volume for a moment, I found that both scenes were much less effective even with a moderate level of compression.
Guitars and Then Some
Live at the Key Club must have been a memorable performance by the California Guitar Trio, here augmented with an ace rhythm section with Tony Levin and Pat Mastelotto. I wasn't there, but I was struck by the raw immediacy of the CD, which starts loose-limbed and goofy and eventually turns spellbinding and awesome. Drummer Mastelotto—whose recorded work barely hints at his live power—got his cymbals mixed low to avoid crowding the trio's delicate shallow-bodied guitar sound and tight ensemble playing. The receiver was scrupulous in its delivery of this carefully layered mix. With some elements unpredictably leaping into the surround channels, stereo was the best choice of listening mode. Also, unlike many receivers, this one is stereo-worthy.
A Proper State marks Leon Rosselson's 75th birthday and 50th anniversary as a steadfastly contrarian singer/songwriter, often polemical but always witty and wise. Judging from the suppleness of his voice, he must be a nonsmoker. The AudioControl produced a convincingly holographic image of his distinctively nasal voice and threw in a flattering touch of warmth. It was like having Rosselson singing in my living room. The ambience changed completely for the final anthem, sung by the Sheffield Socialist Choir. In this piece, the mix swaps spatial precision for a more musically appropriate blending of voices, which was quite moving in the Dolby Pro Logic II Music mode. Unlike a lot of receivers, this one didn't seem prone to significant timbral shifts when I switched between DPLII and stereo, so most musical selections sounded equally good either way.
The vinyl version of Schubert's Trio in E-Flat—as recorded for Columbia/Sony by the Istomin/Stern/Rose Trio—was close-miked with relatively little reverb. Even without spatial sweetening, it emerged full, warm, and rounded (partly an effect of my Bellari tubed phono preamp). And it maintained that feel even when Schubert, following the example of Beethoven, pushed his impassioned melodies to dynamic extremes. The loud moments didn't harden, and the soft moments were audible even with the windows open and street noise. Given impeccable analog source material, this receiver can bear witness to miracles.
This product's four-figure price tag may raise an eyebrow among hardheadedly practical home theater buffs. But those who want surround implemented to audiophile standards will welcome the way AudioControl's Concert AVR-1 deals with challenges as disparate as The Matrix and a Schubert piano trio delivered through an all-analog signal chain. This receiver does everything worth doing and does it right.