Atomic Blonde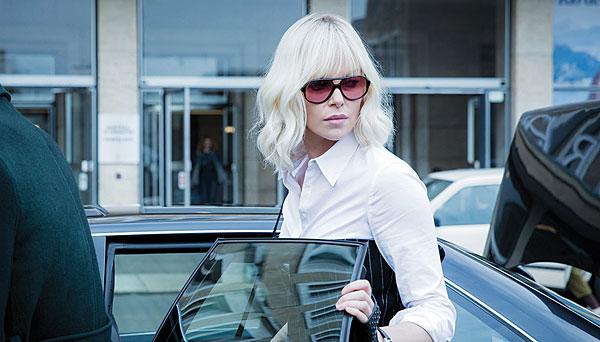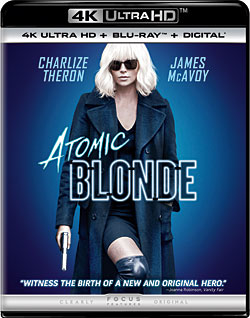 Atomic Blonde was shot on Arri Alexa M and Arri Alexa XT Plus cameras with Hawk V-Lite Vintage 74 lenses at 2.4K resolution. The anamorphic 2.40:1 production used a 2K DI and was done in Dolby Vision; it also arrives on 4K Ultra HD in a 2160p encodement from Universal with Dolby Vision HDR (HDR10 compatible). Although it's upscaled to 4K, it's the extended color gamut and dynamic range that really make the image stand out. The '80s retro look and the neon pop may border on kitschy, but they do look glorious here. There's strong shadow detail, superb detail without any flaws, and a fantastic range of colors (check out the right-hand corner of the screen and the skyline when James McAvoy is running to dive into the manhole near the Berlin Wall at night).
Atomic Blonde receives a DTS:X soundtrack (compatible with DTS- HD Master Audio 7.1) on Ultra HD. The height channels add a lot of spaciousness, and the mix is superbly balanced. The low end is big enough to rattle some floorboards, but it never seems overwhelming. The complement of era-appropriate rock songs really adds a lot of punch.
Given that this is Leitch's first feature film, it's unsurprising that the most interesting special feature is the nearly eight-minute "Anatomy of a Fight Scene," which dissects the bloody sequence at the center of the film. Other features include a commentary with Leitch and editor Elísabet Ronaldsdóttir, and "Welcome to Berlin," which provides some interesting historical perspective about Berlin during the waning days of communism. A Blu-ray Disc and UltraViolet and iTunes Digital Copies are also included.
Blu-Ray
Studio: Universal, 2017
Aspect Ratio: 2.40:1
Audio Format: DTS:X / DTS-HD Master Audio 7.1 core
Length: 115 mins.
MPAA Rating: R
Director: David Leitch
Starring: Charlize Theron, James McAvoy, John Goodman
David Leitch is known mostly as a stunt coordinator on big action films like Tron: Legacy, but for Atomic Blonde he steps behind the camera as the big man in charge to direct an adaptation of the graphic novel series The Coldest City by Antony Johnson and Sam Hart. The movie is fairly dripping in neon and '80s nostalgia. Charlize Theron stars as sexy Cold War MI6 agent Lorraine Broughton, tasked to go into East Berlin and work with embedded station chief David Percival (James McAvoy) in order to find a sensitive dossier known as The List as communism is on the verge of collapsing and the Berlin Wall is literally about to crumble. Things go sideways the minute she lands and is made an agent by the Soviets. It's a visually stunning film that takes place all on the surface, but things break down if you try too hard to follow the plot line.