Aquaman
Aquaman
takes us back to the origin of reluctant amphibian hero Arthur Curry (Jason Momoa), and then to the present for a grand new adventure. We are introduced to men who would be king (including an angry challenger to the throne) and a hidden realm far beyond our own evolution. To keep things interesting, there's a high-tech pirate on our hero's tail, and a fellow Atlantean (Amber Heard) at his side who sports a shock of crimson hair worthy of The Little Mermaid. (Actually, there are a lot of pretty awful wigs in this movie.) It's a testament to
Aquaman
's brisk pacing and nigh-overwhelming spectacle that I didn't realize how derivative the story is of so many a comic book opus before it—most obviously
Black Panther
—until the end credits.
Warner's Ultra HD disc is dazzling demo material from start to finish. The scenes of Atlantis are the product of pure, unbridled imagination, like a fantasy painting brought to life and teeming with nuances that demand to be viewed on the biggest available screen. (A 3D version is also available and it's probably a jaw-dropper.) The aspect ratio shifts between 2.4:1 and an IMAX-friendly 16:9. Dolby Vision high dynamic range does wonders fleshing out tiny specks of light in the darkness of submerged cityscapes, as if we, too, have been given Arthur's Aqua-vision. The transfer's excellent use of wide color gamut also helps bring out fine points like the range of pink hues in Nicole Kidman's complexion, and the romantic hues of a sunrise.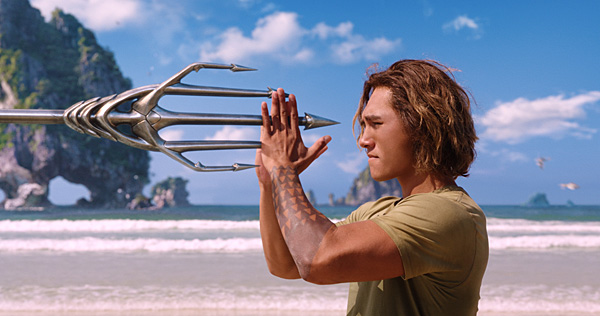 The disc's Dolby Atmos soundtrack is likewise a winner. Wild, action-filled set-pieces are plentiful, with frequent off-screen cues, dynamic movement across the soundstage, and generous use of bass. The underwater sound design is like nothing I've ever heard: a trippy yet convincing blend of atmospheric gurgle and phase-y voices. Atmos overhead activity is bounteous as well, with the air-breathers' world serving up serious weather and the occasional flock of seagulls.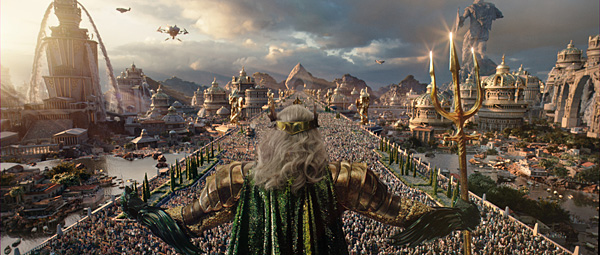 Bonus content is located on the included regular Blu-ray disc and includes a multitude of featurettes, some offering genuine insight. A 4K Movies Anywhere digital copy with the same extras is also provided.
ULTRA HD BLU-RAY
STUDIO: Warner, 2018
ASPECT RATIO: 2.40:1/1.78:1
HDR FORMAT: Dolby Vision
AUDIO FORMAT: Dolby Atmos with TrueHD 7.1 core
LENGTH: 143 mins.
DIRECTOR: James Wan
STARRING: Jason Momoa, Amber Heard, Willem Dafoe, Patrick Wilson, Nicole Kidman, Yahya Abdul-Mateen

Set mostly after the events in 2017's Justice League,