American Made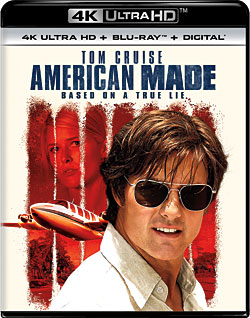 American Made was shot in 2.8K resolution on various Arri digital cameras and arrives on 4K Ultra HD in an HEVC 2160p encodement framed at 1.85:1 with HDR10 high dynamic range. The overall image could easily pass as being shot on film thanks to what are apparently some excellent film grain effects added in post-processing. The implementation of HDR on this film is the first I've seen that's geared more toward playing up the vividness of the color palette than the pop of the highlights, and there are only a few moments when the latter comes into play. Compared with the also-excellent Blu-ray, the colors here are almost psychedelic, fitting for a film that starts out in 1978.
American Made gets a pretty solid DTS:X immersive mix on 4K Ultra HD. It's not as aggressive as some other mixes, but it's full of atmosphere. The overhead channels are used judiciously to help with the sound of airplanes flying overhead, and they spread out the sound of the period musical track. Low end is beefy, while dialogue comes through plainly.
American Made isn't overflowing with must-see special features, but there are a few that are entertaining, all located on the Blu-ray Disc. Top of the list is "The Real Barry Seal," in which Seal's son reminisces about life with his father while old family photos and movies meander by. There are also six deleted scenes with optional commentary. Universal packs this set with a Movies Anywhere Digital Copy, allowing you to watch the film digitally on practically any device across multiple providers, including Vudu, Google Play, Amazon, iTunes, Fandango, and the Movies Anywhere service itself.
Blu-Ray
Studio: Universal, 2017
Aspect Ratio: 1.85:1
Audio Format: DTS:X
Length: 115 mins.
MPAA Rating: R
Director: Doug Liman
Starring: Tom Cruise, Domhnall Gleeson, Sarah Wright
The dramedy action film American Made from director Doug Liman (Swingers, Edge of Tomorrow) is based on the true story of airline pilot Barry Seal (played here by Tom Cruise), who in the late 1970s was recruited by the CIA to become a drug runner for the Medellin cartel in Central America. Seal eventually became a key figure in what would turn out to be one of the biggest political scandals in the following decade, the Iran-Contra "gate." While this might sound like heavy material, American Made is far from a heavy film. Liman and screenwriter Gary Spinelli infuse the story with a major dose of comedy, giving it more of a "Big Short with action" feel. Cruise slides right into the role of rapscallion Seal with charisma to spare, while Liman's direction is taut and quick-paced throughout.