Almost Famous
Almost Famous
is Crowe's love-letter depiction of his early/ mid-1970s zeitgeist years spent as a geeky teenage scribe desperately trying to act cool while seeking to chronicle the true essence of rock & roll and life on the road.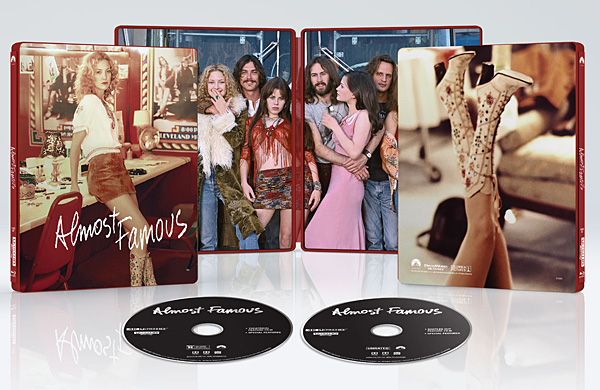 In a vibrant two-disc 21st anniversary Steelbook edition, the film's A/V palette takes even more of a starring role in Ultra HD on both the Theatrical Version (Disc 1) and Bootleg Cut (Disc 2). Almost Famous maintains the requisite dingy look native to most of-era arenas and hotels; note the shadows and murk that permeate the Ice & Vending Room at the infamous Riot House on the Sunset Strip when budding guitar guru Russell Hammond (Billy Crudup) and ever-eager young writer William Miller (Patrick Fugit) talk shop. Beauty and light also get their due, especially during a particularly radiant sequence with Penny Lane (Kate Hudson) dancing alone to her own internalized rhythms long after the audience has left a Cleveland venue. The sheen of a beer-soaked but well-lacquered floor is counterbalanced by crimson-red cups and off-white debris strewn all around the wistful, pirouetting Penny like so many crumpled mini-pylons.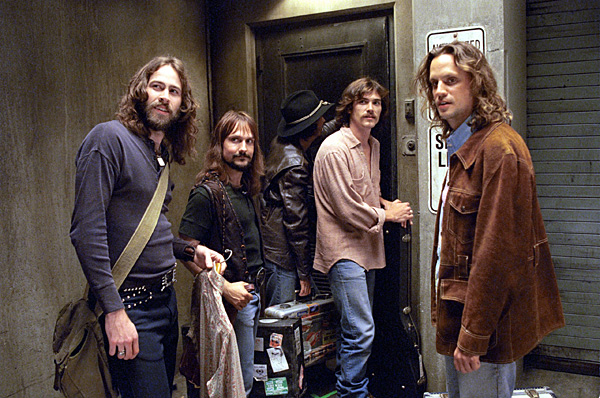 As for the sonics, the tour bus scene with all occupants singing "Tiny Dancer" in unison remains as feel-good a full-channel moment as you remember. Meanwhile, the lone distortion-pushing and subwoofer- challenging in-flight sequence will surround you at full volume when the fictional band Stillwater and their put- upon crew think their plane is going to crash and reveal their deepest, darkest secrets at the literal moment of truth— revelations they instantly regret once the plane regains altitude.
A cavalcade of extras dubbed "New Releases" buttress the previous "Greatest Hits" bonus material to further support Crowe's stated desire for this collection to have "the feel of a bootleg box set." Besides a guest-laden commentary for the Bootleg Cut, Disc 1's "Rock School" shows how Stillwater practiced getting their chops up to snuff for performing live on camera—proving that "Fever Dog" is the best Americanized Led Zeppelin track that never was.
ULTRA HD BLU-RAY
STUDIO: Paramount, 2000
ASPECT RATIO: 1.85:1
HDR FORMAT: Dolby Vision, HDR10
AUDIO FORMAT: DTS-HD Master Audio 5.1
LENGTH: 123 mins. (Theatrical Version); 161 mins. (Bootleg Cut)
DIRECTOR: Cameron Crowe
STARRING: Kate Hudson, Patrick Fugit, Billy Crudup, Jason Lee, Frances McDormand
As someone nicknamed "Almost Famous" by the road crew of a band I've been embedded with on scores of their North American tours over the past two decades, I can attest firsthand to the accuracy of every backstage moment seen on unadulterated display in director/screenwriter Cameron Crowe's film of the same name. Indeed,