All Quiet on the Western Front
After several Hollywood adaptations for both the big and small screens, Edward Berger is now the first German director to adapt his countryman Erich Maria Remarque's anti-war novel All Quiet on the Western Front. Here, Paul Bäumer (Felix Kammerer) is a young German man who finds himself caught up in the patriotic fervor of World War I Germany and, along with his friends, enlists in the military to fight. Upon arriving at the Western Front against France, Paul and his friends are confronted with the reality of trench warfare, which is vastly different from the glory they imagined.
Like Sam Mendes' 1917 and Steven Spielberg's Saving Private Ryan, Berger's film does not shy away from the visceral violence of war. Despite the severed limbs, dead bodies strewn across the battlefields, and muck-ridden soldiers, the film saves some of its most forceful scenes for the quieter moments when the men are having a rare moment of peace. One scene in particular—after our group has stolen a turkey from a local French farmer and now share the best meal they have had in what feels like forever—shows humanity's will to survive and find joy even in the harshest of circumstances.
A subplot that does not appear in Remarque's novel has been added to the film, that of the military and political officials trying to negotiate a détente. As things begin to look like they may finally turn around, the war-hungry military is determined to get as much killing in as it can before any ceasefire. I laud this as an example of modifying the original source for the better as it serves to underscore the story's message of the futility of war. Remarque's anti-war theme and the notion of an impossible peace still strike a resonant chord today just as it did upon the book's publication almost a century ago.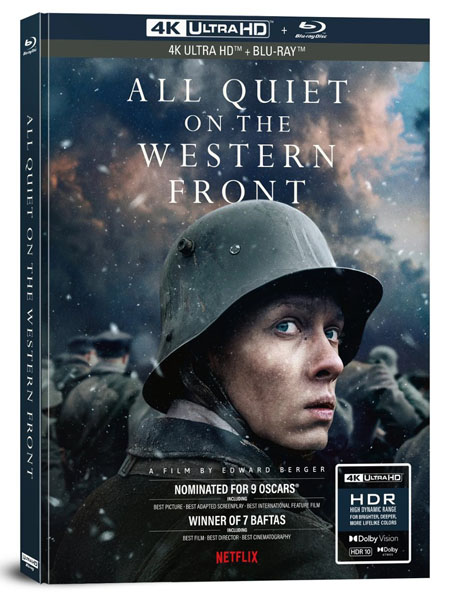 All Quiet on the Western Front is a visually and aurally stunning masterpiece that drives its point home brilliantly. The movie was shot on a variety of Arri, RED and Sony digital cameras in 6.5K and 4.5K and is brought to 4K Ultra HD disc from a 4K digital intermediate framed at 2.39:1 in a HEVC 2160p Dolby Vision encodement. The image leaves nothing to be desired and is a noticeable improvement over the Netflix 4K stream. We get a clean, crisp image with extended depth of field and textures in clothing, dirt, and skin that look tactile. The Dolby Vision high dynamic range supplies brilliant pop in the colors that stand out against the desaturated palette of the battlefield and trench warfare scenes. Elsewhere, we get dimensionality and dazzling specular highlights in lamplight and explosions. This is most definitely a reference video release.
MPI provides a German Dolby Atmos mix (an English dub is included in DTS-HD Master Audio 5.1) that is staggering, dynamic and bombastic almost from the get-go. If you want to hear and even feel what it might have been like to be in the trenches, then this mix will supply that experience. Overhead speakers carry an abundance of atmospherics, the boom, boom, boom of shells hitting overhead as soldiers shelter in the dugouts, in addition to the swell of Volker Bertelmann's Oscar-winning score. The surround channels do a lot of work as well, with whirring bullets, yelling voices and more. There is also great balance as the mix effortlessly goes from the loudest moments to mere whispers. As with the video, the audio here is also reference-quality, ready to show off any home theater sound system.
The first thing we can't help but notice about this premium edition release is the beautiful "mediabook" packaging, which contains a booklet full of original production stills and an interview with Edward Berger, "Sharing the German Perspective." On disc, the bonus content includes an audio commentary from the director, a "making of" featurette in 4K and three trailers.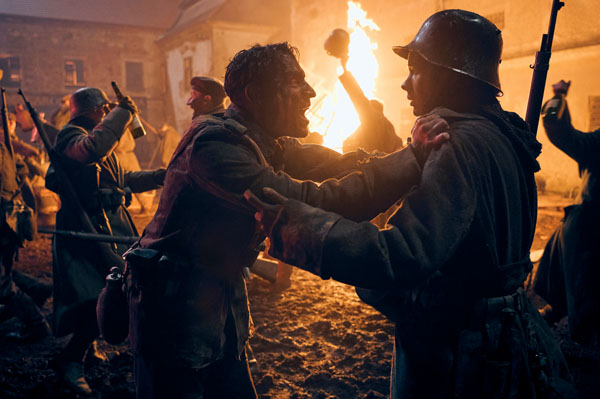 Ultra HD 4K Blu-ray
STUDIO: MPI, 2022
ASPECT RATIO: 2.39:1
HDR FORMATS: Dolby Vision, HDR10
AUDIO FORMATS: Dolby Atmos with TrueHD 7.1 core (German)
LENGTH: 148 mins.
MPAA RATING: R
DIRECTOR: Edward Berger
STARRING: Felix Kammerer, Albrecht Schuch, Aaron Hilmer, Daniel Brühl, Moritz Klaus, Adrian Grünewald