Alita: Battle Angel
Alita: Battle Angel
, the long-awaited film adaptation of the Japanese cyberpunk manga series,
Battle Angel Alita
, ran extremely high, no doubt due to the high-profile names involved in its production. Co-written and co-produced by James Cameron and directed by Robert Rodriguez, it stars Rosa Salazar as cyborg-warrior Alita, with supporting performances by past Academy Award recipients Jennifer Connelly, Mahershala Ali, and Christoph Waltz.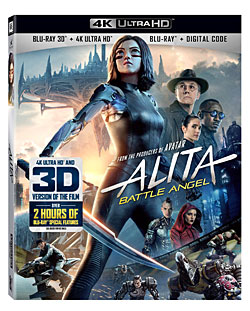 This 3-disc package from 20th Century Fox includes 4K Ultra HD, Blu-ray 3D, and regular Blu-ray versions of the film. The 4K UHD disc features both Dolby Vision and HDR10+ and looks excellent. My video setup supports Dolby Vision and colors were especially rich and well-suited to the dark, moody atmosphere of the film's cyberpunk world. The underground battle between Alita and Grewishka features inky black shadows, and the fine details apparent in Grewishka's armor and weapons provided a realistic sense of depth. CGI backgrounds looked hyper-real, while live action elements such as the faces of actors were also incredibly detailed. I enjoyed the overall look of the 4K UHD presentation, but the juxtaposition of live-action and CGI components was sometimes distracting and not as seamless as I would have liked. The standard Blu-ray also looks very good, but it clearly lacks the wider color range and increased contrast of the 4K UHD disc. The 3D version benefits from a nearly constant sense of depth in every scene, but as with all 3D Blu-rays, suffers from reduced brightness compared to even the standard Blu-ray.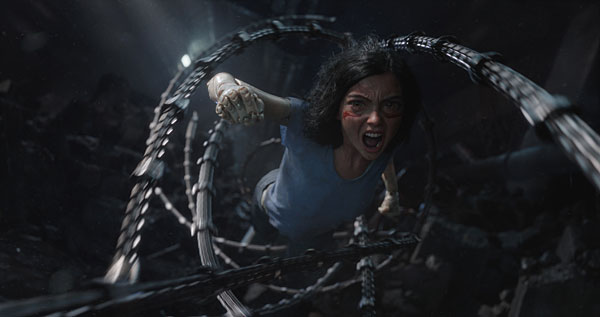 The 4K UHD version of Alita features an outstanding Dolby Atmos mix. Many of the battle scenes exhibit impressive deep bass and massive dynamics. While there aren't constant surround and height effects to fully envelop the listener, they are used effectively in a scene where Alita engages a hulking Centurion robot to save a stray dog, with the booming stomps of the Centurion's footsteps seeming to originate from all directions. Another demo-worthy moment came during the first Motorball tournament in chapter 14, where sound effects seem to explode out of every speaker.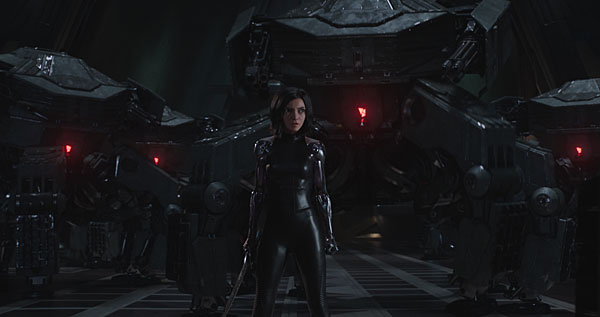 Along with the three Blu-ray versions of the film, there's a code for a digital download. Over two hours of special features are present on the regular Blu-ray disc and provide insights from the filmmakers and actors plus background technical information. One highlight is a scene deconstruction demonstration that allows the viewer to switch between original live action, animation stage, and final versions of four scenes.
ULTRA HD BLU-RAY
STUDIO: 20th Century Fox, 2019
ASPECT RATIO: 2.39:1
HDR FORMAT: HDR10+ and Dolby Vision
AUDIO FORMAT: Dolby Atmos with TrueHD 7.1 core
LENGTH: 129 mins.
DIRECTOR: Robert Rodriguez
STARRING: Rosa Salazar, Christoph Waltz, Jennifer Connelly, Mahershala Ali, Ed Skrein, Jackie Earle Haley, Keean Johnson
Expectations for the release of