The 20th Century's Greatest Hits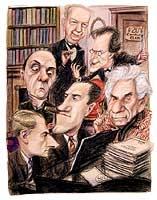 Tune in a classical FM radio station or attend a symphony orchestra concert, and chances are you'll hear very little music composed after 1900. That this music is still perceived as "difficult" or "unmelodic" - or as invariably "atonal" - is a shame because the 20th century was as fertile as any of the more popular eras that preceded it, and much of its music is just as accessible and enjoyable. The century that gave us Puccini's Turandot, Gershwin's An American in Paris, and Bernstein's West Side Story alongside Stravinsky's The Rite of Spring and Berg's Wozzeck can't be fairly characterized by such monolithic generalizations.
For anyone who wants to put together a first-rate collection of modern and postmodern music, I've selected recordings of key works, primarily orchestral, by some of the most important 20th-century composers. Each of these composers played a part in defining the sound of that tumultuous, fast-changing, fascinating period. All of the selections are stereo CDs that were available as this issue went to press. Excellence of the recording, the performance, and the music itself were the criteria for my choices - in fact, many of the recommended recordings are sonic spectaculars that will let a good music system show what it can do. And many of the selections are budget- or midprice releases (although price was not why I chose them).
Before we get to the composers most strongly identified with modern music, let's take briefer looks at a few other composers who wrote important works in the 20th century while holding fast to older traditions.
Edward Elgar(1857-1934) and Ralph Vaughan Williams(1872-1958) raised British music to world-class status for the first time since Purcell and Dowland in the 17th century. Elgar is best known now for his smaller works, like the Pomp and Circumstance marches, but Vaughan Williams left us nine symphonies that rank among the century's finest. Elgar: Introduction and Allegro; Serenade; Elegy; Sospiri. Vaughan Williams: Fantasia on a Theme of Thomas Tallis; Fantasia on "Greensleeves." London Sinfonia, New Philharmonia, Barbirolli (EMI). This is a great collection of small gems, particularly the gloriously elegiac Introduction and Allegro and the serenely beautiful Tallis Fantasia. lVaughan Williams: Symphonies Nos. 8 and 9. London Philharmonic, Haitink (EMI). Two of his very late works are superbly performed in this brand-new recording.
Giacomo Puccini(1858-1924) inherited the tradition that reached its summit with the late works of Verdi and went on to write some of the most popular Italian operas ever. Turandot. Nilsson, Corelli, Scotto, others; Rome Opera, Molinari-Pradelli (EMI, two CDs). This is the most exciting recorded performance of his last opera.
Scarred by the political upheaval in Russia, Sergei Rachmaninoff (1873-1943) never found an artistic home as fertile as his native land after his self-imposed American exile in 1918, but he became famous for his piano concertos and for his own virtuoso playing. Piano Concerto No. 3. Argerich, RSO Berlin, Chailly (Philips). The concerto that was abused in the movie Shine is brilliantly performed and very well recorded here. Symphonies Nos. 1-3; The Bells; Symphonic Dances; The Isle of the Dead. Concertgebouw Orchestra, Ashkenazy (Decca, three CDs). These melodious, wonderfully orchestrated works, written from 1895 to 1940, receive excellent, idiomatic performances.
Many of the composers featured below were also steeped in older traditions. But their innovative tonalities, rhythms, forms, and materials opened new paths for classical music.
---