2011 Top Picks of the Year
It's always a blast around here to take a look back and see which of the hundred or so components we've reviewed in the last year really rose to the top. Of course, the best of these end up on our Top Picks list, but like watching a good movie whose message or performances resonate in the days and months that follow, there are always a few pieces of gear that prove themselves to be just a little more special over time. Sometimes it's because of a notable advance in technology. Sometimes it's sheer performance. Sometimes it's incredible value. Whatever the reason, all of our Top Picks of the Year have a little something else going for them, and they deserve special recognition for making our year more interesting and fun. If it's true that we live for this stuff at Home Theater—and we do—this is the stuff that stuff is really made of. The picks reflect the 2011 calendar year. —Rob Sabin
HDTVs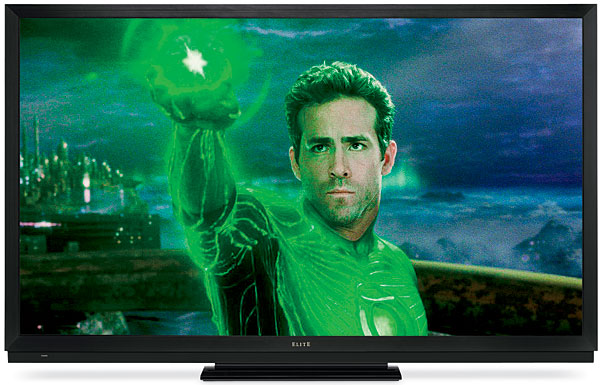 Elite PRO-60X5FD 3D LED LCD HDTV
$6,000, elitehdtv.com
If there's one word that best describes this amazing HDTV, it's breakthrough. Sharp licensed the respected Elite brand name from Pioneer and proceeded to build the world's finest LCD HDTV, giving us the first of that ilk that can hold a candle to our beloved but gone-from-the-market Pioneer Elite Kuro plasmas. Super-deep blacks and ultra-high contrast (thanks to a superb local-dimming backlight) combine with accurate color, über-crisp detail, and the best flat-panel 3D we've seen to prove once and for all that, given enough money, LCD technology has the chops to make grown videophiles weep.
Panasonic Viera TC-P50ST30 3D Plasma HDTV
$1,300, panasonic.com
Not surprisingly, Panasonic once again put out the year's best everyman televisions, and its top-of-the-line TC-P55VT30 got our highest marks for performance. But we loved the scrappy little ST series, Panny's entry-level, 3D-capable model, for delivering most of the VT's performance at a ridiculously low price. Come one, come all—it's hard to find a situation where you can't recommend this stellar value.
Projectors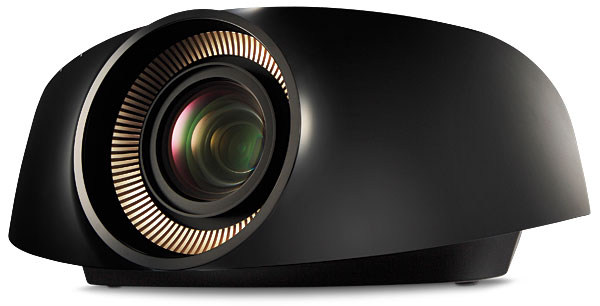 SONY VPL-VW1000ES 4K Projector
$25,000, sony.com
As of this writing in late December, our review of Sony's VPL-VW1000ES isn't even complete; the preproduction sample we reported on in our February 2012 issue and on the Web wasn't set up to deliver 3D, and we're awaiting a full production unit. But we'll go out on a limb here, based only slightly on Sony's bold play to bring 4K resolution to the consumer in a relatively affordable (for 4K) package. Rather, this honor is issued mainly for the truly breathtaking 2D image we saw in our studio on a big, 115-inch screen from scaled, high-quality Blu-ray transfers. The total elimination of visible pixel grid from anywhere beyond a foot or so away from the screen surface, and the apparent sharpness of the ultrabright image, allow for an almost mesmerizing up-close viewing experience. Anyone who thinks the extra detail of a 4K display can't have noticeable impact with 2K content hasn't seen one in action. We'll reserve the right pull back if our new sample falters in some significant way, but for now, we'd be hard-pressed not to appoint this a Pick of the Year.
JVC DLA-X7 3D D-ILA Projector
$7,999, jvc.com
Year after year, JVC has consistently delivered state-of-the-art black levels and features at very reasonable prices in its LCOS-based D-ILA projectors. At $7,999, the DLA-X7 throws reference-quality 2D and 3D images and provides flexible setup options at a cost that's two to three times less than some of its competition. Its replacement, the DLA-X70R, is now available with the company's new 4K-upscaling e-Shift feature and other improvements for the same price. We'll be evaluating it soon, but in the meantime, JVC gets our 2011 kudos for another great projector anyone on our staff would be happy to own—and some do.
Speakers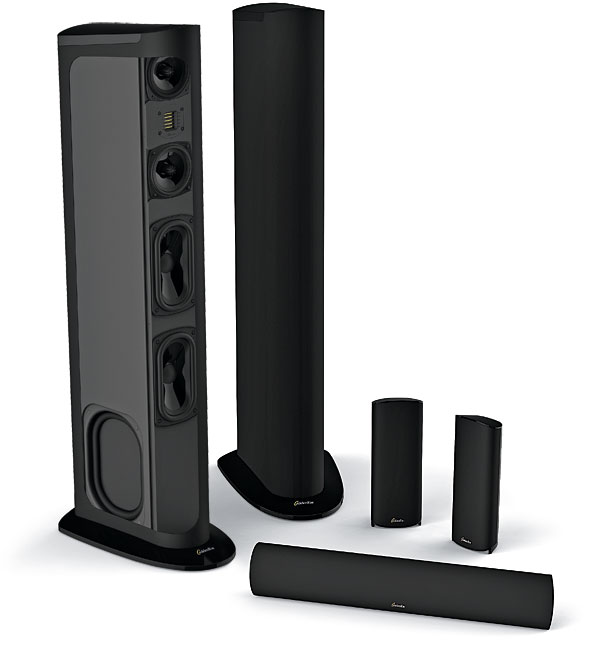 GoldenEar Technology TritonCinema Two Speaker System
$3,500 goldenear.com
Sandy Gross, cofounder of Polk Audio and Definitive Technology, set out with his new company, GoldenEar, to deliver high-end sound quality at a price any serious audiophile could afford. He succeeded wildly in this debut speaker system, and the arrival of the TritonCinema Two became an audio highlight of the year. A built-in, powered woofer and attractive form factor make them more welcome in your living space than some traditional boxy towers, but the real secret is the High Velocity Folded Ribbon tweeter that spouts an expansive and open high end and makes the speaker highly dynamic. A terrific value, yes—but a very fine speaker indeed that competes favorably with many that cost a great deal more.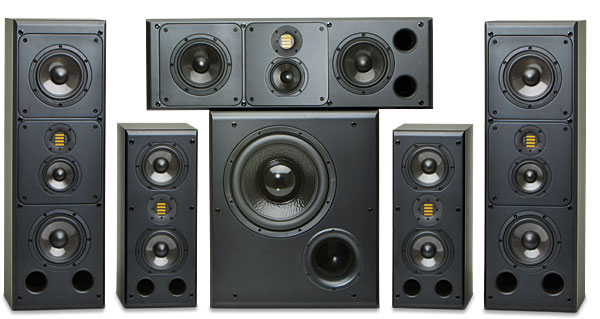 ADAM Audio GTC77 Speaker System
$6,850, adam-audio.com
These studio-style monitors from Germany-based ADAM Audio weren't built for looks and are meant to be hidden behind acoustically transparent fabric or wall panels. But it's hard not to commend a speaker that so delighted us with its incredible ease at any volume level, the delicate high end delivered by the air-motion ribbon tweeter, its spectacular imaging, and its lifelike timbre with percussion instruments. At nearly $7,000 for a 5.1-channel configuration, it's hardly a cheap system, but it still represents a super value by high-end standards for the kind of sonic prowess and authority it'll bring to your theater space. And let's be honest: After the lights go down and the movie starts playing, do you really care what your speakers look like?
Subwoofers
Paradigm Reference Signature SUB 2 Subwoofer
$9,000, paradigm.com
Simply put, this is the real deal. A 230-pound, three-sided monster featuring six 10-inch woofers arrayed in pairs, 4,500 watts of brute-force power (provided it gets 240-volt service), and measureable output in our lab that was only 3 decibels down at 12 hertz. And to think it all fits into a 24-inch-square footprint. The price will scare away all but the wealthiest and most bass-obsessed enthusiasts, but if you're among them, pay up your homeowner's insurance and get down with it.
Hsu VTF-15H Subwoofer
$879, hsuresearch.com
Dr. Poh Ser Hsu is known for well-designed, high-performance subs that he offers direct via his Website, and this 15-incher really stands out as a sensational value. No one will mistake it for one of those high-excursion, hide-me-away, compact jobs—it's the big driver with the big box. But it offers the flexibility of sealed or ported modes and adjustable Q for the last word in tuning, and it drives truly powerful, subterranean, low bass for a very reasonable price. If you've got the space and you're serious about bass, this comes highly recommended.