1917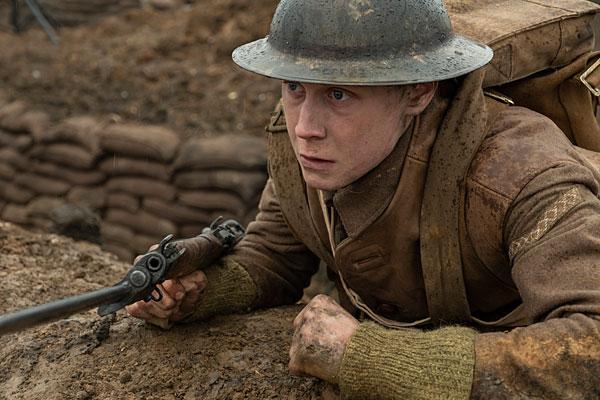 1917
's title (April 6, to be precise) puts us well into World War I, when young Lance Corporal Blake along with his mate Schofield are dispatched from the Allied trenches with an urgent message. Some 1,600 soldiers, Blake's own brother among them, are heading into certain slaughter if new orders are not delivered to the commanding officer. And so, facing impossible odds, the brave duo embarks on a mission that could change the course of the conflict.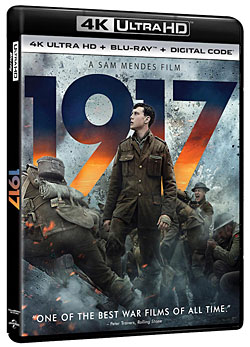 Certain films brandish bold creative technique as a calling card, and for 1917 that involves long takes stitched seamlessly together to give the illusion of continuous action. No mere gimmick, the approach greatly enhances the tension, and by the story's climax we don't even want to blink. Of course, many movies with similar themes have come before, so the writers of 1917 smartly chose to explore the nature of warfare in quick, almost impressionistic glimpses and snippets of dialogue.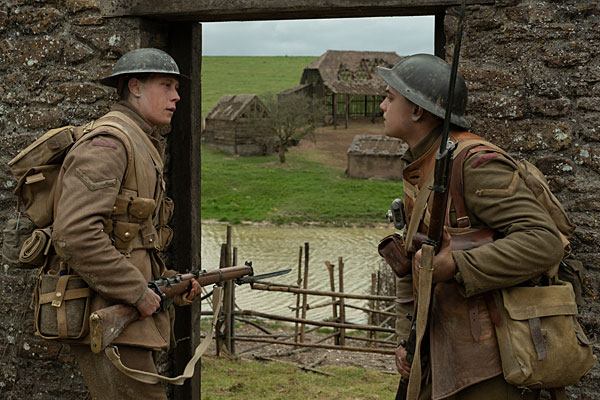 The incomparable director of photography Roger Deakins—scoring his second statue here for cinematography—shot 1917 digitally, and it's some of the most astounding camerawork we will ever see. It follows, beckons, and tells the story as only great visuals can. The true 4K video master boasts impeccable clarity, which brings out details like barbed wire in the distance, incidental signs, and half-buried corpses with surprisingly subtle color amid all the bleakness. Real-world light sources such as flashlights and heavily diffused sunshine add authenticity to HDR highlights, while shadows look rich, organic, and well-balanced.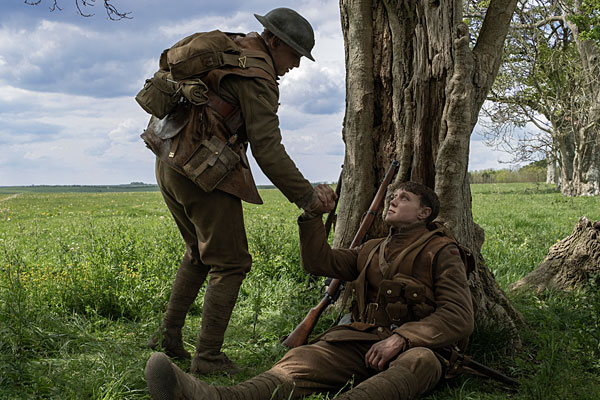 The Oscar-winning sound mix is presented in Dolby Atmos, and the height effects faithfully convey the sound of a collapsing tunnel and the zoom of planes overhead. Off-screen cues frequently tease the next plot device, while effects such as birds crowing, wind blowing through the trees, or flies swarming over a carcass add to the realism. Thomas Newman's musical score, meanwhile, is so stirring that even when it stops its absence makes an impact.
A few featurettes provide a decent overview of the production, with audio commentaries from director/co-writer Sam Mendes and DP Deakins helping to fill in the remaining gaps. All extras appear on both the 4K and regular Blu-ray discs in this pack, which also includes a Movies Anywhere digital copy.
ULTRA HD BLU-RAY
STUDIO: Universal Studios, 2019
ASPECT RATIO: 2.39:1
HDR FORMAT: Dolby Vision/HDR10+/HDR10
AUDIO FORMAT: Dolby Atmos with Dolby TrueHD 7.1 core
LENGTH: 119 mins.
DIRECTOR: Sam Mendes
STARRING: George MacKay, Dean-Charles Chapman, Colin Firth, Andrew Scott, Mark Strong, Benedict Cumberbatch
The date noted in