100 Years of Warner Bros. Volume Four: Thrillers, Sci-Fi & Horror Blu-ray Collection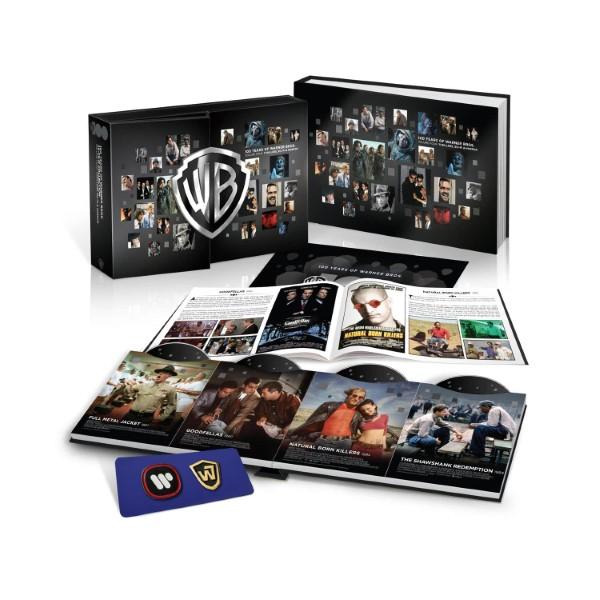 When the big studios have big anniversaries, they tend to make a big splash. Warner Bros. is celebrating their centennial this year and their Home Entertainment unit is commemorating the occasion with--among other retail offerings—four themed film compilations on high-definition Blu-ray, 25 titles each for an appropriate total of 100. Staring down a list price of $150 per collection, I needed to be selective with my disposable income and after some research I ultimately settled on the 100 Years of Warner Bros. Volume Four: Thrillers, Sci-Fi & Horror 25-Film Blu-ray + Digital Collection boxed set, which carries their ubiquitous "WB 100" branding.
The other sets in the series are Volume One: Award Winners; Volume Two: Comedies, Dramas & Musicals; and Volume Three: Fantasy, Action & Adventure. The 100 titles across this promotion have been chosen as outstanding examples of their various genres, and all have been previously released on Blu-ray, many in some sort of special edition, and those single legacy discs are what's included here with their bonus content intact.
Let's take a closer look at the contents of my recently arrived Volume Four.
Spanning 88 years, these sci-fi/horror/thriller gems are organized chronologically by the date of first theatrical release:
King Kong (the 1933 original)
The Maltese Falcon
Children of the Damned (the 1964 original)
2001: A Space Odyssey
A Clockwork Orange
The Exorcist Extended Director's Cut
All the President's Men
The Shining
Blade Runner: The Final Cut
A Nightmare on Elm Street (the 1984 original)
Full Metal Jacket
Goodfellas
Natural Born Killers The Director's Cut
The Shawshank Redemption
Interview with the Vampire
Seven (their spelling, I prefer Se7en)
The Matrix
The Green Mile
Inception
The Conjuring
Gravity (NOT the out-of-print Diamond Luxe Edition)
Her
Annabelle
It (2017 theatrical)
Dune (2021)
(Cinema purists might recognize that some of these films were not initially Warner releases, rather added to their library via corporate acquisitions.)
That's a few Kubricks, a few Stephen Kings and of course one that's both. A few of the films on this list stretch the definition of these categories to the breaking point but no doubt, that's a damned fine lineup that illustrates how Warner has done their part for pulse-pounding, mind-expanding, chill-inducing entertainment across generations.
The Packaging
The Blu-rays themselves arrive in what appears to be a massive hardcover book, housed within a large, no-nonsense box that opens with a double-door lid topped with the famous WB shield, magnetized for additional security. The thick tome is impressive up to a point, that is until we try to actually remove any of the discs in order to play them.
I'm not sure why studios think that we physical media consumers relish this sort of packaging, they keep revisiting it for some of their highest-profile drops despite how it demands a lot of pinching and pulling and smudging and plastic rubbing against cardboard, with a serious push required to return them to their slots. I've never spoken to anyone who told me they like this approach and I know plenty of people who don't.
The Digital Copies
A major reason I picked Volume Four to buy is that I am missing digital copies for more than half of these titles, in part because my old disc copies pre-date the now-de rigueur inclusion of a digital code insert. Worth noting, the printed code arrives on a single slip of paper, unlocking all 25 digital copies at once, rather than 25 separate codes. This seems both eco-friendly and logistically sound, although if you were looking to share or trade any of your doubles--if you're a collector you likely already have some of these--you'll be out of luck.
One life hack that others have discovered, and I've confirmed to be genuine: Because Warner participates in the Movies Anywhere platform, Apple TV is one of the partner streaming services. If you choose Apple TV to watch your digital copies, they are automatically upgraded to the highest audio and video quality currently supported. So, for Gravity, that means it streams in Dolby Atmos… but not 4K since Warner has not released it as such, whereas our HD digital copy of Inception streams in 4K/Dolby Vision… but not Atmos because it's Christopher Nolan. In both instances, the audio or video standard respectively exceeds what's on the included discs.
The Goodies
To make these sets more collectible, they include two substantial enamel pins depicting the Warner logo through the years, each pair unique to that package. The most iconic for me is the one envisioned by legendary graphic designer Saul Bass and utilized throughout the '70s and '80, using three stark white lines to approximate the W.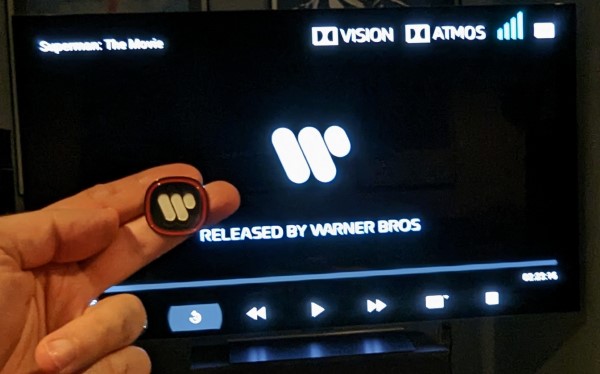 I hadn't fully grasped how much I adore this logo; it immediately transports me to the opening seconds of my beloved Superman: The Movie in its vintage form. (Superman is not supplied here, rather he's in Volume Three. And our review of his new 4K boxed set will be coming soon.) Also fun and highly distinctive is the companion precursor logo born of the Warner/Seven Arts merger, dubbed the "W7" logo. This one might be familiar to some readers from the decidedly bizarre, sometimes racist Looney Tunes animated shorts produced during the late '60s.
The glossy, horizontal booklet is well-researched with interesting facts and backstories for the films, thin and slightly less impressive for existing in the shadow of that big honkin' big disc-holder album.
In Conclusion
Well into the Ultra HD era as we are, the thinking behind assembling a deluxe set like this in 1080p format might seem a little murky. By contrast, Warner dropped a 30-disc 4K set over in the United Kingdom, at a much steeper price, so perhaps they sought to cast a bigger, more populist net here at home.
I have a hard time imagining folks who would want all of these movies and who currently own none of them, but if you're a physical media collector and there are enough gaps in your collection, this or perhaps one of the other volumes might be a worthwhile investment. It breaks out to only $6 per movie on disc and digital—a little less if we shop around—not counting the fancy packaging and the pins, so no remorse here.