Jamo E 700 Speaker System
A little Danish for your sonic sweet tooth.
Flat-panel TVs—and the speakers that love to be with them—receive such obsessive attention from the press that you'd think all other forms of video display—and the speakers that love to be with them—had disappeared. Jamo has fed the trend with their remarkable 2F speaker system, which teams perfectly with a plasma display. But rear-projection sets are still around. In fact, with DLP-, LCD-, and CRT-based models to choose from, they're taking on slimmer shapes, waxing in both cool factor and diversity.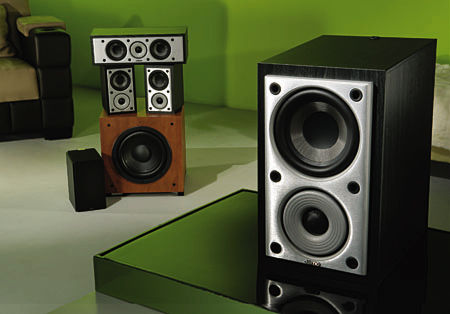 If your next HDTV purchase is a rear-projection model and you want surround sound that lives up to the standard set by your high-definition display, maybe flat-boxed speakers aren't the best choice. Perhaps you'd be better off with a speaker enclosure that has a little more depth (because it gives the speaker's designer more, potentially better-sounding, choices) placed a bit out from the wall (because that gives you more choices).
Jamo's product line includes multizone-audio equipment and even speaker cables. But the company continues to celebrate their speaker-making roots with a broad assortment that includes the new E 7 Series, named Home Theater Loudspeaker of 2004–2005 by the 37 publications that form EISA, the European Imaging and Sound Association. From the E 7 Series, I selected the E 700, a sweet little satellite, for use in the front and surround channels. I partnered them with the E 7CEN center speaker and the E 7SUB.
Tweeter Decoupled
Denmark is the epicenter of the design world, and the E 700 system boldly declares its origins, practically swaggering out of their cartons, with hinged speaker grilles covering both their baffle and top surface. When I pulled off the grille, the E 700 satellite revealed a deeper level of design iconoclasm. Its tweeters are located below the woofers to keep them at the correct height when used with Jamo's designated E 805FS stands. If you were either stubborn or oblivious enough to turn the speaker upside down, the grille's top panel would stop you.
Take a closer look at the 1-inch-wide band that surrounds the textile tweeter, give it a tap, and you'll notice that it's solid aluminum. What may not be so immediately apparent is the rubber compound that lies underneath. Its purpose is to decouple the tweeter from the rest of the speaker. Jamo calls this Decoupled Tweeter Technology (DTT). Its goal is to prevent cabinet vibrations from coloring the frequencies that the tweeter covers, achieving a 20-decibel reduction in resonance, according to Jamo.
The remainder of the baffle is a separate 0.3-inch-thick piece of die-cast brushed aluminum. It's hard to see, but, if you run a finger along the front edges of the MDF enclosure, you'll notice a 2-degree offset that the hinged grille creates. Jamo says this brings a further reduction in cabinet resonance and internal standing waves.
The woofers are made of a woven fiberglass treated with glue. Their natural-rubber surrounds are designed to achieve greater linearity. The center and satellite speakers' driver sizes and composition are precisely matched.
The E 700 and E 7CEN both have a 1.25-inch port on their back panels. Near the top of each cabinet is a set of gold-plated, plastic-nut binding posts that point down. This odd arrangement did not suit my cables, which terminate in flexing banana plugs and tended to fall out. (Sometimes iconoclasm backfires.) To solve the problem, I duct-taped the cables to the backs of the speakers. If the installation had been permanent, I probably would have found a less unsightly way to bind the cables to the backs of my stands.
The E 700s don't have threaded inserts or keyholes. These speakers are designed for stand-mounting only. Evidently, Jamo wants you to hear them at their best.
Crazed Psychedelic Bat
My review system featured a Rotel RSX-1065 surround receiver. Signal sources included an Integra DPS-8.3 universal disc player (three years old but still in the line) and my spare turntable, an ancient Luxman PD-289, recently returned to service after I snapped the cantilever off of the Shure V15 cartridge mounted on my Rega Planar 25 turntable. The Luxman is equipped with an Audio-Technica AT440ML dual-moving-magnet cartridge, wired with heat-molded long-grain Ohno Continuous Casting copper. I mention this partly because the A-T cartridge has a stronger treble than the Shure and partly just because I'm pretentious.
Electric Ladyland by Jimi Hendrix, on vinyl, took my system by storm. If you haven't heard this album in Dolby Pro Logic II, put down this magazine and play the last three tracks right now. The surround decoder picked up volatile phase information and sent Hendrix's Strat flying around the soundfield like a crazed psychedelic bat. The cartridge accented the tambourine on "All Along the Watchtower" more than I'd have liked, and the edge on Hendrix's successive slide and wah-wah-enhanced guitar solos couldn't have been sharper.
The speakers changed personality completely—always a good sign—when I moved from vinyl to DVD-Audio and from Hendrix to his spiritual descendant, Living Colour's Vernon Reid. The band's album Collideøscope sets Corey Glover's tireless vocals against Reid's catalogue of pastel fuzz tones on a 5.1-channel canvas. I played it loud and felt no pain.
I dropped the volume a few dozen decibels, which brought me onto the contemplative wavelength of Michel Camilo's Solo SACD. Telarc's surround mix is characteristically mellow, suiting the Dominican-born jazz pianist's gentle touch, and the Jamos maintained that soft-focused feeling. Camilo shows a wider emotional range here than he does on his Live at the Blue Note SACD. Don't miss the playful tango-infused cover of Monk's "Round Midnight."
Averaging together all the hours of musical auditions, I'd say that the E 700 and E 7CEN—which got a good workout, too, thanks to DPLII—are on the smooth side of neutral.
Psyche Swirling
My favorite scene in The Bourne Supremacy (in DTS) finds Matt Damon in a Berlin hotel room, revisiting the scene of an old crime. Gunshots are almost incidental in the whirlpool of variously panned sound that evokes the assassin's confused, half-recovered memory. The E 700 system precisely rendered the directional character of the swirling sounds, contributing to the scene's psychological depth. This success was by no means inevitable. Some speakers would have unduly hardened these effects, while others would have mushed them together.
Psyche swirling became an obsession. I sought out more cerebral special effects—they're more fun than generic violence—and got what I wanted from The Forgotten (also in DTS). This film's most abrupt and pulse-quickening effects accompany characters suddenly whizzing out of the frame. And then, I got still more from the remake of The Manchurian Candidate (Dolby Digital 5.1). The entire movie is virtually one long psyche-swirling flashback.
The passing of the torch from the satellites' 4-inch woofers to the sub's 10-inch driver was fairly seamless, partly thanks to the sats' unexpected percussive chops. I hadn't expected much. However, when I played the E 700s full-range with my favorite bass-related test track, "Poem of Chinese Drum" from Yim Hok-Man's Poems of Thunder, they delivered plenty of impact. "This little box has been tuned to punch hard," Jamo's press release reads, and that's no idle boast.
The sub, however, is somewhat reserved. When I set up the system, I had to turn up the sub's volume control a little higher than usual to keep the surround processor at its customary low-frequency-effects setting. This worked fabulously for music, where I prize accuracy, but was too reticent for movies. Prior to The Manchurian Candidate, I reset the crossover from 100 Hz to 80 Hz in order to work the speakers a little harder, and I hiked the sub volume a few decibels in the surround processor to juice up the sub. Those adjustments seemed to provide more impact, if not more brute force.
Working Smarter
The Jamo E 700 shows just how good a cleverly designed system can be. It can handle any kind of head trip, whether musical or cinematic. The aluminum baffle, decoupled tweeter, and folded grille mark these speakers as mavericks, while providing smooth sound. Maybe I'm just an incurable Europhile, but our friends across the Atlantic always seem to be a step ahead of the rest of us.
* Mark Fleischmann is the author of Practical Home Theater, available through www.quietriverpress.com.
Highlights
• Danish design sensibility mind-melds with advanced construction techniques to produce smooth and distinctive-looking speakers
• They work best with less brutish forms of music and cinema