Mordaunt-Short Alumni Speaker System
Speakers for the psychedelic revolution.
It was 40 years ago today (well, just about) that Sgt. Pepper taught the band to play. What a year 1967 was! It was also the year of Are You Experienced by Jimi Hendrix, Disraeli Gears by Cream, Piper at the Gates of Dawn by Pink Floyd, Surrealistic Pillow by the Jefferson Airplane, The Doors by the Doors, and that album with the banana on the cover by the Velvet Underground. A scan of Rolling Stone magazine's "40 Essential Albums of 1967" also turns up Moby Grape, the Hollies, James Brown, Big Brother and the Holding Company, Arlo Guthrie, the Beach Boys, Tim Buckley, the Kinks—please, a sustained round of applause for the Kinks—Van Morrison, Dionne Warwick, Buffalo Springfield, the Moody Blues, Love, the 13th Floor Elevators, and (a previously undiscovered gap in my listening life) the Serpent Power. Thank God I wasn't into drugs then. Look at what I would have missed.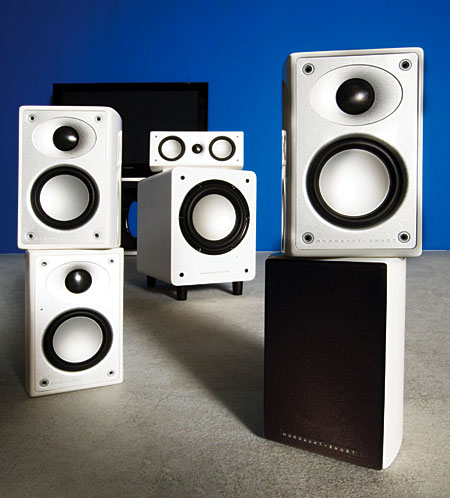 Nineteen sixty-seven was also the year when Norman Mordaunt and Rodney Short formed Mordaunt-Short. The British firm was folded into TGI in 1987, along with Tannoy, to form the largest speaker brand in Europe. Since 1991, it has been owned by Audio Partnership PLC. In addition to supporting a large R&D facility in London, this company also maintains an ethical and environmental policy that mandates tight standards in employment practices and health and safety, no child labor, no prison labor, no discrimination, recycling of electronic products and components, and compliance with British and European Union law; this includes the EU's recent ban on the use of lead, mercury, cadmium, and other toxins. A lot of people who enjoyed the historic records listed previously grew up to be hypocrites. But others did not.
Sticking Up for the Little Guy
Alumni is a plural word. Therefore, I can't really say the Alumni is one of two new speaker lines from Mordaunt-Short. No, the Alumni are among two new lines, along with the Mezzo. A pang of remorse slows my fingers as I recall the Mezzo's tweeter mounted at the top edge of the baffle in a separate subenclosure—the road not traveled, at least for today. My subject instead is the smaller of the two products—the most recent budget sat/sub set from this brand.
The Alumni make a fine first impression. Lift the satellite out of the box, and you're holding a gleaming 7-inch-tall object whose rounded edges practically kiss your fingertips. The sides curve back to produce a rear surface that's smaller than the front, minimizing standing waves within the enclosure. On the back, you'll find two spring-loaded binding posts with holes that easily accommodate banana plugs (always worth brownie points in my listening room). Two screws conceal threaded inserts that correspond to Mordaunt-Short's 300M mounting kit ($25). Fit and finish are first rate. I did not regret ordering review samples in white; they are drop-dead gorgeous. The Alumni are also available in black.
Configuration is standard stuff. The satellites are a two-way design with an aluminum dome tweeter and a 3.5-inch aluminum cone woofer. There are two woofers in the horizontal center speaker. The sub packs its 8-inch driver into a footprint of roughly 10 by 14 inches, so it won't take up much space. Its satin finish departs from the high-gloss look of the satellites, although most people wouldn't notice. The less shiny finish might prevent the sub from picking up reflections off your display screen.
Grand Guignol Hotel
Six different formats played their parts in this review: DVD, Blu-ray, HD DVD, SACD, CD, and LP. This is a first for me. I'm working harder to serve you better.
A great cast, clever plotting, and truly competent use of surround sound combine to make 1408 a memorable, witty, and involving horror movie. It's just standard-def DVD with plain-vanilla Dolby Digital 5.1, but it deploys these homespun materials brilliantly. The scenario is fairly simple: Travel writer John Cusack is lured into a haunted hotel room, half-warned, half-seduced by an intimidating hotel manager played to the hilt by Samuel L. Jackson. The first 15 minutes move around various settings with a steady drumbeat of low-level, all-channel effects (including distant thunder, city traffic, surf, seagulls, and so on), establishing both the soundtrack crew's competence and the speakers' ability to create an effective soundfield.
Once the hotel-room horror began, a deliciously varied menu of more aggressive effects leaped out of the speakers. Although I spent a lot of time positioned off center, the center speaker maintained vocal clarity. Escalating effects forced me to cut the volume only in a full-throttle mega-destructive sequence toward the end. At one earlier point, with our hero about to suffer sudden bodily harm, a tingle formed in my scalp and thighs. That doesn't happen very often. A word of advice to the wary traveler: If you're ever in a strange hotel, and Karen Carpenter's voice spontaneously erupts out of the clock/radio, grab your things and run for your life.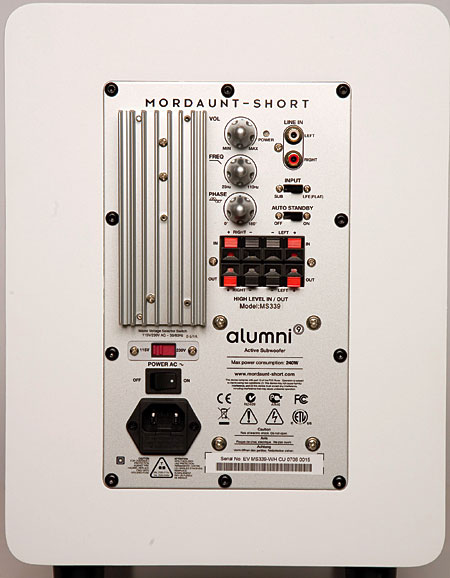 The Blu-ray release of A Few Good Men delivers what was originally a 1992 vintage Dolby Stereo soundtrack in 5.1-channel high-bit PCM. Even that old-fashioned form of surround encoding can work wonders—remember how it impressed us in the 1980s? For that matter, remember when Tom Cruise could still act? Military brass music by the Capital Band enlivens the opening credits; however, the sonic highlight is the first scene featuring Jack Nicholson as a hardheaded officer speaking in a low, menacing purr. His voice poured out of the center speaker like dark molasses. The cheap synthesizer soundtrack seemed dated, but the courtroom drama was not.
The Fast and the Furious: Tokyo Drift delivered some gorgeous high-def glimpses of Tokyo, but whatever nuance the Dolby Digital Plus soundtrack may have afforded was lost in a riot of buzz-sawing engines. A drag-racing antihero is transplanted to Japan, where he makes new car-crazy friends and tears through the streets, including the crowded Ginza district, scattering its throngs of people. The overhead shot, a masterpiece of overtly sociopathic filmmaking, resembled Moses parting the Red Sea. The visuals almost made the excruciating soundtrack worth enduring.
Although they were satisfying in most respects, the movie auditions did leave me a little bit bass-starved. The modestly powered 8-inch sub seemed to be on a diet. The longer I used it, the higher I pushed into its volume potential. According to the manufacturer, the surround (which is flexible and connects the outer edge of the cone to the basket of the driver) was stiff and needed more break-in time for a "fuller bottom-octave experience." This change should be a relatively subtle one, nonetheless. In its defense, the sub's high-quality long-throw aluminum driver and voicing made it free of mid-/upper-bass bloat.
Where's That Confounded Bridge?
During my movie demo listening, the Mordaunt-Shorts' personality gradually took shape. They had a relaxed feel—not exactly rolled off at the top end, but smooth and without that front-row upper-midrange emphasis that usually sends me running for the volume knob. Some speakers with an initially relaxed feel grow frustratingly reticent with further listening. That didn't prove to be the case here, and the next item—a high-rez SACD surround mix—revealed a midrange richness and detail I hadn't noticed in the film soundtracks.
The disc in question was Britannia, with Donald Runnicles conducting the Atlanta Symphony Orchestra in various British works. Telarc's surround mix gave me a perfect middle-row sensation, with abundant texture in the strings, real bite in the brass, and a strong sense of which instruments were placed a little farther from the microphones, including the bagpipes in Peter Maxwell Davies' "An Orkney Wedding." Two marches from Sir Edward Elgar's "Pomp and Circumstance" bookend bristling works by Mark-Anthony Turnage, James MacMillan, and Benjamin Britten, adding up to quite a moody experience.
Emerson Plays Emerson makes the case for Keith Emerson as a jazz pianist. The former E of ELP pioneered the use of the Moog synthesizer and was infamous for holding down notes in his Hammond organ by shoving daggers into the keyboard. But here he's laid-back and informal, with himself and his piano "in all sorts of unlikely places," playing short, melodic pieces into a DAT. The speakers smoothed out most of the digital crudeness that you would expect, and with Dolby Pro Logic II filling all five speakers and sub, the music took on a rarefied, atmospheric, late-night quality. The rollicking live version of Meade Lux Lewis' "Honky Tonk Train Blues," from a special with Oscar Peterson and his big band, is one of the highlights of Emerson's career.
To celebrate the recent entry of Led Zeppelin into digital downloads (and my purchase of none of them, because I've got the vinyl, baby), I put on the Houses of the Holy LP. Here, the speakers' rounded midrange conspired with that of the format and my Shure cartridge to produce a more definitely rolled-off high end. Jimmy Page's guitars could have used more sting. Of course, that just made me turn it up. To get John Paul Jones and Bonzo's kick drum out of the sub in a recognizable form, I ran the sub near the top of its volume range and goosed the receiver's sub output a couple of decibels for good measure.
Finally, having begun with Mordaunt-Short's auspicious birth amid the psychedelic detonations of 1967, a slab of vinyl from that era had to come off the shelf. Are You Experienced never sounded better. The unique Hendrix guitar tone—at once steely and incisive, but also soft and supple—spread out of the 5.1-channel speaker array like a rolling thunderstorm of tone color with bolts of lightning shooting through it. The feel was perfect: not thin, not mushy, not abrasive. This music sounded genuinely dangerous to my young ears when it was first released. With today's ears, I'm knocked over by its elegant fluidity and stunning originality.
Elegant and original are not bad words for the Mordaunt-Short Alumni. They have a voluptuous tonal balance that errs on the side of richness, taking the abrasive edge off action-movie soundtracks and bringing out the best in music of all eras and genres. My white review samples were among the most beautiful satellites I've ever seen. This is the kind of sat/sub set that reminds me why I started reviewing sat/sub sets in the first place—to uncover gems like this. We will never have another Jimi Hendrix—or another Jim Morrison, or another Syd Barrett—but at least we still have Mordaunt-Short. Forty years of tradition can produce an outstanding surround speaker system.
Highlights
Beautiful sat/sub set
Warm, smooth, delicious sound