Cabasse Artis Baltic Evolution Speaker System and Pioneer Elite VSX-94TXH A/V Receiver
Let's face it: The French have a better shape.
To Americans accustomed to seeing other Americans waddling through shopping malls—and let me be the first to admit I've been doing a fair amount of waddling myself lately—the streets of Paris come as a pleasant shock. How do people who feast on duck liver and red wine stay so lean and sexy? Perhaps that eternal mystery springs from the same source as Cabasse's fashionably thin Artis Baltic Evolution tower loudspeaker. Like one of Frank Lloyd Wright's amazing cantilevered houses, it seems to defy gravity, the sphere holding its coaxial driver array floating on a skinny diagonal slash of solid wood. I suspect that the people who designed the speaker sat down to an excellent dinner afterward.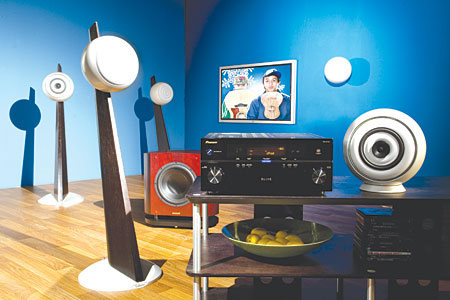 With a rated sensitivity of 90 decibels, the Baltic Evolution is fairly home theater friendly. It can even run off a receiver, so long as it's a better-than-average one. For this Spotlight System review, it mated with the Pioneer VSX-94TXH A/V receiver, a features-laden dynamo from the company's step-up Elite line.
Round and Round
Cabasse hails from Brest, a town in Brittany, the Celtic region in the northwestern tip of France. The company was founded in 1950 by Georges Cabasse, whose lineage reaches back five generations to violin makers of the 18th century.
The Cabasse speaker you're most likely to have seen a picture of in a blog is Le Sphère, a cyclops-like device whose name suggests its shape. Our subject for today, the Baltic Evolution, is part of the Artis line, along with the differently shaped but equally striking Karissima, with its bulkier but handsome folded-wood enclosure. For something similar but smaller-scaled, check out the iO2 line. Then there's the Eole, reviewed here in December 2007, that incorporates small spheres in a compact sat/sub set; the Xi and Ki, which offer tubular accompaniment to flat-panel displays; the Altura, more conventional in shape, although still rounded at the sides and back; and the MT3 and MT4, conventional boxy speakers with a value orientation.
All of the spherical models use a coaxial driver array in a fiberglass housing reinforced by bits of MDF (medium-density fiberboard). While it's not strictly relevant here, Le Sphère's housing is more elaborate, adding a layer of a damping material that was originally designed for Airbus planes, flying helicopters, and European rockets. The Baltic Evolution adds a veneered MDF stand and a base with a beautiful painted finish.
Although I've reviewed coaxial speakers before, this marked the first time I've had a three-way coaxial design. The TC23 triaxial unit consists of three drivers made of various high-tech plastics. These include a 1-inch polyether dome tweeter, surrounded by a 5-inch P2C convex ring midrange, itself surrounded by an 8-inch Duocell convex ring woofer.
Polyether is a type of polymer. P2C is polypropylene charged with calcium carbonates. Cabasse manufactures Duocell using their own process. It's a form of Rohacell, a rigid, lightweight, low-density foam used to make plane and boat hulls. Cabasse's computer-driven proprietary process produces a diaphragm that doesn't delaminate because it's not a sandwich and has "unrivaled rigidity/damping/weight ratios." That's some awesome plastic.
Placing the smaller drivers within the larger ones enables all of them to fire at your ears from roughly the same position. This minimizes phase problems, simplifies crossover design, and allows the speaker to exhibit more even off-axis response. The downside in less finely tuned coaxial speakers can be a sonic character reminiscent of a cupped-hands effect. Cabasse seems to have shrewdly minimized this. The tweeter is located within a waveguide, within the midrange, within the woofer. You're free to remove the grilles and see for yourself. Without the grilles, the speakers have a crisper treble (and look very cool). I felt that there was plenty of information coming through even with the grilles on and, therefore, left them in place.
The spherical enclosure is mounted atop the thin end of a 48-inch-tall solid wood-veneered MDF pillar sitting on a round, multilayered MDF base with a 16-inch footprint. Transparent plastic-nut binding posts rise out of the back of the base, pleasing design elements in and of themselves. Be sure to fill them with some kind of suitably attractive speaker-cable jewelry. The included fat steel spikes have a dark chromed finish and look great. It's a shame they have to hide beneath the base, although they do serve an important function there—stabilizing an otherwise top-heavy speaker. Three color schemes are available. All of them contrast the color of the pillar with that of the spheres and base. The review samples came in pearl fiberglass with a black pillar and a base with pearl-paint finish.
For surrounds, I used the Baltic Evolution Murale, which comes with a wall bracket, and the Baltic Evolution Centrale, which stands on a circular base. Otherwise, they use a three-way driver array identical to that of the floorstanding model. The photo shows you what both options look like.
Both come hardwired with 16 feet of 12-gauge speaker cable terminated in soldered tips. This posed an installation problem in my room, where the surrounds need 25 feet of cable to reach the rack. I used heavy single banana plugs to clamp the soldered tips onto the bare tips of 12-gauge extension cables and wrapped the whole thing in duct tape. I also used banana plugs at the receiver end.