Columbia Classics 4K Ultra HD Collection: Volume 1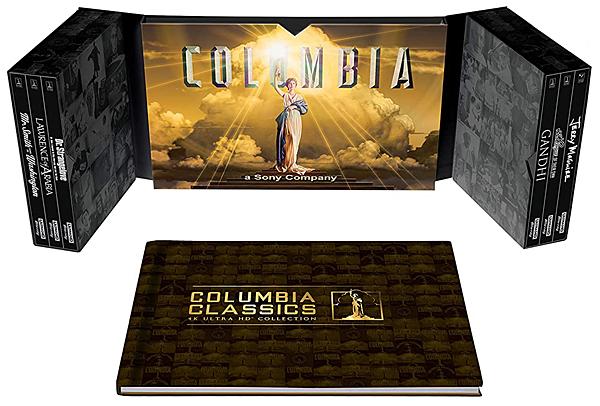 It's around this time of year that a few disparate "guy" movies new to the format or re-released usually pop up on Blu-ray or Ultra HD Blu-ray. That's because, as I've said since the early DVD days, discs make fantastic gifts, and not just for Father's Day. But Sony chose a different path for 2020, opening the door of its vast and prestigious Columbia Pictures vault to debut six titles on 4K Blu-ray as the
Columbia Classics 4K Ultra HD Collection: Volume 1
.
Here are the movies in chronological order: Mr. Smith Goes to Washington (1939), Lawrence of Arabia (1962), Dr. Strangelove or: How I Learned to Stop Worrying and Love the Bomb (1964), Gandhi (1982), A League of Their Own (1992), and Jerry Maguire (1996). That's certainly an eclectic bunch, with epics, comedies, biographies, period pieces, and crossovers of those genres represented, along with quite a few Oscars and millions of tickets sold. Potential owners (dads and otherwise) might not be fans of every one of those films but based upon street price at press time it comes in at less than $20 per disc, so it's a solid value, especially for a limited edition.
The graphic designers clearly worked overtime on this one, as the box presents with an impressive initial heft that gives way to the movies themselves in twin stacks, each in its own attractive case for easy access and future storage. A custom book that comes with the package is a beautifully illustrated hardcover that dives deep into every title with outstanding writing by film expert Julie Kirgo and others.
All discs are from native 4K transfers, and all but Strangelove have been restored from the original camera negative (OCN unavailable for the Dr.). High dynamic range format is HDR10 for all except Lawrence, which benefits from a Dolby Vision HDR treatment. While some of the titles have been previously issued on Blu-ray sourced from these same masters, in all cases these are the first and only 4K Ultra HD disc releases.
Lawrence, David Lean's Super-Panavision 70 masterpiece, is a sweeping WWI epic that's actually a long look at a singular character. For this set, it's now a four-disc affair that splits the movie between two 4K platters (a rarity in the Ultra HD era) and includes regular HD Blu-rays of the film and the extras. This title has a long, complex history of restoration (one of the most-buzzed-about in film circles) and the latest effort was worth the wait. The awesome clarity and appreciable depth of the 2.2:1 image had me wondering at times if I was staring out a window to some faraway desert with its many shades and ripples of sand, all kissed by just the right amount of film grain. Audio defaults to Dolby Atmos (True HD 7.1 core) and Maurice Jarre's timeless score will knock you back in your seat. There's also a DTS-HD Master Audio 5.1 soundtrack and a host of alternate languages available. I won't exaggerate and call it "perfect" since there's some noise and banding, but Lawrence is still without question a must-own 4K disc release.
Mr. Smith is a universally relevant tale of unflappable, incorruptible optimism in the face of ruthless opposition, one that may well find you shouting at the TV for its antagonists' audacity. This 4K restoration treats us to rich layers of nuanced blacks and some especially lovely and naturalistic location photography, all the more impressive for its age. The simple high-res mono soundtrack is a fitting complement and features dependably clear dialogue.
Why didn't Stanley Kubrick (and, for that matter, George C. Scott) do more comedies? My favorite Kubrick film (and not coincidentally one of his shortest at a mere 95 minutes), Strangelove is a deliciously absurd satire that dared to skewer both sides during The Cold War. The eclectic cast is spot-on, the story full of clever twists, and the pacing is so tight that I'd actually reached the end before I expected to. Gilbert Taylor was an iconic director of photography, but despite some inspired compositions, this one was never a real stunner with its largely flat 1.66:1 image marked by lifeless blacks. However, I did notice Col. "Bat" Guano's plainly legible name tag for the first time owing to the purity of the 4K image. Strangelove's DTS-HD Master Audio 5.1 soundtrack was remixed with pleasing dynamic range and considerable fullness while remaining true to the material.
Richard Attenborough's film of Gandhi (cribbed that from the title card) remains an incredibly inspirational tale of this legendary man of peace and freedom, beloved and admired around the world. With Gandhi's three-plus hours are split across two platters (what was I saying about rarity…?), this high-bitrate beauty flaunts rich skintones, bright swaths of color and sun-bleached exteriors, and such a clear image that you can almost count each of the record-breaking 300,000 extras in the (spoiler alert!) funeral scene. A new Dolby Atmos soundtrack boasts airy musical instruments plus discrete voices and effects that vividly bring the '20s to life in this '80s epic.
A fictitious ode to real-life All-American Girls Professional Baseball, League captivates with its sharp blades of lush grass and precise clumps of infield dirt, while the color palette shows director Penny Marshall's penchant for warm, dusky tones. (Black portions of the 2.4:1 image could be better resolved.) With a new Dolby Atmos remix, this is the best this movie has ever sounded, with generous atmospherics and powerful 360-degree cheering from the at-capacity championship stands. I never thought of it as a showoff scene before, but Marla's tryout in the gym during a thunderstorm is killer, from the crack of the bat to the clear resonance of her hits.
Sports-agent-in-crisis Jerry Maguire is one of Tom Cruise's best roles, showing the larger-than-life mega-star at his most human. A new Atmos soundtrack packs aggressive surround effects where you might not necessarily expect them, with a cunning circular swirl for the voices in Jerry's head before his infamous mission statement bursts out of him. Plus, I'll take any excuse to hear even a little bit of The Who in immersive audio. Janusz Kaminski's cinematography, meanwhile, is restrained yet exacting, right down to the weave of the football jerseys.
Sony managed to dig up at least a wee bit of new-to-disc bonus content for most of these films, even if it's just the recreation of a counterproductive, unused international prologue (Lawrence) or simply some trailers (Gandhi). A massive amount of legacy content has been ported over for the HD Blu-rays, however. I couldn't tell for sure from the early info I was seeing but am happy to report that all include a Movies Anywhere Digital Copy (the six codes together on one sheet, so be careful not to lose it).
No two fathers are alike, but perhaps owing to my somewhat broad taste in film, I for one would call this very gifty set a hit, and the handle Columbia Classics 4K Ultra HD Collection: Volume 1 bodes well for a Volume 2 someday. The studio undertook a poll to help determine the contents of this box set (League and Jerry were the winner and runner-up, if you were wondering). 1776, the recipient of one of my votes, might not be a bad choice to include in the next one. Mentioning on behalf of a dad I know.
Ultra HD Blu-ray
Studio: Sony

Mr. Smith Goes to Washington (1939)
Aspect Ratio: 1.37:1 (B&W)
HDR Format: HDR10
Audio Format: DTS-HD Master Audio 2.0 Mono
Length: 130 mins.
Director: Frank Capra
 
Lawrence of Arabia (1962)
Aspect Ratio: 2.20:1
HDR Format: Dolby Vision/HDR10
Audio Format: Dolby Atmos with TrueHD 7.1 core
Length: 227 mins.
Director: David Lean
 
Dr. Strangelove or: How I Learned to Stop Worrying and Love the Bomb (1964)
Aspect Ratio: 1.66:1 (B&W)
HDR Format HDR10
Audio Format: DTS-HD Master Audio 5.1
Length: 95 mins.
Director: Stanley Kubrick
 
Gandhi (1982)
Aspect Ratio: 2.39:1
HDR Format HDR10
Audio Format: Dolby Atmos with TrueHD 7.1 core
Length: 191 mins.
Director: Richard Attenborough

A League of Their Own (1992)
Aspect Ratio: 2.39:1
HDR Format HDR10
Audio Format: Dolby Atmos with TrueHD 7.1 core
Length: 128 mins.
Director: Penny Marshall

Jerry Maguire (1996)
Aspect Ratio: 1.85:1
HDR Format: HDR10
Audio Format: Dolby Atmos with TrueHD 7.1 core
Length: 139 mins.
Director: Cameron Crowe