Sony STR-DA5400ES A/V Receiver
Price
: $2,000
At A Glance
: Superior sound quality and ergonomics • HDMI connectivity • Auto calibration and speaker equalization • Three-zone operation
Sony Adds Major Value
Like the old canine joke punch-line, "Because he can," electronics designers seem to be adding greater functionality and features to their A/V receivers more because they can rather than because consumers need them, want them, or are likely to use them.
That is, unless I'm wrong in thinking that the majority of buyers use their A/V receivers to watch movies and TV in one room and don't care to stream content from their computers, access the Internet, control three independent A/V zones, connect their iPods, or listen to the radio. Some do, but most don't. Whether you use them or not, most new A/V receivers offer some of these features, and you pay for them.
Sony's $2,000 STR-DA5400ES is essentially identical to the $2,500 STR-DA6400ES, except that it doesn't have Internet connectivity and High Quality Audio Transmission System (H.A.T.S.). That $500 you save can get you more than halfway to a spiffy new 42-inch 1080p plasma or LCD HDTV in today's marketplace. Which would you rather have in your home theater? A 42-inch HDTV or Internet connectivity? Case closed.
Simplicity and Versatility
Even without the Internet, the STR-DA5400ES is a versatile receiver with six HDMI inputs and two outputs (compatible with 1080p/60, 1080p/24, Deep Color, and x.v.Color video signals). It also has three component video inputs and a pair of Faroudja video-processing chips (so you can upconvert in two zones). Its dual digital media port inputs allow you to use the receiver to listen to an iPod or other digital device (using optional adapters) in up to three rooms, as well as XM and/or Sirius satellite radio (subscription required). A Cat-5e output works with the optional CAV-CVB1 component video box ($129). This lets you move high-definition video (up to 1080i) and audio content to a second room where the second supplied remote can control the receiver via an onscreen GUI. If the movie you're watching in the living room is putting you to sleep, you can move to the bedroom and continue watching or (snoozing) in HD.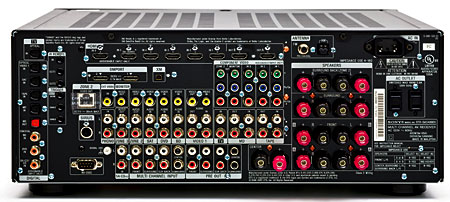 The 7.1-channel receiver supports the full alphabet soup of audio formats, including the latest uncompressed ones from Dolby and DTS, as well as Neural Surround THX (for XM) and DSD decoding for HDMI-equipped SACD or universal players. Sony's proprietary Digital Legato Linear (D.L.L.) "audio scaler" is designed to improve compressed audio sound. Sony specifies the AVR's power output at 120 watts per channel into 8 ohms. If you're not using surround back speakers, you can use the extra pair of amplifiers to biamp the front L/R pair.
It also has an AM/FM stereo tuner with 30 presets and all of the other usual A/V receiver stuff, including multichannel analog preamp outs and ins, as well as six optical and three coaxial digital inputs. Missing from the well-organized rear panel are S-video connectors, which have become superfluous in today's A/V world. But you can still connect old-school gear via composite video and upconvert it to 1080p.
Ergonomically Clean Front Panel
Despite the full range of features, Sony engineers have managed to keep the front panel uncluttered, easy to use, and nest free. Some other receivers might have larger fluorescent screens than this one, but I've found none that are easier to read. Sony makes efficient use of the available real estate. The Input Selector, Volume, Tone, and Tuning knobs dominate the front panel. The Tone knob is an example of the receiver's user-friendliness: A small button located just above it scrolls through the front, center, and surround channels, which allows you to easily adjust bass and treble for each. The front panel also includes a headphone jack and inputs for composite video, analog audio, and optical audio behind a removable panel.
The programmable remote is exceptionally well organized, which is a good thing since it's not backlit. The input buttons do light after you push them, which is back-assward in my opinion. Sony wisely put the TV Volume and TV Channel up/down rockers near the bottom of the remote, which makes them easy to locate in the dark.