Creative ZEN V Plus & Aurvana In-Ear Earphones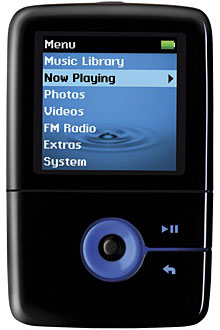 It's just so Buck Rogers. Or maybe Dick Tracy?
The Creative ZEN V Plus is a high-end MP3/WMA and video player with a photo viewer and built-in FM radio as well. (The slightly less expensive ZEN V lacks the FM tuner and does not play video.) The ultra-compact ZEN V Plus is palm-sized, almost small enough to wear on your wrist, touted notoriously as able to ride in the change/key pocket of a pair of jeans, and weighing just 44 grams, owing to its flash memory storage. Yet it boasts a crisp, sharp, gorgeous 1.5-inch OLED screen for transcoded mini-movies, digital photos, and album art, with an image that rotates to any of four positions, depending upon how you want to hold/watch your player. The intuitive color menus in the familiar and wonderfully effective ZEN user interface are also customizable. The sound quality is impressive too, as on all Creative players for some time now, it's just a bit surprising from such a tiny device, and the adjustable EQ is icing on the sonic cake. A scratch-resistant coating, along with the included drawstring pouch and optional silicon skins and other cases help protect the unit from what will likely be active, frequent use.
Content can be simply dragged-and-dropped into the connected player's ample flash memory. The stereo line-in connection enables direct CD or other analog two-channel recording, with Sync Track to separate individual songs, while the built-in organizer (calendar, contacts, tasks) synchs with Microsoft Outlook. While connected to the PC, keep in mind that the ZEN V Plus also supports music subscription and pay-per-download services such as Napster, Rhapsody, Yahoo! Music, and Urge. One-, two-, four-, and eight-gigabyte models are available ($99.99, $139.99, $179.99, and $219.99, respectively), all in eye-catching color schemes that vary by capacity: black with orange for the one-gig, white/green, pink/white, and black/green for the two-gigger, or black-and-blue representing the four and eight. A host of step-up accessories; the usual chargers, plus remotes, as well as the aforementioned cases and skins, ranging from 20 to forty dollars; are available, with more on the way, including an impressive portable speaker-dock system. Could this be a more compact, more affordable, better-featured iPod nano killer?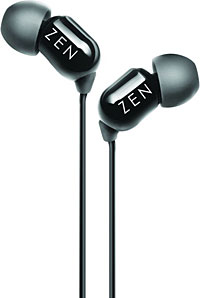 Although a pair of earphones comes bundled with the ZEN V Plus, Creative's $99.99 ZEN Aurvana In-Ear Earphones are a logical upgrade. Inside are "Balanced Armature" drivers; each comprised of oh-so-tiny magnets, diaphragm, drive rod, and coil, acoustically tuned for extremely realistic audio reproduction. Their AuraSeal "noise isolation" relies upon the hypoallergenic silicon cushions in three different sizes, with two complete sets of Big, Middlin', and Li'l included. Inserting them properly is not rocket science, you'll know it when you've done it right, and the snug fit is comfortable even for long stretches. Creative claims that ZEN Aurvana will block as much as 90% of ambient noise, although I have a hard time measuring all the noise I'm not hearing. Despite the mere 13-gram weight, construction is top-notch, with a tough, high-gloss finish and a 1.2-meter oxygen-free copper cable terminating in a gold-plated stereo mini-plug. Even the Y-junction slider is well thought out, handily adjusting slack but made of mysterious materials that reduce that horrible sound when the cable brushes against your shirt. An airline plug adapter is generously included, along with a cleaning tool; an unusual but welcome accessory; and a sweet travel case that features integrated cable management, while the rubber bottom keeps your gear parked securely, even when you run into high-altitude turbulence.
creative.com