Five Portable Hi-Res DACs Compared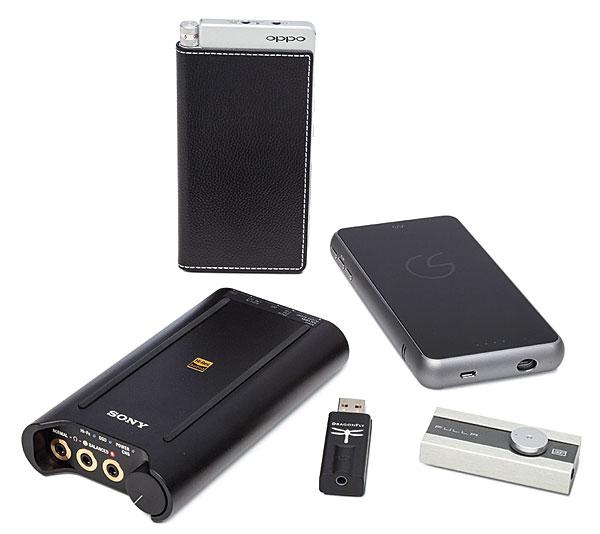 It is remarkable that people who pay attention to what they feed themselves—fussing about calories, cholesterol, and gluten—can be so cavalier about what they feed their headphones.
True, you can get used to anything, including the flea-sized amplifier in your smartphone and the messy output of your computer's soundcard. But for those who are willing to step up to a new normal, products that combine a USB digital-to-analog converter with a headphone amp can make good headphones sound better—and allow better headphones to fulfill their destiny, which is to bring listeners to a higher plane of audio existence. Last year, we reviewed a trio of headphone amp/DAC combos from Audioengine, NAD, and Essence ("Can Openers," July/August 2014 and soundandvision.com), though only one, the Audioengine D3 USB stick DAC, was potentially suitable for portable use. This time around, we're continuing our survey with five more headphone amp/DACs, but they're all portable models to take on the road with your laptop or, perhaps, your smartphone or portable hi-res music player. With all that hi-res goodness floating around out there, why be stuck at home?
We evaluated the amp/DACs with a variety of headphones and content, from lowly MP3 to CD-quality to hi-res, to determine how far they would take the ambitious listener who wants something better than sonic junk food. Form factors ranged from two minimalist USB sticks (Schiit, AudioQuest) to a phone-shaped, shirt-pocket-sized model (Oppo) to bulkier units that might travel in coat pockets, briefcases, or backpacks (Celsus Sound, Sony). The three larger units have batteries, for functioning as pure headphone amps with phones or tablets. All five natively handle high-resolution formats up to at least 96 kilohertz and 24 bits, and some go even higher, but only the Oppo, Celsus, and Sony play DSD files. Some have rarer talents: The Oppo's battery can charge a phone, the Celsus has Wi-Fi connectivity, and the Sony handles a balanced headphone connection.
Models In This Roundup
Schiit Fulla ($79)
AudioQuest DragonFly v1.2 ($149)
Oppo HA-2 ($299)
Celsus Sound Companion One($595)
Sony PHA-3 ($1,000)
The Headphones
Oppo PM-2
Sennheiser HD 600
Sony MDR-V6
The Test Tracks, Lossy
The Ramones: "I Wanna Be Sedated," Road to Ruin (MP3, 128 kbps)
Fotheringay (vocals by Sandy Denny): "Banks of the Nile," Fotheringay (MP3, 192 kbps)
Jorma Kaukonen: "Genesis," Quah (iTunes AAC, 256 kbps)
Dvořák: Scherzo, Symphony No. 9; Vienna Philharmonic, István Kertész (MP3, 320 kbps)
The Test Tracks, CD-Quality
Yes: "And You and I," Close to the Edge (ALAC)
Teddy Thompson: "Over and Over,"Bella (ALAC)
Marianne Faithfull: "Strange Weather," Blazing Away (ALAC)
Bach: Allegro, Concerto No. 3, Brandenburg Concertos; Bach Collegium Japan, Masaaki Suzuki (ALAC)
The Test Tracks, Hi-Res
Donald Fagen: "Maxine," The Nightfly (FLAC 48/24)
Nataly Dawn: "How I Knew Her," How I Knew Her (FLAC 88.2/24)
Deep Purple: "Smoke on the Water," Machine Head (FLAC 96/24)
Saint-Saëns: Maestoso, Allegro, Symphony No. 3; Boston Symphony Orchestra, Charles Munch (FLAC 192/24)
DSD Wild Card
Ali Akbar Khan: "Rag Hemant," Indian Architexture