Five Portable Hi-Res DACs Compared Sony PHA-3 Amp/DAC
Sony PHA-3 Amp/DAC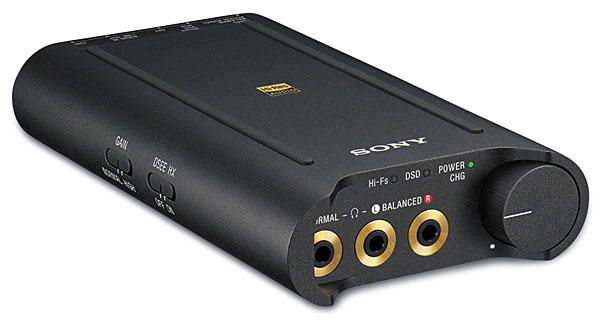 PRICE
$1,000
AT A GLANCE
Plus
Stellar sound quality
384-kHz/32-bit and DSD-capable
Rubber pads grip desktop
Minus
Too large for shirt pocket
No power adapter
THE VERDICT
If the prime directive of an amp/DAC is to make headphones and music sound as beautiful as possible, the Sony PHA-3 is ready to explore the universe.
The PHA-3 is one of several amp/DACs offered by Sony in the U.S. It's the most expensive product here, as well as the only one with a balanced headphone output, a Toslink optical input, and a dedicated DSD indicator.
In black aluminum, the look is utilitarian but thoughtful, with rounded sides and rubber runners on top and bottom—great for anchoring the unit on a desktop or protecting source components strapped on with supplied silicone belts. The pleasingly oversized volume knob and brightly brass-ringed headphone outputs (balanced and conventional) are protected in a recess on the front.
In back are the inputs. There are two USB Micro-B jacks, one for charging, the other for sources including computers, Sony's Walkman music players, and Sony's Xperia smartphones (other non-iOS phones must go analog). You also get USB A for iOS devices, the optical input, and a minijack that toggles between analog line in and out. On the left side are switches for headphone gain and Sony's DSEE HX circuit, which aims to enhance compressed or CD-quality files in the process of converting them to hi-res sample rates and bit depths.
Resolution maxes out at 384/32, far greater than most download stores offer, and requires Windows driver installation for sampling rates over 96 kHz. You might also download Sony's simplified Hi-Res Audio Player software. Sony specifies 28 hours of analog run time. The player takes 15 hours to charge on computer, and (as with all these rechargeable amp/DACs) charges only with power off; you can't charge and listen simultaneously. The AC-UD20 power adapter sells for $31 on Amazon and reduces charging time to 6 hours; a product with a four-figure price tag should have included it. Supplied cables include a long USB A to Micro-B, for computer connection, and two short ones, a dedicated Walkman cable and a generic 1/8-inch analog.
The PHA-3 had a strong personality and imposed its smooth, rich sound on the headphones with almost uniformly excellent results. It loved the Oppo most of all, giving even the très-lossy Ramones file "that Sony glow," though without concealing lossy artifacts. Sandy's vocal edge was reined in, but the guitars weren't anesthetized. Steve Howe's 12-string on the Yes track got "more attack, less harmonics," while Teddy's weirdly recorded vocals got "excellent presentation," and Sony's occasional tendency to soft-focus didn't miss Marianne's church space. But the biggest payoffs were in the hi-res tracks. When Nataly's drummer entered, the whacking reverb made me sit up. And the 192/24 Saint-Saëns org/orch attack was "virtuosic, smooth, 3D, warm but not dumbed-down, playable loud," while the DSD'd sitar was "focused and detailed."
Complaints surfaced with Sony/Sennheiser, mostly with tracks that had previously rankled with other combos. But there were notable successes, including a natural and ideal presentation of the dynamically challenging Denny vocals, a Yes performance that traded detail for momentum, a sweet and tuneful Bach string-orchestra sound, a gentle top end that allowed Deep Purple's bassist to pop out of the bass-shy Sennheiser, and "majestic flow and vibrancy" in the Saint-Saëns, even if the DSD-delivered sitar was "a tad opaque."
The Sony amp/DAC mitigated the excesses of the Sony headphone. They didn't overemphasize the lossy crudity of the low-bit-rate files or the foibles of other habitually problematic tracks. For the first time, I noticed how Marianne's vocal reverb went outward from center to left and right. Bach was "sweet but well defined," and Deep Purple offered an "excellent balance of texture and comfort." Donald Fagen was "gorgeous, not as warm as some combos, but not thin or light." Nataly achieved her dynamic outburst painlessly, though the brass fanfares in the Saint-Saëns were "a little bright." The sitar number was "well lit, but I'd prefer more smoke."
Sony's PHA-3 has the iron will that a four-figure amp/DAC should have. It wants to make nearly everything sound sweet, and nearly always does, especially with hi-res content.
Specs
Dimensions (WxHxD, Inches): 3.14 x 5.53 x 1.14
Weight (Ounces): 10.6
Inputs: USB Micro-B (2, 1 for charging; 1 for PC/Mac, Walkman, Xperia phone), USB A (1, for iOS), 1/8-inch stereo analog (1)
Outputs: 1/8-inch headphone ( conventional and balanced), 1/8-inch analog line (1)
Output Power: Maximum 320mW + 320mW (Balanced Connection, 32 Ohms, 1% distortion)
Output Voltage: N/A
Output Impedance: n/a
Compatible Headphone Impedances: 8 to 600 ohms
Sampling Rates: 44.4, 48, 88.2, 96, 176.4, 192, 384
Upsampling: Yes (DSEE-HX)
DAC: ESS ES9018
Windows Drivers Installed: ASIO
Sony (877) 865-SONY
sony.com