Apple iPod touch 5G and iPod nano 7G Multimedia Players
iPod touch 5G
Price
: $299 (32GB), $399 (64GB)
At A Glance
: Larger, wider "Retina" screen • Runs feature-packed iOS 6 • Faster processor, faster Wi-Fi, faster "Lightning" USB connector
iPod nano 7G
Price: $149
At A Glance: Sleek, featherweight portable audio/video player • 2.5-inch 16:9 touchscreen • Includes Apple's nifty new EarPod headphones
Even as a forward-thinking teenager, when I dreamed of the marvels that ever-changing entertainment technology would bring us, I never thought that I would someday be watching an "HD" version of Jaws in the palm of my hand. But here I am, holding a feather-light, wafer-thin über-device, engrossed in Spielberg's timeless tale of an aquatic beast and the people who want to kill it.
In truth I have spent the last couple of weeks watching Jaws on two amazing new devices, the Apple iPod touch (fifth generation) and iPod nano (seventh generation). We'll start with the larger, fancier model, the touch, this newest iteration of the beloved portable media player managing to trump all of those that have come before. As a familiar point of reference for the physical form factor here, it has the same footprint as the new iPhone 5, but is thinner and with rounded edges.
touch The Future
The iPod touch is also significantly slimmer and lighter than its fourth-gen predecessor, yet it now packs a movie-perfect 16:9 aspect-ratio screen that also boasts drastically improved color saturation. The "Retina" display made its iPod debut with the fourth-generation touch, at the same 326ppi, but it has grown from 960-by-640 to 1136-by-640 resolution due to the increased screen width, when held in landscape mode. Held vertically, it is taller but no wider than before, so you can still do pretty much everything single-handedly. I hate myself for finding any fault with this streamlined design, but it's so light and slim that I find my oafish man-hands fumbling with it, so I do recommend a case such as the Mento-esque (hard plastic on the outside, soft gel on the inside) Cygnett PlayUp ($19). It added just enough girth that I felt more confident holding the player, and it capably protects against damage.
The new iPod touch arrives running Apple's iOS 6 mobile operating system, which brings a host of new features, some more subtle than others. Perhaps the most interesting is Siri, the interactive, voice-controlled virtual assistant which drew a lot of attention when she was introduced on the iPhone 4S. Yes, she can do all of the stuff you've seen in the TV commercials—finding nearby restaurants and such—but she can also call up local movie listings, when you want to venture outside your home theater. As a movie geek, I decided to test Siri's cinematic knowledge: She claims she hasn't seen that many movies, but ask if she has ever watched Star Wars, if she knows HAL, or what's the first rule of Fight Club, and you might be surprised at the wittiness of her answers.
Setup
Like all Apple gear I've reviewed, the iPod touch 5G is quick and easy to configure. I synched the device using my Apple ID so it has full access to my iTunes library of audio and video content. It also synchs with Apple's iCloud, to pull (and in some cases store) content in the cloud. The key here is the device's outstanding dual-band (2. 4GHz and 5GHz) Wi-Fi (802.11a/b/g/n) support. If you have the latest Apple TV (third generation) you can stream 1080p video wirelessly from the iPod touch to the television, in addition to displaying photos, playing games and more. AirPlay offers higher bandwidth than Bluetooth (also supported here) as well, so streamed audio will remain purer and sound better. iTunes and the App Store are both preloaded on the device, and I was able to download a copy of my 1080p version of Cabin in the Woods—all three-plus gigabytes of it—in less than an hour. Credit goes to the robust 802.11n connection provided by my Apple router, while the rechargeable lithium-ion battery suffered barely a ding.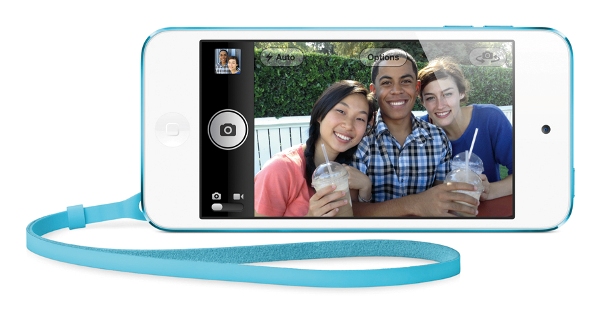 Apple's entire mobile line appears to be moving away from the ubiquitous 30-pin cable and embracing the new "Lightning" format, which uses a smaller USB plug that works either side up. While not up to USB 3.0 data transfer speed standards, this USB 2.0 connector promises faster transfer than the 30-pin connector—handy when loading up the device with lots of content-to-go. While I was not able to give Lightning a 100 percent fair A/B comparison, I can say that it took 100 seconds to load a big honkin' two-and-a-quarter-gigabyte file (Watchmen in SD) from iTunes 10.7 onto the touch. The same movie needed an additional 45 seconds to transfer to my trusty iPhone 4 over the 30-pin cable, drag-and-drop, start-to-finish. (I used the USB 2.0 port on my desktop PC for both transfers.) For what it's worth, the new touch boots in about 16 seconds, almost twice as fast as the iPhone 4. Reportedly, it can also pass a 1080p signal over the new Lightning Digital AV Adapter, essentially a female HDMI dongle with Lightning pass-through.
The iPod touch 5G is available in two capacities, 32GB and 64GB ($299 and $399 respectively). While that might seem like plenty of storage, keep in mind that a two-hour opus like Jaws will commandeer about four-and-a-half gigabytes of real estate. As for resolution, the player decodes 1080p movies and TV shows at full resolution and downscales them on-the-fly for playback at 720p. The same applies to the touch's iSight camera: video recorded at 1080p can be passed to other devices at full resolution but is displayed at 720p on the touch's screen.
I keep harping on Jaws because I watched the restored Blu-ray several times this past summer, and am familiar with how amazing it looks. The wondrous clarity, the fine details, the organic colors, the rich shadows, the quirkiness of the grain structure: They're all evident in this 1080p digital copy, even when the image is zoomed in to remove the black bars top and bottom. Worth noting, the "U" and the "L" of the Universal logo on this 2.39:1 classic still just fit on the 16:9 screen when I zoomed in. More recently, The Hunger Games delivered a stunning HD transfer for Blu-ray, and the image remains remarkably stable on the iPod touch, without distracting compression artifacts. And Pixar's Up is as digitally pure as ever, its elaborate textures perfectly rendered here. In short, the iPod touch is impossibly cinematic, even at a mere four inches.
The Sound
Sonically, the touch brings with it a pair of Apple's latest "EarPod" earbuds, which are crafted of a hard, smooth white plastic. They have a small exit with no covering or removable screen or soft eartip, leaving them generally easier to keep clean. And they don't need to be wedged deeply in the ear to do their thing, rather they rest comfortably in their recommended position. This slightly looser design also allows you to hear more of the outside world, and the four ports on each earpiece are said to optimize air movement to enhance bass and midrange. An optional step-up pair of EarPods ($29) adds an inline remote control and microphone.
Listening to a variety of digital tracks, including some in the higher-resolution Apple Lossless format, I noticed that most of the audio fell into a broad midrange, which was full and pleasing. Thumping drums meanwhile have respectable low-end oomph, and strings—more often than not—seemed to have ample headroom. I experimented with the sound, putting my fingers over the tiny ports, as they do indeed make a subtle difference. Overall I would rate the sound quality of these earbuds a notch above the previous generation. The touch's built-in speaker (side-firing when the touch is held in landscape mode) is welcome, and especially useful when using features like Siri.