Five Portable Hi-Res DACs Compared AudioQuest DragonFly v1.2 Amp/DAC
AudioQuest DragonFly v1.2 Amp/DAC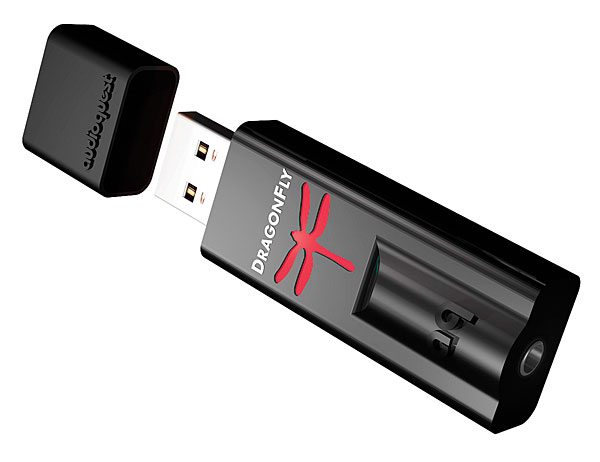 PRICE
$149
AT A GLANCE
Plus
More open top end than old model
Same great styling
Plays 176.4- and 192-kHz files
Minus
Rates above 96 kHz are halved
No DSD
THE VERDICT
AudioQuest has updated its giant-killer DragonFly with more crowd-pleasing voicing and a lower price, making this one of the best values in its category.
The AudioQuest DragonFly v1.2 is a second-generation revision of the original DragonFly, which made a big splash with a DAC design by the distinguished Gordon Rankin of Wavelength Audio. Improvements include a more direct analog signal path and a fortified power supply. AudioQuest says they are audible as smoother and more open sound with greater dynamic contrast. AudioQuest recommends 24 hours of break-in for best performance. The original sold for $249 and is now marked down to $99—an incredible bargain. The new one sells for $149.
DragonFly's enclosure is black matte plastic and flyweight in a shirt pocket. It has a headphone jack at one end and a USB A plug at the other, and it's powered by the computer's USB jack. The sole indicator (and most endearing trait) is a dragonfly-shaped LED that glows in a different color for each sampling rate: green for 44.1, blue for 48, amber for 88.2, and magenta for 96.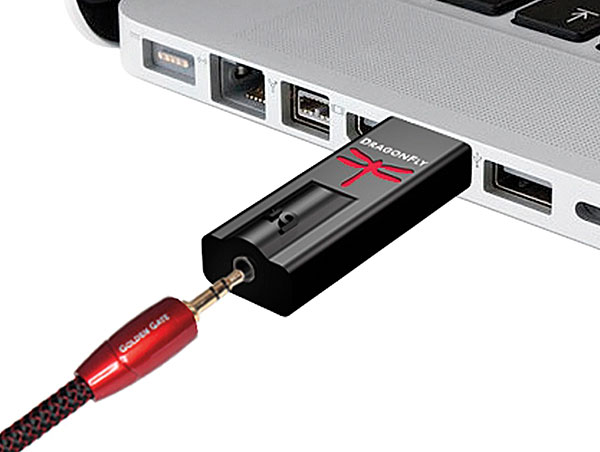 Rates of 176.4 and 192 kHz are supported for playback but are halved to bring them within the DragonFly's capabilties. With native resolution limited to 96/24, computer driver installation is not required. As with some similar products, DragonFly isn't compatible with Windows Vista and has had issues with Win 8.0; you'll need the free update to Win 8.1.
Although DragonFly has no volume knob per se, it does have an internal analog volume control that piggybacks onto the volume sliders in your computer operating system. AudioQuest suggests maxing the volume control of your music player software and adjusting the OS volume control to taste for headphone gain.
DragonFly scored high with the mellow Oppo and neutral-ish Sennheiser cans and a conditional passing grade with the merciless Sony. With AQ/Oppo, the Ramones, even in low-bit-rate MP3, were "smooth, balanced, like vinyl"—a miracle. The combo controlled the natural rising edge of Denny's voice and even "fixed" Teddy Thompson's gorgeous vocals, which were recorded with an aggressive edge (and almost always sounded that way). Orchestral and quasi-orchestral material like the Dvořák and Yes tracks were well balanced, and the pipe-organ-assisted Saint-Saëns symphony "blasted nicely." Compared with Schiit, DragonFly was "slightly darker-toned" in the Bach and "darker, rounder, smokier" in "Smoke on the Water."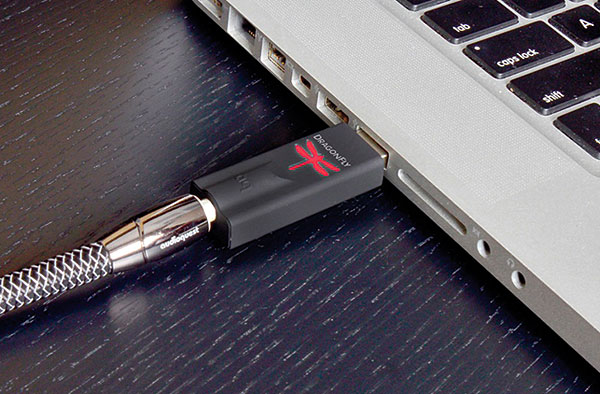 I swooned only a tad less with the AQ/Sennheiser combo: The Ramones were "light and agreeable," as opposed to miraculous, but every track was a winner. As for the AQ/Sony combo, I can only report the results, not explain them: The lossy tracks were quite listenable, the CD-quality tracks were mixed, and the hi-res tracks were "too thin" (Deep Purple and Fagen) or "too bright" (Nataly and Saint-Saëns).
The AudioQuest DragonFly works well with a variety of headphones and content, and it accounted for some of the happiest moments of my listening sessions. I have no qualms about giving it a five-star performance rating. However, if you're into hi-res audio, headphone matching becomes crucial.
Specs
Dimensions (WxHxD, Inches): 0.75 x 2.4 x 0.4
Weight (Ounces): 0.7
Inputs: USB (1)
Outputs: 1/8-inch stereo analog (1)
Output Power: Up to 125 mW at 32 ohms
Output Voltage: Up to 2 V RMS
Output Impedance: 0.58 ohms
Compatible Headphone Impedance: 12 ohms
Sampling Rates: 44.1, 48, 88.2, 96
Upsampling: No
DAC: ESS ES9023
Windows Drivers Installed: DS, WASAPI-event, WASAPI-push
AudioQuest
(949) 585-0111
audioquest.com