Pioneer VSX-1123 AV Receiver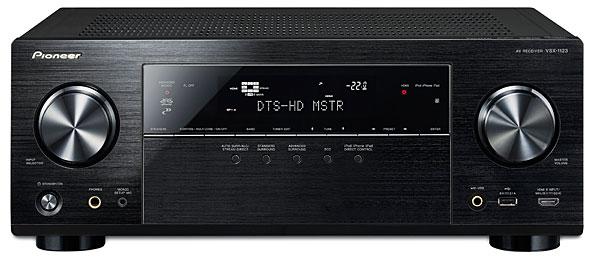 Price: $600 At A Glance: MHL, HTC, iOS phone links • 4K scaling and passthrough • Solid performance for price
Despite some price overlap, Pioneer's two receiver lines hew to different sets of values. Its Elite line offers more custom-install features, comes with a two-year warranty, and is sold through different distribution, primarily brick-and-mortar stores. The just-plain-Pioneer line, on the other hand, has more features per buck, offers a one-year warranty, and is sold both in stores and online. Scrutinize both lines closely, and you'll find several cheap-and-cheerful-Pioneer models that are close equivalents of higher-priced Elite models. The just-call-me-Pioneer VSX-1123 ($600), reviewed here, has the same rated power and nearly all the same features as the Elite VSX-70 ($700)—including some brand-new features that will interest the smartphone-centric. If a price differential of more than a hundred bucks looks large in your household budget, read on.
Woof Woof
The VSX-1123 is top dog among four new models in the regular-Pioneer line. The others include the VSX-1023 ($500), VSX-823 ($400), and VSX-523 ($250). Note that the two least expensive models have 5.1 channels, not 7.1; and the bottom model is the only one lacking Apple AirPlay wireless capability. This quartet joins two existing year-old models, the SC-1222 ($1,100) and SC-1522 ($1,599). Both of those have the company's powerful energy-efficient Class D3 amplification, signaled by the SC- model prefix, and the top model boasts 9.2 channels.
There are notable gulfs in pricing and power between the VSX-1123 and the next model up, the SC-1222. The VSX-1123 costs $500 less. It is rated at 90 watts times two into 8 ohms, or 30 fewer than the step-up model, and like other VSX models, it uses conventional Class AB amplification, versus Pioneer's next-generation D3 digital switching amplifiers.
The VSX-1123 and the next model down, the VSX-823, offer new features previously available on the more expensive SC models. One is an MHL 2.0-compliant HDMI input. It lets you plug a compatible smartphone into the front panel to play 1080p 3D video and audio content and to charge the phone. You may set the receiver to default to MHL when it detects an MHL source.
If you'd prefer a wireless connection for your HTC-compatible Android smartphone, Pioneer is the first manufacturer to offer HTC Connect in its receivers and wireless speakers. It enables music playback and control of receiver volume level and doesn't prevent you from taking calls, surfing the Web, or snapping pictures. The full HTC Connect standard also includes video streaming and photo access, but this implementation of it is audio only.
Meanwhile, back in the Apple ecosystem, users of iPhones, iPads, and iPods are covered with both wireless AirPlay and wired USB connectivity, including the new Lightning connector. The VSX-1123 and the two models below it support high-resolution AIFF, Apple Lossless, FLAC, and WAV file formats in addition to the usual lossy ones via USB or networked computer. The VSX-1123 also accepts the DSD audio file format, the basis of Super Audio CD, for the small but growing selection of DSD music downloads.
In addition to HTC Connect and AirPlay, the receiver also supports Bluetooth wireless connectivity through the AS-BT200 adapter ($99), which plugs into the back panel's Adapter port. Through its Ethernet connection and the DLNA standard, the receiver allows music and photo access from a PC, plus the Windows 7 and 8 Play To feature, and both vTuner and Pandora Internet radio. Wi-Fi connectivity is an option with the AS-WL300 adapter, sold separately for $129 (reduced from $149). In this respect, Pioneer lags behind a few other manufacturers providing integrated Wi-Fi at no extra cost.
Two of the receiver's seven amp channels can be used for DTS Neo:X or Dolby Pro Logic IIz height enhancement, Pioneer's proprietary Wide Surround width enhancement, back-surround use, second-zone use, or biamplification of the front left and right channels. On the video side, this receiver uses the Marvell Qdeo video processor for 4K UHD passthrough and scaling.
Pioneer's 2013 receivers have a new ECO Mode, which analyzes and controls peak volume and reduces power consumption while attempting to maintain audio quality. There's also an ECO standby mode. Control of these features is from the front panel, remote control, or iOS control app. Note that the VSX-1123 is compatible with the iControlAV2013 app, with its redesigned user interface and new finger-flick feature, while the two models below it use the older ControlApp. As to the onscreen user interface, it is getting long in the tooth, but I find its nested menus easy to navigate—granted, after years of practice—and it includes context-sensitive help for some functions.
I set up the receiver using Pioneer's own Full Auto MCACC auto setup and room correction. It spits out more test tones, and takes longer, than most other auto setups. But it's not hard to use and usually does a good job.
Regrettably, I didn't have the right kind of smartphone to test the MHL and HTC Connect links. But music access via AirPlay, Bluetooth, Windows 7 Play To, and DLNA all worked as advertised. Play To was a little slower to start up than I've seen before. Bluetooth pairing with an iPad took only a few seconds.