VidaBox Magnum Media Center
The one HTPC to rule them all.
A couple of years ago, home theater personal computers were on the cusp of being the next big thing. Everyone wanted to make them to get in on the market, and why not? The ability to put all of your home theater media in one box is incredible. No more getting up to sift through CDs or DVDs only to find that the one movie you want to watch is missing. Instead, you can store movies on a hard drive and access them by remote.
This all sounded appealing, but things rarely turn out how they sound. Because a home theater personal computer is a true convergence between a consumer electronics product and a computer, both consumer electronics companies and computer companies were developing them. The problem that came to light is that CE companies don't know how to make computers, and computer companies can't make consumer electronics products. Our choice was a nice-looking product that didn't work well or one that worked decently but wouldn't fit anywhere near a home theater. It doesn't help that Windows, no matter how hard it tried, was never user-friendly enough to work in a home theater.
The Home Theater PC Savior?
What we needed was a company that was devoted to HTPCs, not just computers or consumer electronics products. VidaBox is just that company. They have a line of media centers and media extenders, with the Magnum sitting at the top. The name certainly fits the bill. The Magnum, at nearly 9 inches tall and 45 pounds, will rival some of the larger receivers for dominance in the electronics rack. But while it's large, the unit still looks sleek and attractive. The large enclosure allows for air to circulate inside and the heat to dissipate. This keeps the fan noise down—long an issue with HTPCs. When the motorized LCD screen is retracted, the front of the Magnum looks as though it has no controls or drives. Once you turn on the screenand slide it down to a 45-degree position (both activated by an easily accessible but cleverly hidden button), a combo HD DVD/Blu-ray drive is revealed, as well as two USB, a FireWire, and multi-card reader slots. The LCD screen allows you to use the system without turn- ing on your main display if you're just playing music or streaming content to a VidaBox media extender or Xbox 360. The Magnum allows high-def streaming to five Xbox 360s and non-HD content to a maximum of ten VidaBox extenders.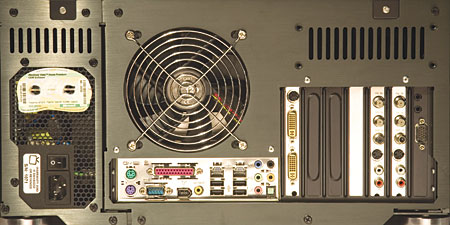 In the belly of the beast is an AMD Athlon 64 X2 Dual-Core 5200+ processor running at 2.6 gigahertz. There's 2 gigabytes of RAM and hard drive space totaling just over 700 GB. An NVIDIA GeForce 8600 GTS handles the video. The onboard audio connections include coaxial, optical, and up to 7.1 analog capabilities. This beefy setup can handle the load that high-def discs will put on the system, as well as the newest, power-hungry PC games. If there's a part of the system you're less than excited about, don't worry; it is a customizable computer, after all. VidaBox is willing and able to upgrade specifications if you so choose. Just think of up to 9 terabytes of storage for all your movies, high-def television content, and music.
Setting up the Magnum takes about an hour to an hour and a half, depending on how in depth you choose to go. The unit comes with hardware installation guides, plus a software configuration guide that's helpful for those unfamiliar with Vista—and even those familiar with the operating system. Because there are seemingly odd quirks in Vista, not using the configuration guide could cause you to miss a quirk or two. For example, if you set up your display solely through Windows Media Center, video discs won't display properly when played with the included Cyberlink PowerDVD software. Since that software runs from the desktop and not within Media Center, you must set the desktop resolution and sizing separately. That's not a big deal if you know it's happening, but it could prove to be extraordinarily frustrating if you're trying to troubleshoot it. It's also a good idea to run an Ethernet to your home theater if you haven't already. The Magnum doesn't come with wireless capability, and you'll need the Internet to fully set up Vista. An Internet connection also allows the Magnum to send the VidaBox support staff an e-mail if it detects failures and errors on the disc drives. You can then set up service to deal with the problem and save your information.
Home Sweet (Vista) Home
When Vista was released at the beginning of 2007, there were many skeptics—including myself, to some degree. Early claims touted Vista as the Mac OS 10 killer, much as the Zune was dubbed early on as the iPod killer. (We all know how well that turned out for Microsoft.) As details became known closer to launch of what Vista was turning out to be, it seemed to be more of an XP update than a brand-new operating system. There was also a lack of programs coming out to fully take advantage of some of the new features, such as DirectX 10. In the past year, more programs have been released with Vista optimization, but I think we're still waiting for Vista to fully become what it can.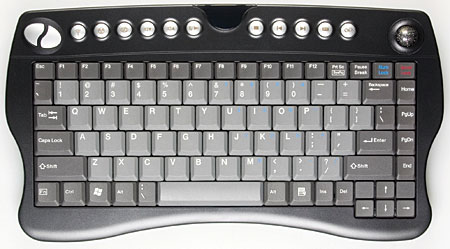 Where Microsoft made improvements was in their Media Center user interface. Previously available through the purchase of an HTPC, the Media Center interface comes included in all copies of Windows Vista Home Premium and Windows Vista Ultimate. The interface is more efficient and looks cleaner; it's very similar to the PS3 menu, although with the axes flipped. This new version of Media Center is also optimized to work with high-definition, widescreen displays with many possible resolutions available during setup at multiple refresh rates. This updated interface makes navigation much easier and more intuitive. Ripping DVDs to put in your hard drive library is quick and easy. The Media Center interface remains accessible while the movie plays. Recording HD content is easy too, although you can only record it from an OTA antenna.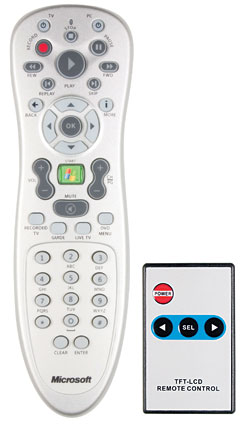 The DualHD drive plays HD DVD, Blu-ray, and DVDs using Cyberlink's PowerDVD software. With Blu-ray, there is some limited functionality, mainly in the pop-up menus. The load times for the discs are some of the fastest I've seen. Pirates of the Caribbean: Dead Man's Chest, which is notoriously slow in loading, only took about 15 seconds. For both formats, the video quality is fantastic. There seems to be no added noise or artifacts. By print time or soon after, there will be new HD playback software that can rip HD DVD and Blu-ray titles to your library in the same way as regular DVDs.
VidaBox includes a keyboard and remote for system control. The wireless keyboard has a trackball in the upper, right-hand corner, with left and right buttons in the upper left corner. Its compact size allows you to easily use it as a keyboard without being too unwieldy. The Microsoft remote facilitates navigation of Media Center, fits in a right or left hand, and has a green backlight for everything except the number pad. If you're not careful, it could also turn on your Xbox 360 without you realizing it.
The Elephant in the Room
Previous media center PCs have traditionally cost less than $3,000. The VidaBox Magnum costs a hair under $8,000. That fact alone has dominated early talk about the product, with many people not even touching it due to that fact. While I'm not going to downplay the fact that it's a large chunk of change, I think you should look past the knee-jerk reaction. Utilized to its fullest capacity, the Magnum can hold every movie you own, all of your music, photos of your family, and a season's worth of high-def television. Moreover, it can stream that to other parts of your house. Could you build one yourself at home for less? Maybe, but you'd most likely be pulling your hair out by the time you finish and wouldn't have any warranty or support. VidaBox has obviously put lots of thought into make their product as user-friendly as possible and stands behind it with their support.
It might have taken a few years, but it seems like HTPCs are back on the right track. Microsoft helped out by making their Media Center OS a little more intuitive and attractive. Here's hoping they continue in that direction. Finally, there's a company out there with a good head on its shoulders that understands what needs to be done with media centers.
Highlights
Stores an incredible amount of media
Motorized front LCD screen is pure cool