Klipsch iGroove System
Let's face it, i-anything is pretty hot now that the iPod has become the fastest-growing product in consumer electronics. Sales of MP3 players shot up by 255 percent during the first eight months of 2005, and you can bet Apple's smallest and prettiest child was the driving force behind that dizzying growth. Enter Klipsch, one of the few good speaker brands you're likely to find in a national chain store. Now that the the company's iGroove is playing on my desk, I'd say Klipsch deserves its piece of the pie.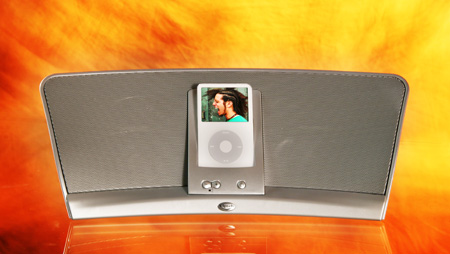 The arc-shaped system is 16 inches wide, and its depth needs 7 inches of breathing room—a good fit for even a smallish bookshelf. It inclines back slightly, aiming its two speakers both forward and up. In the center is the iPod male docking connector. Behind it is a horizontal bar that slides up and down in a variable-depth groove. That adjusts for the differing depths of various iPod models. Si vous utilisez un iPod mini—oops, I strayed into the French part of the manual—if you use an iPod mini, you'll need to use the supplied docking insert. And, if you live in a non-iPod universe, you'll have to add the piquantly named J-Cup, plugging its stereo minijack into the bottom of the docking area. Then you can connect its short miniplug to your unconventional, heretical, apostate player.
A power button and volume up/down buttons reside on the front panel. You'll want to dock the iPod before turning the power on—otherwise the system emits a loud snap when you dock the player. What must be the world's cutest small remote control adds play, forward, and back controls to power and volume. As with most small iPod systems, you must queue up your music before docking—there's no front-panel or onscreen interface to navigate the player's menu. But the system does charge the iPod.
The speakers that sit behind the aluminum grilles are a two-way design, rare in such a tiny system, with a 1-inch tweeter and one of Klipsch's famous horn-loaded woofers, in this case a 2.5-incher. Frequency response is rated at 65 hertz to 17 kilohertz.
The organ-generated bass on Steve Winwood's About Time was reasonably prominent, indicating good mid- to upper-bass performance. Bass guitarists were pretty well defined but not exaggerated. The midrange is intelligible but not too strongly outlined—you can actually turn this system up, within reasonable small-system limits, and enjoy it. I certainly do.
Price: $280
Mark Fleischmann is the author of the annually updated book Practical Home Theater. For links to the latest edition, visit www.quietriverpress.com.