Zvox Brings AccuVoice Tech to $150 Wireless Noise-Canceling Headphones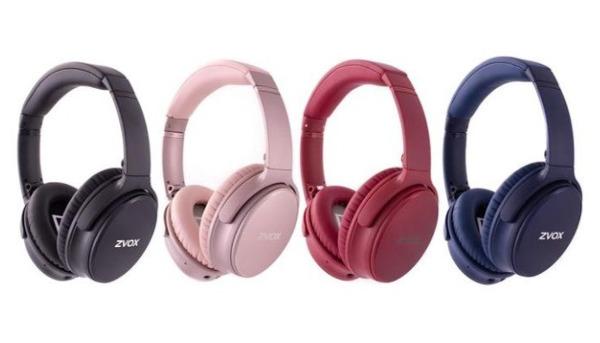 Zvox Audio, the Boston-based soundbar pioneer and champion of audio products for the hearing impaired, has introduced $150 wireless noise-canceling headphones that also incorporate the
voice-boosting AccuVoice technology developed for its line of TV speakers
.
Hailed as the "first high-performance noise-canceling headphones from a major audio brand to be available at a truly affordable price," the AccuVoice AV50 marks the company's entry into the headphone arena.
The full-size, over-ear headphones support wireless streaming via aptX-enabled Bluetooth and use phase-reversal algorithms, selectable by a button on the right ear cup, to "cancel" or at least dramatically reduce invasive noise — such as the rumble of jet engines, wind, crowds, and air conditioners — picked up by two built-in microphones.
The noise-canceling feature also makes it easier to hear phone calls in a loud, crowded environment.
One-upping other noise-canceling headphones, the AV50s' noise-suppressing abilities are supplemented with a selectable AccuVoice mode that clarifies vocals on music and dialogue in TV shows and movies by "lifting voices out of background sounds."
"Even users with mild hearing loss can understand dialogue clearly, without having to crank up the volume," Zvox said in a press release. "AccuVoice is particularly beneficial for watching movies and TV shows with poorly recorded dialogue or extremely loud special effects."
In addition to connecting wirelessly, Zvox provides an audio cable that can be used to connect the headphones to a smartphone, tablet, or laptop; connecting wirelessly to a TV requires the use of a third-party Bluetooth streaming device.
The ear cups and headband are padded with memory foam to ensure comfort and the headphones are foldable so they can be stored in a padded carry case that's about the size of a paperback book.
The AV50 headphones weigh less than 8 ounces and are available in black, red, blue, and rose gold.
For more information visit zvox.com.
Related: