Tiny Enhancer: Zvox AccuVoice AV203 TV Speaker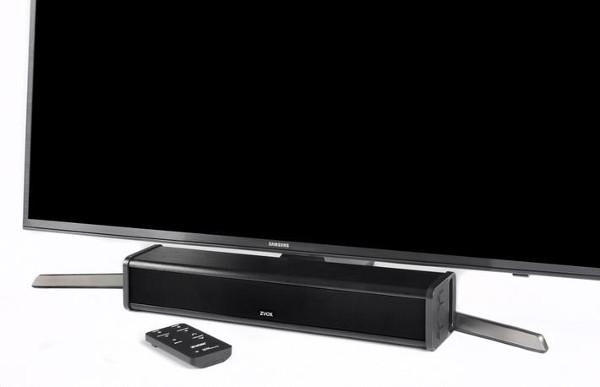 PRICE
$270
AT A GLANCE
Plus
Super compact
Nice build quality
Easy to set up and use
AccuVoice modes aid the hearing impaired
Minus
Sound could be fuller
Surround sound is subtle
THE VERDICT
The AV203 TV speaker just might be a godsend for viewers with hearing loss who have difficulty discerning voices and movie dialogue.
The small rectangular box sat in my foyer for days before I realized it was the Zvox soundbar I'd been waiting for. My god, this thing is small, I thought as I pulled the AccuVoice AV203 TV Speaker out of the box. I was immediately impressed with its heft and build quality and as curious as ever about how the diminutive bar would perform.
In case you're not familiar with Zvox, the company is a pioneer in outboard TV sound, having introduced the first successful soundbar in 2003 at a time when "home theater in a box" speaker packages were touted as a "simple" but effective alternative to the cheap speakers built into most TVs. In truth, the typical HTiB with its six speakers and gaggle of wires was actually a pain to set up. When the Zvox 315 Sound Console arrived, it was a breath of fresh air, offering excellent sound quality from a single elongated speaker that was a cinch to hook up and use; it even received a Sound & Vision Reviewer's Choice Award in 2004 .
Zvox has evolved and expanded its product line over the years, introducing the first "soundbase" — an all-in-one speaker platform designed to support the TV — and the first soundbar to incorporate hearing aid technology that "lifts voices out of background sounds," making dialogue easier to discern for the millions of Americans who have some degree of hearing loss. The company calls the technology AccuVoice and it's the main attraction of the AV203, whose retail carton shows a woman with a hand up to her ear and text that reads: "Can't understand voices on TV? We can fix that!"
The AV203 is a model in simplicity with three equally spaced 1.5 x 3-inch "full-range" drivers and a 24-watt amplifier ensconced in a sturdy brushed-aluminum enclosure measuring 17 x 3 x 3 inches. It has a manageable set of controls that provide six levels of AccuVoice processing, which progressively shifts and narrows the frequency band as you toggle up, three levels of Zvox's PhaseCue virtual surround processing, bass and treble controls, and an output leveling mode that smooths out volume swings among different TV channels or inputs. Everything is controlled through a compact, eight-button remote that fit comfortably in the palm of my hand. The remote also has Mute and Other Settings buttons, the latter for activating output leveling and accessing the tone controls.
Setting up the AV203 is a cinch as the bar offers only three connection options: a minijack for analog hookups to older TVs (cable included), an optical digital port (cables included), and a minijack output for use with headphones or a subwoofer. Zvox also includes a minijack-to-RCA cable for TVs or cable boxes that lack a digital connection.
Within seconds of plugging the supplied optical cable into my Comcast HD cable box, the system was up and running, proving handily that it could run circles around the tiny squawkers built into a 55-inch LG TV. The AV203 excelled at bringing dialogue (or vocals) to the forefront, and did a decent job of keeping obnoxious commercials in check when output-leveling was engaged (the result wasn't entirely consistent but that likely had more to do with the program material than the processing).
I enjoyed the upgrade in sound the AV203 provided with a variety of programming, including the BBC's outstanding music showcase, Later…with Jools Holland. Experimenting with different settings, I found that punching up the bass and using the AccuVoice 1 setting with Surround Level 1 (for music) and 3 (for movies) provided the best balance between intelligible vocals (or dialogue) and reasonably full sound. The system decodes Dolby Digital but, as a Zvox tech rep admitted to me, you aren't likely to notice much of a difference between it and a stereo soundtrack decoded using the rudimentary virtual-surround processing.
Overall, the sound was reasonably full with decent bass and a subtle surround effect providing a sense of ambience. Standouts included Buddy Guy's "Meet Me in Chicago" on MTV Live's Live From the Iridium — screaming guitar and funky bass groove intact — and Charlie Wilson and John Newman putting their own spin on the Burt Bacharach classic "Walk On By" with Jools Holland on piano and Bacharach in the audience nodding his head approvingly! The two distinctive vocals styles came across loud and clear.
The climactic firebomb scene in 1993's A Bronx Tale demonstrated the little speaker's prowess with movie soundtracks in a surprisingly potent way as a car carrying teenage thugs explodes, trapping all inside. It also tested the volume limit of the little speaker, which was more than adequate for my 12- x 15-foot space. Dialogue was easy to discern during the many street scenes and interior settings, even those set in the noisy club.
If you have a mild to moderate hearing loss, you'll appreciate Zvox's AccuVoice feature, which pulls out and highlights voices by zeroing in on progressively higher midrange frequencies as you raise its level. Just keep in mind that these changes in tone (especially from the top three settings) will sound tinny to a normal ear — sort of like an old transistor radio.
Make no mistake, if you're looking for a soundbar capable of delivering big, powerful enveloping sound with movie soundtracks, the AV203 is not your bar. Zvox (and others) sell plenty of (more expensive) models that fit that bill. Rather, the 203's specialty is in delivering sound that is noticeably better than you could ever hope to get from your TV's sound system with the unique ability to isolate and clarify voices and dialogue for those who suffer from a mild to moderate hearing deficiency.