Zvox Aids Hearing Impaired with Advanced Soundbar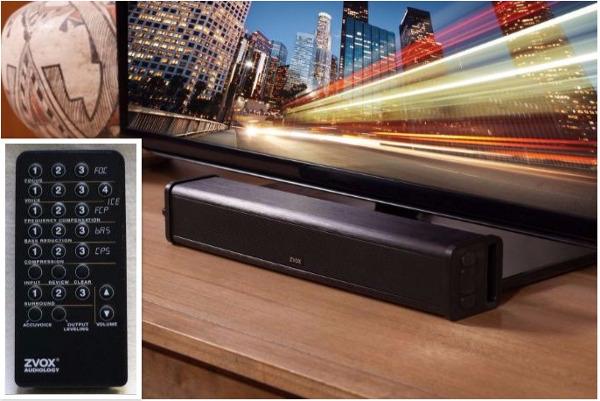 Zvox has introduced an advanced version of its popular AccuVoice TV Speaker that uses patent-pending algorithms to "lift dialogue out of a soundtrack" so it's easier to understand.
The new AccuVoice AV205 uses the same speakers, cabinet, and processor as last year's AV200 but can be fine-tuned to match the listener's level of hearing impairment using a special "Audiology" remote control.
People with impaired hearing can have the AV205's sound fine-tuned by an audiologist to match their specific hearing deficiency, according to Zvox. The hearing professional makes appropriate adjustments to five parameters and stores the tailored results in an "AccuVoice 1" preset for instant recall. The remote also has a generic AccuVoice 2 preset with mild dialogue enhancement that "most listeners will appreciate."
The five adjustable parameters are: Focus, which increases the emphasis on dialogue; Voice, which "adds artificial harmonic distortion to words to add an edge to their clarity;" Frequency Compensation, which emphasizes frequencies in the "consonant range," which are the key to dialogue intelligibility; Bass Reduction, which reduces bass so it doesn't interfere with voice intelligibility; and Compression, which restricts variations in volume so all sounds are about the same loudness.
AccuVoice speakers use a computer processor that mimics the functionality of a hearing aid and applies a compression/equalization algorithm that lifts voices out of background sounds to clarify dialogue, according to Zvox. The proprietary technology is activated only when voices are detected in a soundtrack.
Encased in a 17 x 3 x 3-inch aluminum cabinet with three full-range speakers, the soundbar has optical and analog inputs and an output leveling mode that reduces the volume of blaring commercials.
The AccuVoice AV205 TV Speaker will be available through audiologists and hearing aid professionals in April for $350.
For more information, visit zvoxaudio.com.