Zu Audio Cube Speaker System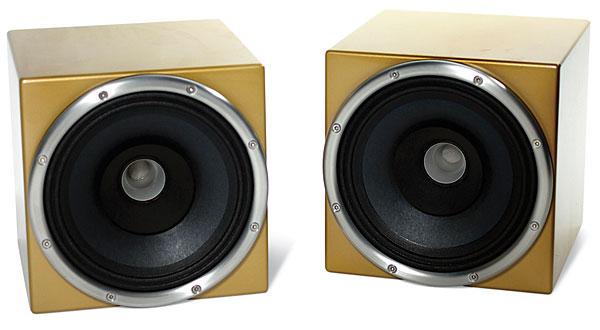 PRICE
$2,495
AT A GLANCE
Plus
Big, highly dynamic sound
Super easy to drive
Made in the U.S.
Minus
Limited dispersion
Must be used with a subwoofer
THE VERDICT
It may not be a universal solution, but for buyers seeking wide dynamics in a fairly compact speaker, the Zu Audio Cube delivers a big sound.
I've heard my share of tiny cube speakers with 3- or 4-inch woofers, and while the best of them can sound decent enough, the Zu Audio Cube is a very different beast. It's still a compact speaker, but big by comparison to those pipsqueaks—big enough to house a 10-inch driver. That ability to move air makes no small difference, and trust me on this: The Cubes are turn-it-up-and-party speakers.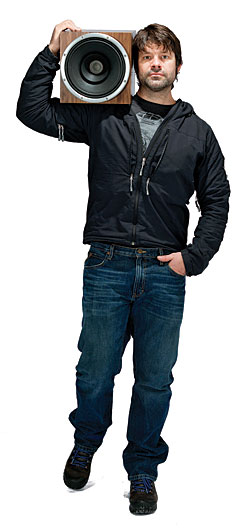 Every Zu speaker since day one has had a 10-inch driver. Sure, it has evolved over the years—there were six distinct versions—and the Cube's driver is coaxial, with a large 1.7-inch aluminum-dome tweeter mounted at the back of the driver playing through a waveguide in the throat. The 10-inch cone runs full range, meaning it's totally filterless from bass all the way up through treble; there's no crossover. The tweeter has a simple filter, just a bass-blocking capacitor, and the Cube's tweeter chimes in a lot higher than what you typically see in two- or three-way designs. While crossover points from 2 to 4 kilohertz or so are common, this tweeter takes over at 12 kHz! The Cube is a sealed, non-ported design, and its claimed uber sensitivity (98 decibels/1 watt/1 meter) lets it rock out with low-powered receivers (check our lab results to see how it actually measured). Power handling is spec'd at 150 watts maximum. Zu claims the Cube goes down to 80 hertz on the low end. That seems plausible to me. [Editor's Note: Maybe so, but Zu's Website specs don't qualify how much output it has down there, and our quasi-anechoic measurements showed a much earlier roll-off absent any room gain; see Test Bench.—RS]
Most of the driver's parts are sourced from U.S. companies to ensure consistent quality; assembly and testing are done at Zu's factory in Ogden, Utah. On the Cube's backside, you'll find a single set of all-metal binding posts.
Buying speakers from a small enterprise like Zu has its advantages, and a rather special one is that if you have any questions, you can pick up the phone and call the company. During business hours, an actual human being will likely answer the phone. If that person can't help you, chief designer Sean Casey will be glad to assist. That sort of person-to-person service is increasingly rare, but for Zu (which was founded in 2001), it's just the way they like to do business.
In addition to the standard real wood finishes, Zu will (for an upcharge) apply your choice of wood veneers. Custom paint finishes typically run $220 extra per Cube; send a paint sample, and they'll match it. Anything is possible. Finish quality is absolutely superb, and it's handled in-house at the Zu factory.
Dialing In
This is a very directional speaker. Its dispersion is narrow, so when I stood up, treble detail and air took a nose- dive. The upside to narrow dispersion is that the Cube reflects less sound off side walls, the floor, and the ceiling than wide-dispersion speakers do; consequently, the Cube projects an unusually focused soundstage. They sound best placed near seated ear height; I had mine on 26-inch-tall stands. Wall-mount 'em higher if you must, but just make sure to aim them toward the sweet spot. You can fine-tune the Cubes' treble balance by changing the speakers' toe-in angles.
I spent the bulk of my Cube listening time with an Onkyo TX-SR805 A/V receiver and an Oppo BDP-105 Blu-ray player, and since the Cubes don't make much bass, I put my trusty old PSB SubSonic i subwoofer into service. Zu's Undertone sub ($1,999) is excellent, but I wanted to keep the system price under $3,000, so the inexpensive but high-quality PSB was a fine match.
You might expect a speaker with a 10-inch driver to plumb deeper than 80 Hz, but the Cube was designed with maximum dynamic range and sensitivity in mind. I experimented with the Onkyo receiver's bass management settings and settled on an 80-Hz subwoofer crossover, but 50 and 60 were also workable. In any case, the blend between the PSB subwoofer and the Cubes wasn't perfectly seamless; some CDs sounded lean and others a little full. The sub and the five Cubes mated better with DVDs and Blu-rays. After I finished with the multichannel tests, I used a few stereo integrated amps, without bass management, and achieved somewhat smoother integration between the Cubes and the sub than I did with the Onkyo playing CDs.