Yamaha RX-A1020 A/V Receiver Page 2
Associated equipment included five Paradigm Reference Studio 20 v.4 speakers, a Paradigm Seismic 110 subwoofer, Oppo BDP-83SE universal disc player, Micro Seiki BL-51 turntable, Shure M97xE cartridge, Onix OA 21s integrated amp serving as phono preamp, Lenovo Win 7 PC for DLNA, and 2G iPod touch for AirPlay.

A Beautiful Room
The traditional Yamaha sound is on the more detailed side of average. It is not inherently warm, though it is capable of responding to warmth in content. Past the four-figure pricing mark, as power output rises and distortion drops, that strategy pays off with a meticulously drawn soundfield full of well-imaged objects with panning trajectories that are so vivid, you could almost visualize them leaving behind jet trails. Step it up a notch by throwing in the resonance proofing and hand-selected parts of the Aventage models, and the results can be startling. I'm not kidding: This receiver startled me regularly. And it did so with little or no trade-off in comfort level. It stimulated the brain without making the ears say ouch.
Safe (on Blu-ray with a DTS- HD Master Audio soundtrack) had Jason Statham shepherding a little Chinese girl-math-genius through the mortal hazards of the criminal underworld. This was a cut above the average Statham vehicle, with a sweet orchestral soundtrack in lieu of the usual cheap hard-core techno, and swirling sound effects indicating psychological depth and disori- entation. The receiver delivered the music with fine-grained finesse and the psycho-swirling with directional virtuosity. Dynamics were impressive and palatable. In this and other selections, catching dialogue was never a tribulation.
I couldn't resist accelerating the torture-testing with Lord of the Rings: The Two Towers (DVD, DTS). First thing I noticed was the switch to lossy from lossless surround decoding: The Yamaha's high-resolution nature depicted old-school DTS as softer and less rich, a distinction not all receivers make. Battle scenes were as immersive and listenable as I've ever heard with any combination of hardware.
Tower Heist (BD, DTS-HD Master Audio) nearly turns Ben Stiller into James Bond as it serenades him with spy-film trombones. The receiver aced the trombones, confidently sculpted the cool string-bass line that accompanies them, and practically made me burst into applause when the finale brought in a wailing trumpet. Again, loud felt good. I flipped back and forth between the unprocessed Straight mode and the slightly processed Standard mode and preferred the former, as I usually do.
In my off hours, I devoured the fifth season of Mad Men (BD, DTS-HD Master Audio). A gorgeous orchestral soundtrack complemented the often somber mood of this season, and with the Yamaha in the system, it became as compelling as the characters. I was emboldened to explore the supplementary features to learn more about composer David Carbonara and orchestrator Geoff Stradling. Normally, I haven't the patience for extras, but the afterglow of the music made me do it.
Everybody Into the Pool
In The Chopin Album (CD), Lang Lang fits Chopin like a well-loved pair of walking shoes. The Aventage put a lot of spring into their step. In most of the music demos, there wasn't much difference between the Straight mode (with YPAO and bass management) and Pure Direct (without either). This was an exception: Listening to Pure Direct was like plunging into a giant swimming pool of harmonics, with decays that remained palpable even in the most hushed pianissimo. The Straight mode had a similar tonal balance, but the harmonic structure was not as continuous and the decays were just a little truncated. Straight mode invoked YPAO and hiked the bass output by routing some of it to the sub, but the difference was not night and day. This receiver has good bass output to the main speakers, as you'd expect (but don't always get) in a four-figure model.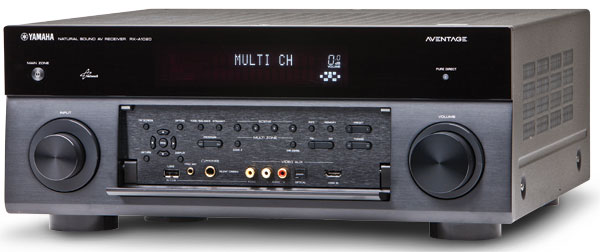 I switched to vinyl for a spell. The only way to make sense of Fleetwood Mac's Rumours is to play it loud. The Yamaha's clean amplification didn't put any stop signs in my way, so loud is where I went. "Go Your Own Way" has always sounded like mush, and the Yamaha didn't do anything to varnish the truth, but it did bring out the human sweetness of Christine McVie's voice on the sparsely arranged "Songbird." In "The Chain," a track that continues to amaze, the receiver's bottom end flattered the opening kick drum, and the top end wailed eloquently on Lindsay Buckingham's climactic guitar solo. Midrange-rich sounds were not shortchanged: The diaphanous backing vocals on "Dreams," the perfect Stevie Nicks song, trailed like colored scarves. (A friend saw Nicks in concert and couldn't stop talking about the scarves.)
Sandy is Sandy Denny's most lushly recorded album. The receiver did well with Allen Toussaint's horn arrangements in "For Nobody to Hear," preventing them from drowning out either the lead vocal or the Richard Thompson Strat solo that frolics through the final minute. Challenged by Harry Robinson's string arrangements in "The Lady," the receiver made them as lush as those in Nick Drake's "River Man," as they should have been—both tracks having been recorded by the great John Wood. I single out these elements because they often seem like intrusive turnoffs when not perfectly reproduced. The Yamaha layered them into the mixes like a master pastry chef.
For network listening, DLNA and Internet radio worked as advertised. The surprise was AirPlay: It had the prettiest graphics I've seen in any implementation on a receiver. Four colorful icons included a purple human figure for artist, a shiny disc for album, a musical note symbol for song, and a clock for timing. To the left of the metadata was a purely decorative G-clef, and all of it was framed by the Yamaha default screen saver showing the innards of a grand piano. A little showmanship never hurts.
As the top 7.2-channel model in Yamaha's Aventage line, the RX-A1020 is also the sweet spot— unless your speakers present a challenging load or you really want to deploy 9.2 channels with height and back-surround speakers. Its exceptional imaging prowess will appeal to listeners who find their current systems vague and evasive. And its clean amplification brings authority to movie soundtrack elements and nuanced harmonics to well-recorded music. The more I listened to it, the more I liked it, until finally it moved into "I could live with this" territory. Highly recommended.