Yamaha RX-A1020 A/V Receiver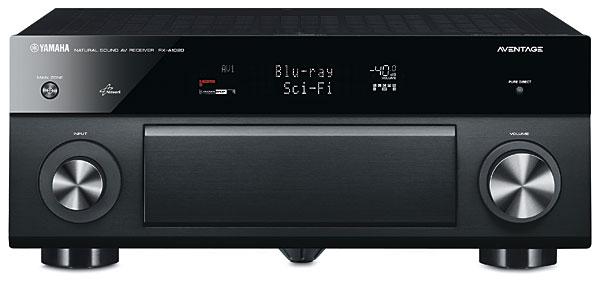 Price
: $1,200
At A Glance
: Top-flight build quality • Clean and detailed sound • Second-zone HDMI
Sing me a song. Come on, it will cheer me up. Hey, that's good. Can you sing while juggling? Here's the fruit bowl, let's see what you can do. Wow, that was great. Now do the singing and juggling while standing on one foot. That was amazing! Can you sing and juggle while hopping on one foot? Incredible, although I must say the hopping affected your vibrato a little. Now let me see you sing, juggle, and hop on one foot while rotating—hey, where are you going? You were just starting to amuse me.
We ask a lot of the people who design audio/video receivers. We want their products to sing us a cheery tune. But we also want them to do a bunch of other tricks at the same time. Many of those things have nothing to do with high fidelity, though they might open up the receiver to new con- tent sources, bring the content to other parts of the household, or make the receiver easier to use.
Every feature seems like a good idea to someone. But every one, especially the licensed kind, claims a small part of the budget. Adding to the pressure are critics like myself who declare some features must-haves. When push comes to shove, what gets shoved? Usually sound quality. Oh, every manufacturer will add a line item or two to the spec sheet to cover that angle, but that's rarely enough to produce a great-sounding receiver. The manufacturer that starts with the intention of making a great-sounding product—and never lets go of that intention—must have a will of iron. And the consumer who wants a great-sounding product has to get over the notion that it will be cheap.
That brings us to the Yamaha Aventage line, now entering its third model year. Reviewing one of these receivers is like returning to a favorite restaurant where the resources put into décor and service do nothing to diminish the ingredients and skill that make the food a treat. The management does not require the staff to juggle or hop, though if you ask nicely, they might sing "Happy Birthday" when they bring out the cake.
New-Age Receiver
Aventage—Yamaha calls it AVENTAGE, but that seems to evoke a caps-locked screamer flaming into the night—stands for A/V Entertainment for the New Age. The current Aventage line has five models, of which two have 9.2 channels and three have 7.2 channels. The nine-channel models are the RX-A3020 (150 watts into 8 ohms with two channels driven, $2,200) and RX-A2020 (140 watts as above, $1,700). Their 7.2-channel sisters are the RX-A1020 (110 watts, $1,200), RX-A820 (100 watts, $900), and RX-A720 (90 watts, $700). The nine-channel models support the simultaneous use of back-surround channels and Yamaha's Cinema DSP 3D height or presence channels, if you really must have both at once. Their beefier power components would also give five- to seven-channel systems some extra oomph. The model reviewed here is the RX- A1020, the highest-ranking 7.2-channel model.
Aventage models have several, um, advantages in quality of construction. Their front panels are aluminum, not plastic, to shield circuits from external interference from things like dimmer switches and fluorescent lighting. Though you won't often look at the underside, it does feature double-bottomed construction and a fifth foot to defeat mechanical resonance. The AVR is juiced by independent power supplies for the digital and analog circuits, and the internal layout physically and electrically separates the left and right channels for better channel separation and signal- to-noise ratio.
The RX-A1020 has a few new attractions. It supports 4K x 2K ultra-high-def video scaling and passthrough, though the HQV Vida marquee video processor is only in its two higher-end cousins. For gamers, a Video Direct mode bypasses the receiver's processing to speed up video by two frames per second. For energy misers, there's an Eco mode that cuts power consumption 20 percent by operating the amp in a low-voltage mode. It's not recommended for high vol- umes or demanding loads.

Yamaha has adopted AirPlay, so your iOS device can com-mand the receiver to boot up, select the correct input, and begin streaming music. Or you can just plug the device into the Apple-approved front-panel USB input for playing and charging. Although Yamaha's remote control is a little better than average, there are also apps available for iOS, Android, and—a first—the Kindle Fire. With a router-connected computer, you might operate the receiver using a Web browser or pull media off the hard drive via the DLNA standard—and the receiver even supports the streaming of high-quality lossless FLAC files via DLNA. Yamaha provides for both Internet radio and terrestrial digital HD Radio. Rhapsody subscription music streaming will be supported with a firmware update.
The connectivity suite includes seven HDMI inputs and two outputs on back and an extra input in front. One HDMI out can serenade the second zone with full 5.1-channel audio plus high-definition video. A Party mode powers on all zones and sends them the same content. Legacy video connections include HD- capable component video, plus S-video (increasingly a rarity) and composite video. In addition to stereo analog jacks, there are full 7.1-channel analog inputs and 7.2-channel analog outputs (including a second mono sub out). The network connection is plain-vanilla Ethernet. If you want to go wireless, plug in the YWA-10 Wi-Fi adapter ($100). Your installer will be glad to see Control4 compatibility for home automation and control.
Rather than license from a third-party provider like Audyssey, Yamaha uses its own automatic setup and room correction program, YPAO: Yamaha Parametric (room) Acoustic Optimizer. A generic dynamic range control is provided to adjust the soft-to-loud ratio. Unlike some generic DRCs, it applies to all surround codecs, not neglecting the lossless ones. To organize multiple settings for different uses, the receiver has 12 Scene controls, each with its own parameters for source input, HDMI output (to select either or both HDMI outs), and listening modes. Four Scenes are preset for BD/DVD, TV, Network Audio, or Radio; eight more await your instructions.