Yamaha Aventage RX-A2040 AV Receiver Review
PRICE
$1,700
AT A GLANCE
Plus
Rich, powerful sound with gobs of detail
Dolby Atmos capable
UHD-ready with 4K scaling and HDMI 2.0
Minus
No HDCP 2.2 DRM to handle future UHD content
Basic remote isn't backlit
THE VERDICT
Yamaha's one-step-down AVR delivers top-notch performance and features at a somewhat less than flagship price.
Choosing the perfect AV receiver for your home theater can be as tough as it was for Goldilocks to find the perfect bowl of porridge. Of course, we all want lots of features and plenty of power, but not if that means wasting money on bells and whistles we'll never use or power we don't really need. I find that in a single brand's receiver lineup, it's often the model just below the flagship that represents the best balance between price and performance. At that level, you still get just about every feature and most of the power available from the top model but with a substantial cost savings to sweeten the deal. Yamaha's Aventage RX-A2040 appears to fall right into that type of sweet spot. At $1,700, it's $500 less than the RX-A3040 flagship, but it still comes with most of that model's features and can deliver more than 93 percent of its claimed two-channel power spec.
Despite playing second fiddle in Yamaha's receiver lineup, the RX-A2040 is truly loaded, boasting nine amplifier channels, each of which is rated to pump out 140 watts. There's a full package of wireless connectivity apps (including AirPlay, HTC Connect, and Wi-Fi) and a host of other onboard apps (including Spotify, Pandora, and SiriusXM). Surround modes are bang up to date, too, with Dolby Atmos having just been added through a post-launch firmware upgrade. The RX-A2040 can also handle Ultra HD video, with HDMI 2.0 inputs and outputs along with a UHD scaler. However, as with most receivers we've seen from the 2014 model year, it lacks the HDCP 2.2 DRM (digital rights management) capabilities that will probably be required to pass some future UHD content. This could be a deal killer if you plan to use the RX-A2040 with a UHD (4K) display and sources (such as a forthcoming Ultra HD Blu-ray player), although one workaround would be to route your UHD sources directly to the display with a second HDMI link to the receiver just for the audio signal.
Like most recent high-end AVRs, the RX-A2040 is a handsome beast, with two large rotary knobs flanking a flip-down door that covers lesser controls, along with a set of front-panel inputs. With the door up, the only other visible switches are the main zone power button and a button to engage the Pure Direct listening mode. At 37 pounds, the receiver is pretty hefty, so the weight is supported by five feet instead of the usual four—an Aventage hallmark. Yamaha describes the central foot as an Anti-Resonance Technology Wedge, designed to dampen chassis vibrations that could affect some internal components.
Setup
Unboxing and setting up the Yamaha went smoothly: I simply put it on the shelf below the everyday receiver in my rack and moved the cables over one at a time. The eleven pair of loudspeaker binding posts are all arranged neatly along the bottom center of the back panel, a layout that stops thick speaker cables from dangling in the way of other cables with less robust connectors. One minor consideration is that the binding posts aren't spaced for 0.75-inch double banana plugs, which meant that I had to switch some of my speaker cables over to the more common single bananas.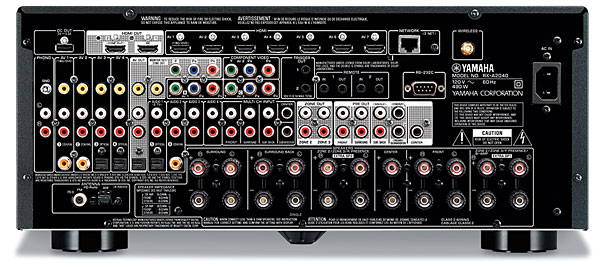 While many other receiver brands have been cutting back on their input options, Yamaha still gives you a pretty comprehensive set of connections. In addition to the eight HDMI inputs (one with MHL for smartphones), there are three component video inputs, five composite video inputs, and six analog audio inputs, including one with multichannel capabilities, plus a phono input for a turntable. S-video fans, however, are out of luck. Even though there are just nine power amp channels, the eleven pair of connectors allow you to configure and connect a couple of different setups, although you won't be able to run them all at the same time. For example, you can have front height speakers connected, but you won't be able to play them and the second-zone speakers simultaneously.

For most of my evaluation, I connected the RX-A2040 to my PSB Synchrony One main, center, and surround speakers, with my M&K 350THX handling the subwoofer duties. This was my first encounter with a Yamaha setup GUI in a few years, and I found the menus to be generally intuitive and easy to navigate, although they do assume that you have a basic knowledge of the terms and procedures associated with AVRs.
Rather than employing a third-party speaker-alignment package like Audyssey, Yamaha has long used its own proprietary YPAO speaker calibration system. The version that comes with the RX-A2040 can measure the room from up to eight different seating positions, using the supplied microphone. While the alignment procedure generally went smoothly, with each speaker in turn being sent a sweep tone, I did find it curious that YPAO decided that both my Synchrony One C center-channel speaker and Synchrony S surround speakers were good down to 20 hertz. That was kind of a stretch, so after the automated calibration was completed, I followed up in the manual settings to make a few adjustments. To be fair, when it really gets down to critical listening, I generally prefer to do most of my auditioning with any EQ circuits like YPAO switched off. After all, my aim is to get a handle on the true sound of the receiver, not what the calibration program thinks my speakers should sound like. For the same reason, I like to turn off other sound adjustment features, such as YPAO Volume, Music Enhancer, and Extra Bass.