Wharfedale Achromatic WA-S1 Speaker System
Price
: $599
At A Glance
: Beautifully styled satellite/subwoofer set • Keyhole mount for on-wall placement • Well-rounded sound
From England to China
Wharfedale is an Anglo-Chinese speaker brand and one of the most storied names in the high-end audio industry. The brand began in 1932 in Yorkshire, in the north of England, and it went through a few changes of ownership before it became part of the International Audio Group (IAG) in 1996. IAG is owned by two Taiwanese brothers, Bernard and Michael Chang, who made their fortune with karaoke equipment. For a decade and a half, they restored the luster to Wharfedale and its sister brand Quad.
The two brands now live in industrial luxury in Shenzhen, near Hong Kong, in one of China's Special Economic Zones. In the factory where they are produced, the designer is virtually omnipotent. He doesn't use any off-the-shelf parts, nor does he have to wait six months to have a part custom-made. Instead, the on-site tool and die shop makes parts for him, and he can redesign them as many times as he wants. This gives him power over everything that goes into a Wharfedale or Quad loudspeaker. It also lets him stuff products with high-quality parts at a fraction of what it would cost somewhere else.
This means you get better sound, because IAG's designers have long pedigrees and good ears. It also means you get unbeatable value. Anyone who scoffs at Wharfedale and Quad products' Chinese provenance probably doesn't know what really goes on in Shenzhen.
Introducing the Achromatic
While Quad still produces its venerable electrostatic speakers in Shenzhen, the subject of this review is a new series from Wharfedale. The Achromatic line includes two slim floorstanding speakers, two wall-mountable monitors, two centers, and both 8- and 12-inch subwoofers. This review system includes four of the WA-S1 loudspeakers, the smallest monitor, along with a WA-C2 center and an 8-inch WA-8SB sub.
These speakers make an excellent first impression. They are made of MDF, not the molded plastic that's so often found in similarly priced products. Highgloss curved side panels on both the speakers and sub enhance the leather-like black vinyl finish. The grilles are a gorgeous charcoal gray strengthened with a plastic mesh. The Wharfedale's drivers include a fabric soft-dome tweeter and an aluminum-coned woofer, with the woofer placed above the tweeter.
Because the woofers are small, at a little more than 3 inches, the satellites must cross over to the subwoofer at a fairly high frequency. In order to give the speakers the necessary bass reinforcement, I chose 120 hertz and placed the sub close to the center speaker so the two would dovetail together with voices. The sub has a shallow depth that minimizes its intrusion into a room. Its look is reminiscent of a guitar amp.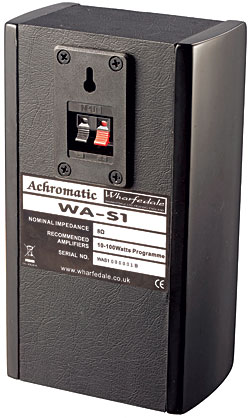 While the center speaker has plastic-nut binding posts, the satellites have wire-clip speaker terminals. I selected an 18-gauge generic speaker cable from my collection to accommodate them. Ideally, I'd prefer to use a thicker 12-gauge cable, but that's often impossible with compact sat/sub sets. The satellites also include keyholes for wall mounting. You just bang a nail into the wall, ideally into a stud, hang the speaker like a picture, and you're done.
Associated equipment included a Rotel RSX-1550 A/V receiver and OPPO BDP-83SE disc player. All movie selections were Blu-ray Discs with DTS-HD Master Audio soundtracks.
Glourious Moovies
Inglourious Basterds has the classic rhythm of a Quentin Tarantino film, with long talky scenes that set up explosive payoffs. The WA-C2 center quickly established its ability to produce clear dialogue at a moderate listening level. After two hours of talking Nazis, the climactic scene's arson, ballistics, and explosions were cathartic. To get the right bass weight out of the sub (and to ensure that its auto-on circuit wouldn't click off), I kicked my surround processor's sub channel up a couple of decibels from its normal setting and hiked the sub's volume knob to three-quarters of its range. The result wasn't as forceful as the larger 12-inch WA-12SB sub probably would have been, but the 8-incher's output was appropriately scaled for the soundfield and the room. It also pleased me to hear how well the sub's top end and the satellites divided the labor of reproducing male voices. This is potentially one of the advantages of using a smaller sub with mini-sized satellite speakers.