Western Digital WD TV Live Streaming Media Player Page 2
WD TV Live also has Flixster, which will stream UltraViolet movies in the near future; music services, including Pandora and Spotify; and TuneIn, which brings radio stations from around the U.S. and abroad. MLB.TV Premium, SEC Digital Network, and XOS College Sports provide sports. Comedy Time shows stand-up comedy skits.
Social networking and online-photo sharing sites are represented with Facebook, Picasa, and Flickr. The Facebook menu varies on each streaming device. The app on the WD TV Live is clean and follows the device's menu theme of large boxes along the bottom of the screen to get to Photos, Events, Wall, NewsFeed, and Friends. As easy as it is to get around, it is clunky and few posts can be seen onscreen. Photos never appeared in the times when I tried to connect. Western Digital says photo playback became problematic on all media players after Facebook introduced its new Timeline feature, and the company is evaluating what adjustments need to be made to accommodate.
One of the strengths of WD TV Live is that it not only streams online media, but can play almost every type of photo, music file, or video you have saved to every media server, NAS drive, hard drive, and computer on your home network. Search functions and the Media Library feature make it easy to find your desired files. Still, the WD TV Live can run into trouble if you have large numbers of files stored in many separate libraries.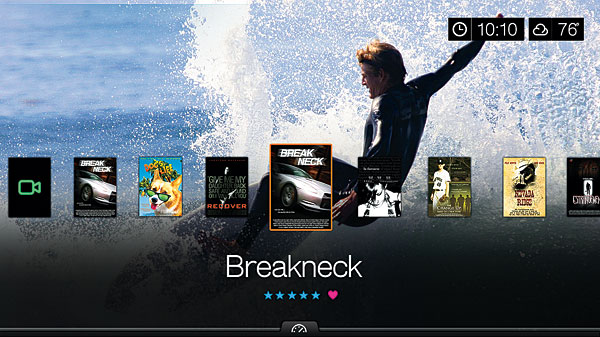 What It Does Best
The WD TV Live is compatible with just about any photo, music, or video file format, including high-quality MKV video and iTunes music AAC files. This is a huge advantage, as many streaming players won't even list incompatible file formats.
Finding and playing movies is easy. To play a movie file, choose a source to see a list of available movies. In the Preview list mode, a short preview of the movie will begin to play in a small window when its file is highlighted. Another helpful feature allows you to resume a movie that you had previously stopped during playback. With Fast-Forward and Rewind controls, you have the option of going to a specific time in the movie.
There are still media streamers that will stop playing music when you exit the music app. Happily, the WD TV Live is not one of them. Music continues to play and can be accessed at the top of the screen where you may pause, play, or change the song. This makes it very easy to view a slideshow while playing music in the background. A unique feature of the WD TV Live is that you can program songs as presets that will play when you press a programmed button on the remote. (Keep reading for issues related to this feature.)
The WD TV Live gives you the option of sharing a USB-connected hard drive with the rest of your home network. You can move and copy files from your computer to the USB drive and vice versa. Whether you simply want to access a file quickly, or you have pages of file lists to scroll through, the Search function is a real time-saver. Pressing the Search button on the remote (and remote app) will display an updating list of titles that match your search. To play the file, click on the title in the search results.
Difficulties for Media Hogs
You know you are a media hog—someone with a large media library—if you and your family have an extensive digital music, movie, and/or photo collection, and you have a couple of connected computers or media servers in your home network. If this scenario describes you, you may find it troublesome to use the best features of the WD TV Live.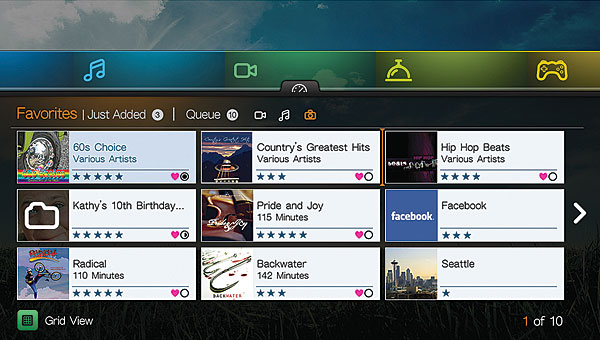 The Media Library feature compiles photo, music, and video files to make them accessible by file type, rather than requiring that you navigate to the computer or server where the file is saved. This is helpful for the times you don't remember which computer or drive has the photos of your family reunion, or who downloaded Gladiator. Not only are the files gathered together, you can browse thumbnails of files in the Media Library.
There are more file options available when you enable the Media Library. Give a file a 1-to-5-star rating, add it to your favorites, or play a queue that can be accessed through a dashboard. Put together your favorite slideshows with a custom playlist, or easily get to the movies you want for a family movie night.
Ironically, while these are features that become more desirable when you have a large library, the Media Library compiling process can take days to complete. The process uses up most of the WD TV's resources. During compilation, the WD TV Live becomes unresponsive and freezes. If Media Library compilation was a one-time process, it might be tolerable. However, every time you turn off a computer or add files to drives that are part of the Media Library, the process can start up again. If you want to use the Media Library, be sure to choose Only in Standby Mode in the Setup menu, and wait a few days before using the device.
If you choose not to turn on the Media Library, the WD TV Live performs with excellence, although it can be harder to find files. Instead of finding photos from the category, you will need to navigate to the source and folder where it is saved. Icons representing photos are displayed in place of thumbnails, so you must know the name of a picture file or start a slideshow to find a specific photo.
The Bottom Line
Despite its quirky difficulties with file indexing, the WD TV Live is a great choice if you want to stream media both online and from your home network. Its clean menus are easy to use for the whole family; solid audio and video performance are as good as any streaming digital device in its price range. If you are missing a particular online service, it may be available in the future, as Western Digital has been proactive in regularly adding popular streaming services.
Western Digital • (949) 672-7000 • wdc.com