Vizio VSB210WS High Definition Sound Bar
Price
: $350
At A Glance
: First soundbar to use SRS TruVolume audio processing • Operates on stereo signals • Wireless sub works with no setup hassles
High and Wide
Vizio is:
(a) a flat-panel video brand
(b) an audio brand
(c) a serotonin reuptake inhibitor
(d) a line of rimless eyeglasses
(e) a typographical error
If you guessed (a), you were wrong. The correct answer is (a)+(b).
In just a few short years, this Irvine, California–based company has come out of nowhere to become the number-two brand in LCD HDTVs. Of course, flat-panel fun is only 50 percent of the home theater equation. So Vizio, quite logically, added a soundbar speaker to its product line.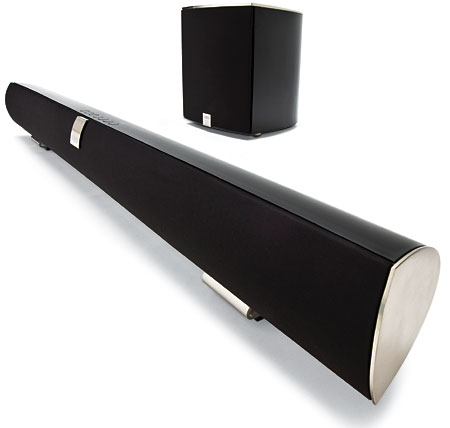 It would be unjust to the Vizio VSB210WS High Definition Sound Bar to dwell too long on its price. But before you read any further, keep in mind that this 2.1-channel soundbar and subwoofer package sells for $350. Somehow, that makes the next few details all the sweeter. The very attractive-looking soundbar speaker comes with a wireless subwoofer and enough name-brand audio processing to furrow brows at the Pentagon.
Golden Retrieval
Vizio licensed the processing for this soundbar speaker from SRS Labs. SRS Labs spun off from Hughes Aircraft, which was the company founded by Howard Hughes. Hughes Aircraft was once a major aerospace and defense contractor before it broke up and various other corporations absorbed its pieces. SRS stands for Sound Retrieval System. The now publicly traded SRS Labs holds more than 300 patents and licenses audio technologies to HP, LG, Samsung, and many others.
The VSB210WS includes a nearly 40-inch-wide soundbar speaker with a shiny black plastic enclosure that's slightly dressed up by aluminum end caps. Inside the back-ported enclosure are two 0.75-inch aluminum-dome tweeters and four 3-inch paper cone woofers, all powered by two channels of 20 watts each.
The top controls duplicate those on the tiny remote, so the remote can spend a few years between the sofa cushions without incapacitating the product. It includes controls for Power, Bar volume up/down, Sub volume up/down, Mute, Input, and buttons that activate the enhancements described below. TVOL toggles SRS TruVolume, while TSHD toggles SRS TruSurround. LEDs inside the right-hand side of the grille serve as indicators for master volume, sub volume, and the status of TruVolume and TruSurround. The back panel has two stereo analog inputs, an optical digital input, and a power jack. Two curved-metal feet can be repurposed as wall mounts.
The 6.5-inch sub has a non-rectangular MDF enclosure, just over a foot tall, that curves around the back. Like the soundbar, the sub has an outboard wall-wart power supply. A Link button on the back works the wireless-connection miracle. However, in my case, this happened automatically when I plugged everything in.
While the VSB210WS package includes both the soundbar and the sub for $350, you can also buy the soundbar separately, as the VSB210 ($200). The VSB210WS sub is rated at 60 feet line of sight and 30 feet non line of sight.
Gimme Some Tru
The VSB210WS's soundbar speaker includes four different SRS Labs technologies. One is SRS TruSurround HD, presumably the inspiration for the model name High Definition Sound Bar. As you'll recall, SRS TruSurround HD is one of the modes that you can toggle on or off from either the front panel or the remote. It mimics what acousticians call the head transfer function—that is, the tendency of the outer ears to change the frequency response of sounds that are heard from different directions.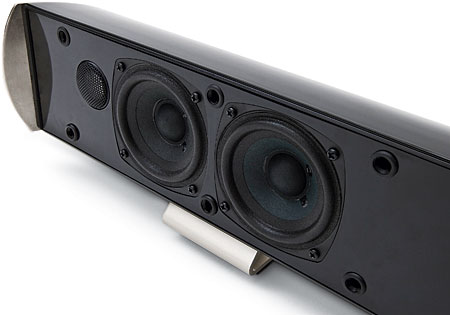 SRS TruSurround HD differs from an earlier version, SRS TruSurround XT, in various ways. HD is designed for a wide sweet spot, while XT is designed for a narrow one. That makes HD "more immersive." It also "enables maximum high-frequency detail." I'm quoting from Vizio's PowerPoint Reviewer's Guide to give you some of the authentic day-in-the-life color from my glamorous life as an audio critic.
The soundbar also includes an improved version of SRS TruBass that delivers up to an octave more bass, which it presumably routes to the sub below the 80-hertz crossover. A third enhancement, SRS Dialog Clarity, aims to "acoustically 'anchor' the virtualized center to the center of the HDTV, just like in theaters."
SRS TruVolume smooths out sudden volume changes and channel-to-channel variations, removing any worries about the trade-off between dialogue reproduction and avoidance of pain. Presumably, this will make action movies more enjoyable. However, the true mercy of this feature may emerge more strongly if you plug a cable box into one of the soundbar's extra inputs and start watching ad-supported programming. High-end audio frowns upon squashing dynamic range, and for good reason. But when the source material is crude and abrasive, TruVolume can be very helpful. This is probably why Dolby, THX, and Audyssey have approached the same problem with technologies of their own. (See Gear Works in our June issue.) Again, you can toggle SRS TruVolume, so you don't need to use it if you want maximum dynamics. It's complemented by SRS Definition, which "delivers sparkling detail while bringing lost background information to life."
It's important to note that this is a 2.1-channel system—with two 20-watt amplifier channels in the soundbar and another 65 watts in the sub. It accepts only two-channel signals, which can be downmixed from surround to stereo and output as either PCM digital or analog by your disc player or source component, or selected from disc menus when available. Regardless of how the product may treat surround signals or simulate surround effects, be warned that it has no onboard Dolby- or DTS-licensed surround decoding.
Associated gear for this review included a new addition to my rack, the Panasonic DMP-BD55 Blu-ray player. I can finally hear DTS-HD Master Audio without falling back to the DTS core signal. I connected the player to one of the soundbar's stereo analog jacks and let the player perform the surround-to-stereo downmix. Of course, this brought the soundbar's analog-to-digital conversion into play. There was no perfect solution.