Vizio VHT510 Soundbar Speaker System Page 3
Supernatural Incursions
The Eclipse, scripted by Irish playwright Conor McPherson, is the story of a literary-festival volunteer beset by authors and haunted by his late wife. Refreshingly, the movie favors psychological drama over cheap effects. Supernatural incursions were occasional, sudden, and assaultive—and I found them a little uncomfortable. (This was before I discovered that the system was deliberately voiced to be bright.) However, I was able to cut the volume without losing the dialogue.
Even without the TruVolume option, voices were pretty clear. TruVolume made them brighter, but not more intelligible. Men's voices were localizable in the sub, possibly a deliberate resultof the crossover being arranged for "maximum subwoofer dynamics." I played with the remote's sub and bass controls and found that the chest component of a male voice was either localizable or inaudible, with not much in between. The satellites did a decent job with surround effects, of which the most memorable was a choral interlude that underscores the movie's brooding beauty and restraint.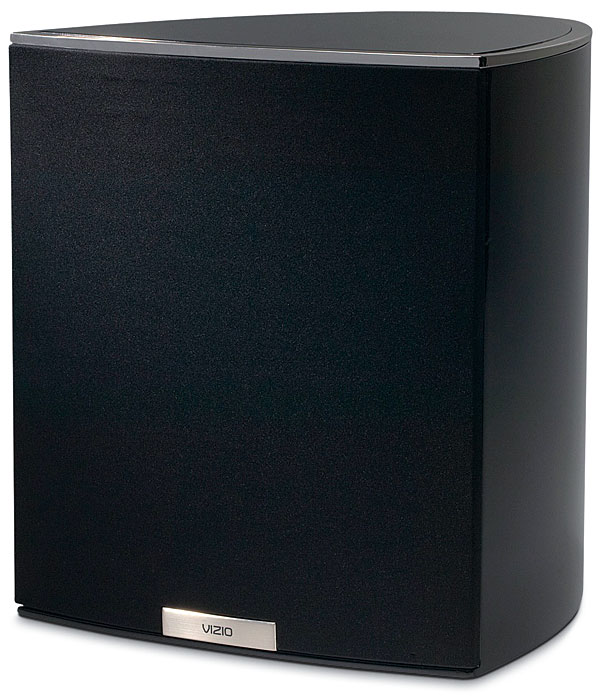 The Marine 2 features wrestling star Ted DiBiase as a U.S. Marine cum action figure who rescues his wife and others from an island infested by ethnically indeterminate terrorists. This cavalcade of violence was predictably abrasive. TruVolume helped a little; a large volume cut helped more. Surround effects were variable. The system did its finest work with the falling debris that followed an explosion. It didn't seem as interested in naturalistic effects like the roar of the ocean—subtlety was not its strong suit.
10 Things I Hate About You (1999) is a standard high-school romantic comedy—but easily among the best of its kind, thanks to the twin charm machines of Heath Ledger and Julia Stiles. Dialogue and vintage '90s pop tunes were efficiently deployed, and for a moment, I almost forgot I was reviewing an inexpensive soundbar.
Mode Swapping
Systems like this aren't intended for critical music listening, so I expected the music demos to be perfunctory. But the soundbar and its mates surprised me a few times. I put the SRS WOW HD mode recommended for music through its paces. I also switched in the cinema-oriented SRS TruSurround HD mode just for adventure—and also switched them both off.
In 11 Tracks of Whack, the accomplished debut solo CD by Steely Dan's Walter Becker, TruSurround HD perversely shone. I didn't mind that it rendered the lead vocal as a mono center point source. It pushed a lot of other stuff toward the center as well, yet it was still the most spacious of the three listening options. Maybe that's because it was the only one that activated the surround channels. The WOW HD mode left the surround speakers silent (a regrettable missed opportunity) and was uncomfortably bright (even more regrettable). With both modes off, the system was blander but also more natural. I was intrigued by the way a synthesized snare changed pitch with each of the three modes.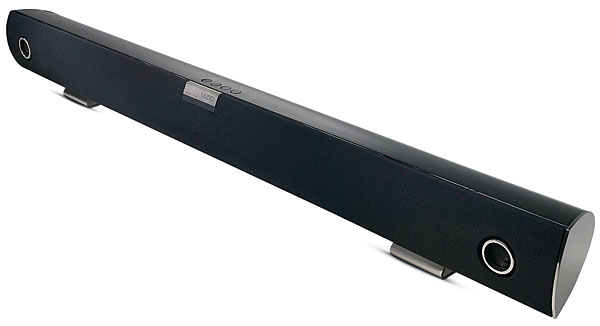 Pianists Elisabeth Leonskaja and Sviatoslav Richter, in the latter's autumnal years, recorded a disc of Mozart and Grieg sonatas "with freely added accompaniment for a second piano." The piano sound was surprisingly satisfying. I didn't find it hard to distinguish the two pianists and their distinctive touches, though they meshed brilliantly. The left side of the keyboard came across a little too light through the small sub. I fiddled with the bass, treble, and sub controls, which didn't help or hurt much. However, TruVolume did somehow enhance the instruments' realism—they seemed to leap out of the soundbar when the mode was engaged.
Bellydance from Lebanon is a polished set of original tunes by Beirut-born, Vienna-based Emad Sayyah. The notes explain: "He writes soft and harmonic arrangements, avoiding quarter tones to create a new and modern sound with easily accessible melodies and rhythms, which facilitate and enhance movement of the body and expression in the dance." The combination of traditional and modern instruments once again reminded me of how edgy the WOW HD setting could be with some program material.
Is the Vizio VHT510 the surround solution for you? That may depend on whether you're outfitting a large primary system or just upgrading a bedroom HDTV. If you want lossless surround decoding and a front soundstage that spreads beyond the width of the soundbar, you should mate a satellite/subwoofer set or something larger with an A/V receiver.
But if you're looking for an inexpensive audio solution that goes beyond what built-in flat-panel HDTV speakers can do nowadays—including the benefits of surround—this system offers basic surround decoding, a helpful range of remote-controlled adjustability, and decent performance for the price. In that case, this clever system just may save you from a dreary twochannel malaise.
LATEST VIDEO