Vizio VHT510 Soundbar Speaker System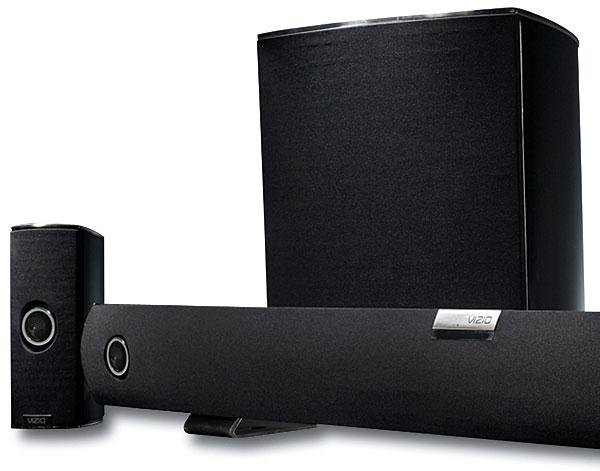 Price
: $390
At A Glance
: Three-channel soundbar with separate surrounds and wireless sub • SRS TruSurround HD and TruVolume processing • Designed to accompany 40-inch and larger HDTVs
A Moment of Tru
Vizio, how you've grown. When flatpanel HDTVs came along, you were among the first brands created especially to bring the new display technology to eager consumers. Now that butt-ugly direct-view and rear-pro sets are largely a bad memory, you're at the forefront of a burgeoning business. Your market share is nothing to sneeze at, and your XVT553SV LED-backlit LCD set is a Home Theater Top Pick. What are you going to do for an encore?
Like several other HDTV makers, Vizio is hawking soundbars—and doing quite well, in fact, with number-one market share in the category. Soundbars are audio solutions that address a dire problem: As flat-panel HDTVs have steadily lost bulk, the quality of their built-in speakers has plummeted. Although surround audiophiles will go for larger speakers, soundbars and compact satellite subwoofer sets are more attractive solutions for those who don't want to live with heavy artillery.
The VHT510 is Vizio's only self-contained, 5.1-channelcapable soundbar. There are also a couple of 2.1-channel systems, including the VSB210WS [Home Theater, July 2009], and a twochannel soundbar.
Three to the Bar
The system under review includes a three-channel soundbar and a wireless subwoofer with two wired surround satellites. The soundbar measures slightly less than 40 inches wide and is designed for sets 40 inch-es and larger. (Vizio recommends its 2.1-channel models for screens starting at 32 inches.)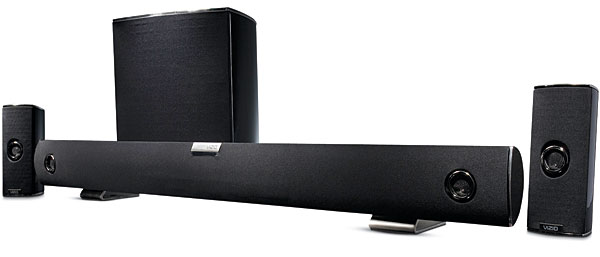 The soundbar rests on two metal pedestals. If you'd prefer to wall-mount it, you can unscrew the pedestals and reorient them to serve as wall brackets. Thought-ful touch. You'll need to find a home for the large power brick. There are silver accents on the end caps and the badge in the center. Top-mounted controls include power, input, and volume.
Below the badge are LED dots that indicate signal detection (Dolby or DTS), SRS StudioSound HD mode (SRS TruSurround HD for movies or TV, SRS WOW HD for music), and SRS TruVolume status (on/off). More about those later. At the bottom of the soundbar are large bluish-white LED volume indicators that look like parentheses surrounding a dot. The higher the volume, the more numerous are the parens. On the back panel are digital optical and stereo analog inputs. There's no HDMI.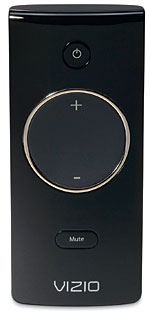 The remote is small but not insubstantial. Between the power key at the top and the mute key at the bottom is a round iPod-like click wheel. Press its top or bottom edges to control the volume. Press its left and right edges to navigate an actual iPod if you've plugged a compatible dock (not supplied) into the soundbar's stereo analog input.
Additional controls are located inside a drawer at the bottom of the remote. Chief among these are up/down rocker switches for the center, surround, and sub channels, plus bass and treble.
SRS TruVolume gets a button. Another button cycles among TruSurround HD, WOW HD, and off for unvarnished stereo. There are also source-select buttons for analog in, optical in, and iPod. Once you've tweaked the system for a given program, you can push in the drawer and forget about it. Then the remote becomes a sweet little 4.5-inch-long object that feels good in the hand. You can easily operate it in the dark by feel, despite its lack of backlighting. It is rated to operate up to 30 feet from the soundbar.