Vizio S4251w-B4 Soundbar System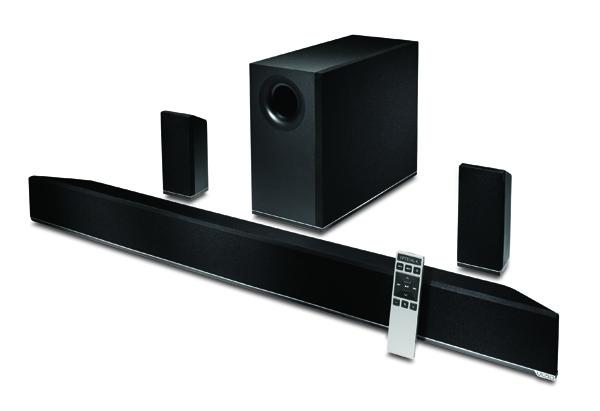 PRICE
$330
AT A GLANCE
Plus
Dedicated surrounds for true 5.1-channel sound
Bluetooth connection to mobile sources
Effective DTS Volume mode
Minus
Less impressive performance with music

THE VERDICT
A surprisingly good-sounding, high-value choice for movie sound, though serious music lovers might need to look elsewhere
Home theater, as I've always defined it, is the union of big-screen TV and surround sound. At their best, they have the power to suspend disbelief and pull you into a cinematic narrative or musical experience. Sometimes soundbars make the cut, and sometimes they don't. Any decent-sounding soundbar—whether it has 2.0, 2.1, or 5.1 channels—is likely to improve over the awful speakers built into most TVs. Making the evening news intelligible is no small contribution to household happiness. But few soundbars try to cross the barrier from convenience to full-bore 5.1-channel rapture. The Vizio S4251W-B4 is just such a product.
The package comes with three channels' worth of drivers and amps built into the 42-inch soundbar itself. There's also a separate subwoofer and two small satellite speakers, as Vizio refers to them, to handle the surround channels—no DSP pseudo-surround trickery here. One nicety is the cable running between the bar and sub: There isn't one. They communicate by a wireless technology that Vizio does not identify, except to confirm that it is not Bluetooth. But this does not mean Bluetooth is absent here. In fact, the bar does have Bluetooth on board to accept input from a mobile device—always a nice add in a budget soundbar, if not mandatory these days.
Width Us or Against Us
The S4251W-B4 reviewed here is Vizio's top-of-the-line soundbar and the only one that delivers 5.1 channels of joy. It replaces the VHT510, the company's earlier 5.1-channel model. Step-down options include several 2.1- and 2.0-channel models in different sizes, including the S4221w-C4 ($250), which fared well in our recent budget soundbar roundup.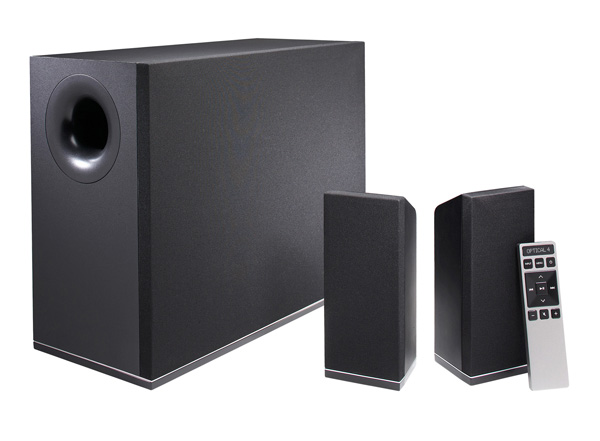 While it isn't absolutely necessary for a soundbar to match the width of a flat-panel TV, they can look nice together if the speaker is the same width or only slightly less. TV screens are usually measured diagonally, so this 42-inch-wide soundbar might be too big for a 42-inch set. Vizio recommends screens of 47 inches and up—for instance, the Vizio M471i or E470i.
The soundbar is simplicity itself, presenting a fabric grille and bottom gloss trim to the front, with pinpoint LED indicators at bottom left, the Vizio logo in a brushed-aluminum tag at bottom right, and sides angled inward toward the back. If you plop the soundbar on a table, two large rubber pads at bottom quell vibration. Wall-mounting hardware is also provided. The sub is the size and shape of a small box fan with a front fabric grille. The satellites are 7 inches tall, with the same décor scheme as the soundbar, and accept a wired connection from the wireless sub—more about that momentarily.
Inside the soundbar are various paper-cone drivers for the front left, right, and center channels. Each of the left and right channels gets a 0.75-inch W-shaped Mylar tweeter (total of two) and two 3-inch cone drivers (total of four). Handling the center are two full-range 2.5 drivers; similar to what are also used in the surround satellites. The sub has a single front-firing 6-inch woofer, said to be a long through (high excursion) driver. Class D amplification for the left/center/right channels resides in the soundbar while the sub contains amps for itself and the satellites. Vizio declines to provide power ratings but says the soundbar supports a sound pressure level of up to102 decibels sound pressure level (SPL) in 2.1-channel mode using pink noise as a source at 1 meter distance and measured with C-weighting, though no distortion figure is cited.

Jacks are on the bottom left side facing downward. There are no HDMI or video jacks; this product, like many others, depends on old-style digital coaxial and optical audio jacks with Dolby Digital and DTS decoding built in. Two stereo analog inputs include a pair of RCA jacks and a minijack. There is also a USB input primarily for product updates. As noted, you can pair the soundbar with a Bluetooth signal source such as a smartphone, tablet, or computer. There are no ports, dongles, or other paraphernalia for the Bluetooth hardware—it's invisibly built in.

The remote control is small and simple but pleasant to use. No cheesy credit-card-size membrane-button panel here. The remote's Chiclet-style buttons—about the size and shape of iPad icons—have a nice tactile response. Navigation buttons occupy the center with three buttons above and below. With a layout this simple, you'll find your way around in no time. An LCD window at top shows either inputs or menu options. My one complaint is that it is not backlit and thus impossible to read in a dark room.
Menu options include Bluetooth pairing, bass, treble, center channel volume, surround channel volume, surround balance, subwoofer volume, surround/stereo mode, TruVolume on/off, night mode on/off, Vizio TV remote operation on/off, EcoPower on/off, program remote, and system reset.

DTS TruVolume (formerly SRS TruVolume) is a volume leveling scheme. According to its Website, it "separately monitors and measures 20 different frequency bands and reacts in real time to bursts of loud volume in the middle range, but intelligently reacts to changes in the high- and low-frequency bands, delivering a more natural listening experience." It is said to be immune from obvious artifacts and pumping. The surround/stereo control actives DTS Circle Surround when switched to surround with stereo source material. The night mode, unlike the similarly labeled dynamic range controls found in receivers, just reduces bass "for apartment living and homes with sleeping children." EcoPower sends the system into standby after a period of inactivity.
Setup is rigorously simple. Get the soundbar in place. If you're using a Blu-ray player, the highest-quality connectivity option is a digital coaxial or optical connection. I used the supplied optical cable for my Oppo BDP-83 and the stereo RCA line-level connection for my cable box (though, you might want to opt for utilizing the soundbar's remaining digital input for your set-top box connection to preserve the multichannel information in Dolby Digital broadcasts). I also mated a few Bluetooth-capable devices to the soundbar. Easy; no sweat. Soundbar and sub are paired at the factory, so you normally needn't press any buttons to mate them.
However, the sub does have two RCA jacks that feed a speaker-level connection from amps within the sub to the satellite surround speakers. Therein lies an ergonomic flaw. The supplied cables are only 4 meters long. This would make perfect sense if you wanted to stick the sub behind the sofa and run cables to surround speakers on either side of the seating area. However, if you prefer to place the sub near the soundbar and the surrounds in the seating area, the cables are pretty short, even for a smallish room.
And the sub does need to be near the soundbar because it has to produce frequencies high enough to mate nicely with the soundbar. Otherwise, voices could easily be disembodied with their lower range emanating from the subwoofer in the rear of the room and the rest coming from the bar in the front. The best solution would be to splice additional zip cord into the surround cables—though this would diminish the product's attractive simplicity—or just replace them with longer cables.
All movie selections were on Blu-ray Disc, with the Oppo player extracting only the core Dolby Digital and DTS streams from Dolby TrueHD and DTS-HD Master Audio soundtracks. Music demos used both the Oppo and a Bluetooth-connected iPod touch.