Vizio M658-G1 M-Series Quantum LCD Ultra HDTV Review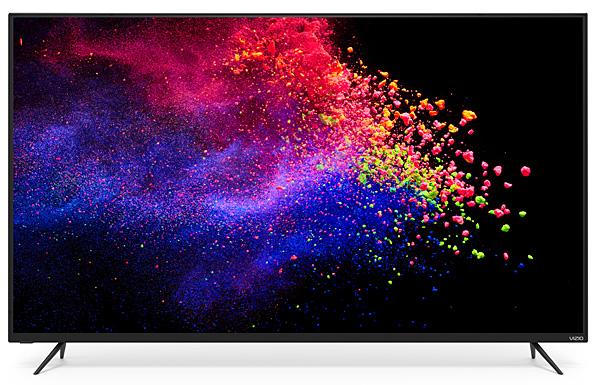 PRICE
$1,000
AT A GLANCE
Plus
Dolby Vision, HDR10, and HLG support
Great post-calibration performance
Low price
Minus
Limited HDR brightness
Poor off-center picture uniformity
No useful motion-smoothing options
THE VERDICT
Vizio's $1,000 M-Series Quantum set offers impressive performance in a 65-inch screen size for those unwilling to spend hundreds or even thousands more to bring home a bigscreen Ultra HDTV experience.
Vizio has long been a value leader in the HDTV world. And despite recent challenges from Chinese companies at the low end, and even from established Korean and Japanese manufacturers with pricier but still affordable sets, Vizio appears determined to maintain, or even enhance, its position.
Features
For 2019, Vizio has incorporated quantum dots throughout its M- and P-Series sets, with all models offering a full-array local dimming backlight. Quantum dots are near-microscopic semiconductor particles, a few nanometers in size, that emit color when excited. When used for backlighting in an LCD display, the excitation is provided by blue LEDs, with the energized dots emitting either red or green light depending on their size. Thus, we get the red, green, and blue illumination needed for an LCD set. Quantum dots can also produce a deeper color range than conventional, all-LED backlighting.
There are two ranges of Vizio M-Series Quantum sets. The 65-inch M658-G1 reviewed here (also available in smaller sizes) is spec'd for 90 local dimming zones. But another M-Series Quantum model, the M657-G0, about $200 cheaper in the same size and available only at Walmart, is spec'd for just 20 zones. That's a significant difference, so be sure to check what you're getting. (The M658-G1 model number appears only in tiny print on the back of the set and on the shipping container.)
With its thin black bezel and clean-sculpted back panel, the M658-G1 is a handsome set. It's relatively light and easy to set up, though the legs that support it are near the left and right sides and spaced just under 51 inches apart. So, if you're planning on a table mount installation, make sure your table is at least 55 inches wide.
The M658-G1 is compatible with Dolby Vision, HDR10, and HLG high dynamic range sources, but not HDR10+ content, which will play back as standard HDR10. It supports Apple AirPlay 2 and Google Chromecast built-in, so you can use your home's Wi-Fi network to cast video, audio, and photos from your phone or other compatible device to the TV. The set also supports Google Assistant, Amazon Alexa, and Apple's Siri for voice control.
Along with four HDMI 2.0b inputs (ARC on HDMI 1), the M658-G1 has a single composite-video input on RCA jacks (video and stereo audio). In addition to the usual optical digital output there's also a stereo analog audio output—a rare feature.
All of the most common streaming apps are featured in Vizio's SmartCast menu. YouTube was not among them when we received the set, but it arrived in an update soon afterward. SmartCast has received complaints in some quarters, but I found it adequate for streaming, though a little pokey to use. An improved version has been promised, but as of early July 2019 hasn't yet arrived.
One unusual SmartCast feature is Vizio WatchFree. It offers a wide range of (mostly older) program material in variable (often poor) video quality, including panning and scanning on cinemascope films. But it's free, so I can't really complain.
The Vizio's remote control is small and not backlit, but I found it usable even in a darkened room after a little practice. There's also a downloadable control app for a phone or tablet that some users might find more convenient.
Setup
Six Picture Modes are provided on the M658-G1. I used Calibrated Dark for all of my viewing and measurements. (Don't be misled by the name; neither the Calibrated nor the Calibrated Dark modes are truly calibrated out of the box.) One nice amenity is that you can enter different menu settings for SDR and HDR in the same Picture Mode and the set will automatically switch between them depending on the source. The optimum setting of the Vizio's Color Temperature control is Normal (the other options are Computer and Cool), and the set's white balance controls includes 2-step and 11-step options, both located in a Color Tuner menu together with a full color management system (CMS).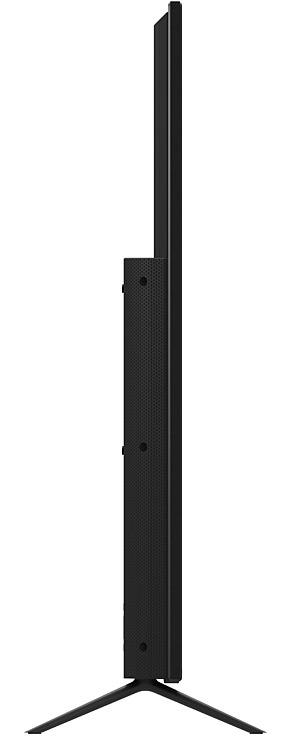 Color Tuner settings are saved to the set's Color Temp memories (Cool, Normal, and Computer), and not the set's Picture Modes (i.e., Calibrated, Calibrated Dark, or Standard). In other words, if you want to calibrate different Color Temp settings for SDR sources, you must set different Color Temp values for these three picture modes. You can set up the basic controls separately for different inputs (though you must do this manually since there is no "copy to all inputs" menu feature), but your Color Tuner settings will continue to be the same in a given Picture Mode for all inputs. And if you delete the Color Tuner values for any one of the three Picture modes mentioned, they will be deleted for all of them, and for all inputs as well. (Translation: keep a written copy of your calibrated settings.)
The Vizio is typical of most LCD TVs in that it looks best when viewed head-on. Its picture quality starts to deteriorate as you move off-center, with a loss of contrast becoming obvious once you shift 20-25 degrees to either side. The set's Active Full Array (local dimming) control has three positions; I used Medium for both SDR and HDR. The only motion compensation feature is a Clear Action control that offers just On or Off options, but it made motion appear worse when engaged. This didn't concern me as I rarely use motion smoothing, but your preference might differ.
All four of the set's HDMI inputs are HDMI 2.0b and can pass up to 12-bit 4K/60 fps signals at 4:2:2, or (in Computer mode) 8-bit at 4:4:4. In other words, they can handle full bandwidth (18Gbps) for all currently available consumer video sources.
The M-Series Quantum doesn't support a variable refresh rate, a useful feature for some gaming, but does offer a Low Latency option to reduce input lag. This control had no effect when I evaluated it using a 1080p-resolution Bodnar lag tester, however. But even without Low Latency active, I measured a lag of 20.1ms in Calibrated Dark mode and, oddly, a greater lag of 29.7ms in Game mode.
A Full UHD Color control can be set to either On or Off for each input, effectively enabling the input for HDMI 2.0-type signals, as opposed to a v1.4 signal. Some UHD BD sources (like Oppo's UDP-203 UHD BD Player, for example) don't require the 2.0 connection for 4K/24 content, so this setting doesn't always need to be enabled. I'm a bit obsessive, however, so I switched it manually for each type of source.