Vizio Launches Google Cast-Equipped Soundbars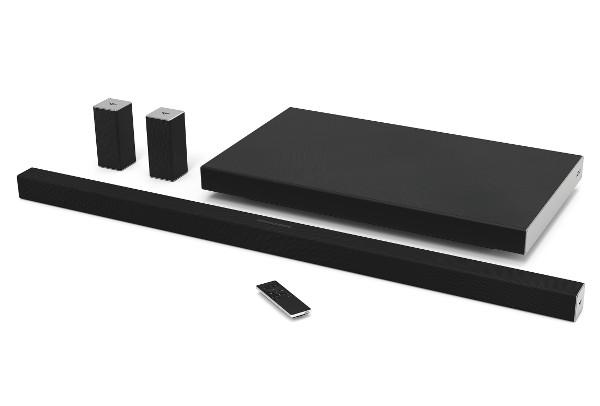 Vizio today introduced the SmartCast line of soundbars featuring Google Cast, making it possible to "cast" video content from a mobile device to a connected TV or stream music from a Google Cast-enabled audio app to the soundbar over Wi-Fi.
The line comprises nine low-profile models, ranging in price from $180 for a 38-inch-wide 3.0-channel soundbar to $500 for a 45-inch-wide 5.1-channel soundbar system. All models also support Bluetooth streaming and can be controlled by a standard remote control or Vizio's SmartCast app, which transforms any iOS or Android device into a touchscreen remote.
With the SmartCast app, viewers can search, browse, and discover content across multiple apps, adjust volume, start/stop/pause playback volume, and access soundbar settings from their phones. The system supports multiroom streaming for "casting" the same song to multiple sound bars (or speakers) simultaneously or different songs to each soundbar/speaker.
Vizio is quick to point out that streaming via Wi-Fi eliminates interruptions from phone calls, texts, and other notifications that occur with Bluetooth streaming and noted that users can multitask on their mobile devices without interrupting the entertainment.
The flagship SB4551-D5 four-piece soundbar system, designed to complement 47-inch TVs, is said to deliver "true 5.1 surround sound" and can hit sound-pressure levels of 104 dB (pink noise at 1 meter, C-weighted). The system includes a slim 2 x 45 x 2-inch soundbar with custom drivers, two rear surround speakers, and an elongated 3-inch-tall subwoofer designed to fit beneath a sofa or stand vertically on a stand. The slim subwoofer, rated to play down to 30 Hz, is also included with three other models in the line.
The SmartCast soundbar line includes four 38-inch-wide models: the SB3830-D0 3.0 soundbar ($180), the SB3821-D6 2.1 system ($220), the SB3831-D0 3.1 system ($270), and the SB3851-D0 5.1 system ($300); two 40-inch-wide models: the SB4031-D5 system ($380 with slim subwoofer) and the 40-inch-wide SB4051-D5 5.1 system ($430 with slim subwoofer); the 44-inch-wide SB4451-C0 5.1 system ($500); and two 45-inch-wide models: the SB4531-D5 3.1 system ($450 with slim subwoofer) and the SB4551-D5 5.1 slim soundbar system ($500).
For more information, visit vizio.com.