UHD Blu-ray vs. HDMI – Pt. 2: Which Cables Can Actually Pass HDMI 2.0?
Earlier this year, shortly after the release of the first Ultra HD (UHD) Blu-ray Disc player from Samsung, I wrote about the challenges of getting the player's full-bandwidth video signals to travel over longer distances in
"UHD Blu-ray vs. HDMI: Let the Battle Begin
". Unfortunately, nearly 8 months later, consumers whose displays are more than 15 feet away from the Samsung UBD-K8500 are still in a pickle when it comes to choosing the proper HDMI cable to get the menu screen to properly come up on screen.
The crux of the matter is that the Samsung player's home splash screen defaults to 3840 x 2160p resolution, at full 60Hz frame rate with a YCbCr 4:4:4, 8-bit signal. This turns out to be the maximum provided for in the HDMI 2.0a spec, and it requires a bandwidth of 17.82 gigabits per second, which is just ludicrous. Dropping the signal for that menu screen to 30 Hz would lower the bandwidth to 8.91Gbps, which would be helpful since most high speed cables on the market are rated for 10.2Gbps. Still, that wouldn't necessarily fix all the issues with UHD Blu-ray transmission, because a UHD Blu-ray's 10-bit output is 11.1Gbps, which would force some cable upgrades anyway—although there would be a lot more wiggle room under the 18Gbps cap.
My earlier article identified some cables that could handle the higher bandwidths required, and some that couldn't. For this second round, I performed the tests similarly. As my benchmark, I started by seeing if the cable could sync with the Samsung home splash page menu. If the cable allowed the player and display to lock onto the signal, I then used the Samsung's built in streamer to queue up a 4K, 60Hz YouTube video on Costa Rica, the same clip I used for my previous test. If the cable stayed sync'd long enough to play the entire 5 minute, 20 second video without any dropouts, it would then receive a passing grade.
From there, I tested each cable on the less bandwidth-intensive 2160P/24Hz resolution of a UHD Blu-ray disc. While some cables fail with the Samsung menu, they may be able to play the UHD Blu-ray disc since a new HDMI handshake is required anytime the resolution changes. Furthermore, each test was conducted twice—once through my Marantz AV8802A pre/pro and the other direct to my JVC projector from the Samsung player.
The Competitors
Monoprice
is an Internet-direct company located in Southern California. I was able procure a variety of cables for testing, among them two "SlimRun AV" fiber optic cables measuring 75 and 100 feet and two Certified High Speed cables (20 feet and 10 feet), which have the new certificate of compliance from the HDMI Alliance on the packaging. Of note, only the two certified cables were traditional passive cables. The others were active cables that perform some type of signal processing in the transmission of the data.
Another Monoprice cable, a 35-foot Luxe model, was an active cable that wouldn't lock onto any signal and appeared to be non-functional. I pronounced it DOA and left it out of my test, though it's worth noting that it uses the same Redmere chip as the Monoprice Cabernet that failed the 4K/60Hz test in the last go-around. monoprice.com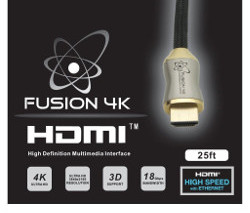 Fusion 4K cables can be found on Amazon.com and I acquired two cables to test from their Professional Series at 25- and 30-foot lengths. These aren't labeled as active cables, but their packaging clearly states that they can support up to 3840 x 2160 resolution at 60 Hz with 18Gbps bandwidth. Neither cable is labeled as an HDMI Premium Certified Cable. amazon.com/fusion4K
Blue Jeans Cable, a cable manufacturer based out of Seattle, WA, enjoys a positive reputation on various AV enthusiast sites. When contacted about participating in our tests, owner Kurt Denke jumped at the chance to submit samples and was up front stating that only his BJC Series FE 15 foot cable was HDMI Premium Certified. But he was willing to submit 25 and 30 foot samples of his BJC Series-1D HDMI cables to see if they would pass our tests. bluejeanscable.com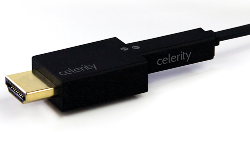 Celerity Technologies is a southern California company that specializes in high-performance fiber-optic products for residential and commercial AV systems. A single CT Fiber Optic HDMI kit was sent to me with 50 feet of fiber optic cable and two different options for termination: Detachable Fiber Optic (DFO) HDMI leads, and a new detachable HDMI keystone plate system that provides an in-wall HDMI wall plate into which you can plug a conventional HDMI cable.
The benefit of either of these "detachable" systems is that they make it simple to run fiber-optic cable—which is much thinner than your typical HDMI cable—through conduit and walls. The cable has a 60-pound pull specification, which means you don't have to be extra careful when doing the install. The tradeoff with the keystone plate, of course, is that you must use two additional HDMI cables—one from your source to the wall and the second from the connector on the receiving end to your display, which could result in signal loss (the more copper connections you make, the more likelihood of problems).