UHD Blu-ray vs. HDMI: Let the Battle Begin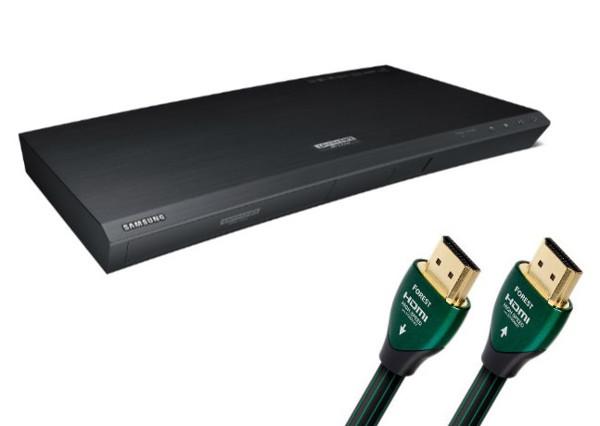 With the announcement in January of Samsung's pending Ultra HD Blu-ray player, I got excited to jump right into a new disc-based format offering high dynamic range (HDR), wide color gamut (WCG), and 4K resolution (3840x2160). It took about five weeks, but on February 11 I was able to purchase a Samsung UBD-K8500 at a local Fry's Electronics. Sadly, UHD Blu-ray software wouldn't be available until March 1. But I figured I could at least get the player installed in my rack and await the first UHD discs to arrive.
Excited as a youngling on Christmas morning, I cracked open the box at once, thinking I would try the player's various built-in streaming options to look at some 4K content from YouTube, Netlix, and Amazon Prime. (While Vudu is also on the player, it hasn't been enabled for 4K content, yet). In the past year I have upgraded my pre/pro to a Marantz AV8802A, and my projector to a JVC X750R, to make my system HDCP 2.2 and HDMI 2.0a compliant in anticipation of 4K content. Furthermore, I installed an Atlona (AT-UHD EX 70-2PS) HD-BaseT extender as well as an 18gigabit-per-second (Gbps) high-speed rated Monoprice Cabernet active signal-boosting HDMI cable as a backup. These weren't inexpensive upgrades at all—except for the Monoprice cable, perhaps—but I'm willing to sacrifice a lot to stay on the cutting edge of technology.

Needless to say, I was very disappointed when I hooked up the Samsung to my Marantz pre/pro's DVD input via a 2 meter (about 7 feet) Audioquest Carbon HDMI cable and got...a blank screen. What the…? Frustrated, I switched the pre/pro's HDMI output link to the projector from the Atlona HT-BaseT extender to the backup Monoprice cable and...nothing changed—blank screen.
I'm not one to give up so easily, so I pulled the Samsung out of my rack and hooked it directly to the JVC projector via the 2 meter Audioquest Carbon and...presto, we have a picture! Hmm. Upon initial setup, the player needed a firmware update, so I ran an Ethernet cable from my rack to the player (now sitting under the projector) and hoped the firmware update would fix the connection problem through my pre/pro. Sadly, it didn't.
Early Adopter Blues
Venturing over to AVS Forum I discovered I wasn't alone. We early adopters were in the same boat. Based on the other posts, it seemed like if you had more than a 5 meter HDMI cable running to your display you probably weren't going to get a picture. Not promising for those of us who use projectors that are often a good distance from the rack. But why was this happening?
A little investigation (including looking at the player's output with a friend's HDMI signal analyzer) revealed that the Samsung player's home splash screen (above) gets output at a resolution of 3840 x 2160P at 60Hz with a YCbCr 4:4:4 8-bit signal type. This is the maximum resolution provided for in the HDMI spec and it requires a bandwidth of just under 18 Gbps! Seriously? To add insult to injury, the Atlona product I had installed specifically states that it cannot handle 2160P/60Hz 4:4:4 at that refresh rate, only at the less bandwidth intensive chroma compression 4:2:0 (which signifies a 50 percent drop in data). Isn't HDMI a wonderful thing?
I found a temporary workaround. I discovered I could put a Blu-ray or UHD Blu-ray disc in the player, start the disc, get a picture, then exit the disc and finally see the player's home splash screen menu. By "tricking" the player this way, the splash screen will lock into the last resolution used, which in the case of Blu-ray is 1080p/24Hz 8-bit, or with UHD Blu-ray, 2160P/24Hz 10-bit, which uses far less bandwidth. Unfortunately, though, as soon as I powered-off the player it reverted to the higher bandwidth signal when I powered it back on. Talk about jumping through hoops!
All is Not Lost
I had been planning on doing an article on HDMI cables specifically related to 4K for some time and had been contacting suppliers in late December for samples, so my procurement of sample cables had already began.
One supplier was MyCableMart.com, whose president wrote back to me that their current active 4K HDMI cable at 30ft was not certified to meet 4K@60Hz 4:4:4 and that it would only meet 4K@30Hz. It turns out that the current Redmere chip used for the signal-boosting won't support that resolution—which explains why I ran into issues with the Monoprice that uses the same PRA1700 chipset. Regardless, he did inform me that he had new cables coming out in late January with a new Redmere chipset (PRA1700 Rev. A) that should be up to the challenge. That's what I ended up using for my test. Audioquest was also willing to send me samples of their different cables, but they were upfront in stating that, at cable lengths past 5 meters (about 16 feet), the chances of successfully passing such a high bandwidth signal diminish with each meter beyond that length.