Two Decades With Kaleidescape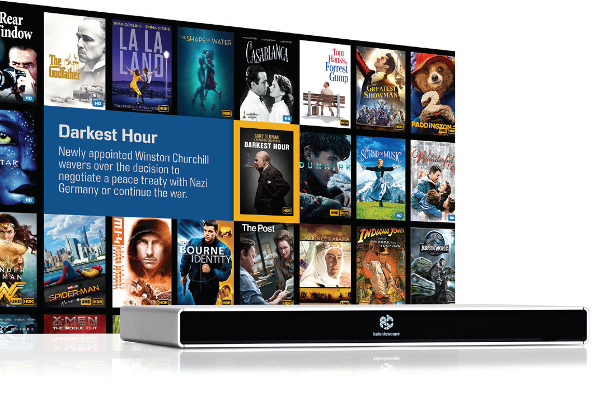 The luxury video business is hard. Don't believe me? Consider companies like Pioneer, Hitachi, Fujitsu, Mitsubishi, Runco, Escient, and ReQuest. And those are just a few brands that have either exited that market or no longer exist. One company that has consistently delivered the highest quality home theater experience since its inception 20 years ago is Kaleidescape.
From day one, the movie server pioneer pushed the technology envelope via its "Kaleidescape experience." Nearly every photo you'll see of a luxury home theater system will feature Kaleidescape's iconic grid-like cover art display. If you experience a high-end A/V manufacturer's theater demo at a tradeshow, the source driving the system is likely to be a Kaleidescape.
I have a unique relationship with the company having covered it from almost the start. I've had my hands on nearly every Kaleidescape component and am fortunate to have a system in my own theater. The first time I heard about Kaleidescape was at the CEDIA Expo in 2003. Another integrator mentioned he was starting to install Gigabit-capable networking hardware to ensure Kaleidescape would be supported in the future. (The company's products gained Gigabit Ethernet status in 2005.)
How do you make a splash in an industry filled with black boxes? Make your box a shiny white one that can't help but stand out. Everything about the first Kaleidescape system was different, and at a time when the digital music library concept was just emerging (Apple announced iTunes in early 2001), the company was on a similar trajectory by making DVD movie collections more manageable.
The first systems were expensive (starting price: $27,000), but they were also just so damn cool. You'd stick a DVD in the tray and it would import the movie bit-for-bit and use the company's online Movie Guide Service to automatically grab high-res cover art and synopsis, rating, runtime, genre, cast, and director info. No more pecking through hundreds of DVD boxes to find a specific title — you could just sit back and instantly access every movie in your library! Browsing your collection was easy and fun, with an onscreen display that could be shuffled and sorted to show similar movies or other categories. And the movie just started when you pressed Play, jumping past the previews and FBI warning straight to the opening frame.
Kaleidescape has remained on the cutting edge over the years by consistently innovating and improving its system through regular hardware and software updates. In 2010 the company introduced its Disc Vault system to handle Blu-ray storage. The M-Class players it introduced at that time also worked with existing movie servers, providing an easy upgrade path for owners.
In 2011, the Movie Guide team introduced bookmarking of scenes, offering a quick way to jump to iconic movie moments. Classic scenes like "Quint Recalls the USS Indianapolis" from Jaws, "I'll Be Back" from Terminator, and "Running from the Boulder" from Raiders of the Lost Ark were pre-marked and instantly accessible, giving users an easy way to demo their home theater systems.
Kaleidescape systems were, and continue to be, designed for the custom installation market, with support for most home automation systems. Like a virtual projectionist, a Kaleidescape server can send "cues" to a system to dim lights when the movie starts, raise them during end credits, and trigger screen masking or projector anamorphic lens adapters.
Something I vividly remember from my first review was talking with Kaleidescape co-founder Cheena Srinivasan, who shared that his company's vision wasn't to be a hardware maker, but an entertainment delivery platform. Before downloads or streaming were even a thing, the goal was to deliver the largest possible video files — movies — to customers directly over the Internet.
Kaleidescape realized this vision in 2013 with the launch of its online movie store. Bit-perfect high-definition movies could be downloaded directly to a customer's movie server, offering a way to experience them with the highest-quality picture and sound.
In 2015, the company launched its current-generation lineup featuring the 4K/HDR-capable Strato player and 24-terabyte Terra movie server. It added 4K/HDR titles to the movie store in 2016, and now offers the most comprehensive list of titles available — over 12,000 from more than 50 studios, including movies, TV shows, and concerts, with approximately 1,200 in 4K/HDR (including around 400 titles that have never been released on Ultra HD Blu-ray disc). Freed from the capacity limitations of the Blu-ray format, Kaleidescape files can contain increased video and audio data over a physical disc.
The company's latest developments include a new 48-terabyte Terra movie server, support for Premium Video on Demand (movies currently screening in theaters) and rentals, with more than 8,000 titles available. Unlike other platforms, Kaleidescape rentals are delivered with full audio/video quality.
One thing that makes the Kaleidescape systems so stable and successful is the company's bespoke kOS operating system, which runs on its own dedicated hardware and is designed and optimized from the ground up for a single purpose: playing back movies. And going forward, home theater enthusiasts can expect more of the same from the company: "Not only do we continue to optimize our industry leading playback system to deliver the best quality content possible today, we are developing future innovations to enhance the home cinema experience," said Tayloe Stansbury, CEO, Kaleidescape.
The Author
For the past 20 years, John Sciacca has worked as a custom installer in South Carolina. In his free time, he enjoys drinking craft beer and watching movies on his 7.2.6 surround system.