Trolls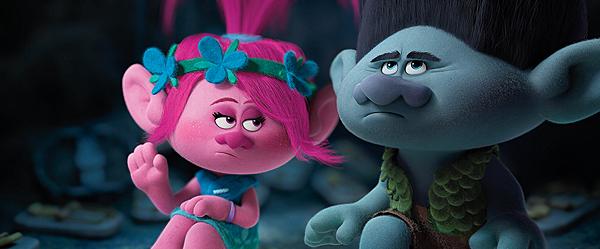 The Trolls were all once captives of the Bergens but escaped decades ago and now ignore the continuing danger. The only cautious Troll is Branch, who by now has warned his fellows so often that he's become an ignored, grumpy, boy-who-cried-wolf survivalist. But when a Bergen does find and kidnap some of the Trolls, Princess Poppy (the happiest among them), sets off to save them.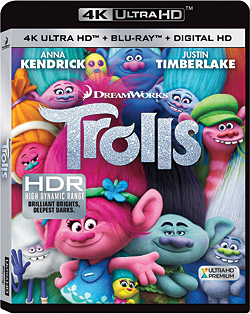 Trolls is a delightful surprise. It's brilliantly animated, warmly funny (though not in the laugh-a-minute style of the Shrek movies), and chock-full of fun musical numbers. Apart perhaps from a simplistic but harmless message (that all you need to be safe and happy is to sing, dance, hug, and party), it's an appealing family film that will enchant the kids and make adults—at least those not named Branch—smile.
The 2.35:1 video transfers could hardly be better. The movie leaped off the screen with brilliant color and crisp resolution. It's mostly brilliantly lit, but the few darker scenes looked fine on both the UHD and HD Blu-ray Discs. I did see small benefits in resolution, dynamic range, and color depth from the UHD, but the differences between the two versions, while visible on careful inspection, are likely to be relatively subtle to most viewers on most displays.
The UHD disc offers Dolby Atmos (the HD version is DTS-HD Master Audio 7.1 only). I reviewed the former, sans Atmos, in 5.1-channel Dolby TrueHD. The audio adds significantly to the film's appeal. While not as spectacularly aggressive as most action movies, this is nevertheless a reference-quality soundtrack for its music, dynamics, and sometimes surprisingly deep bass.
DreamWorks often uses celebrity voice actors, and the lure here is Justin Timberlake as Branch. But it's late in the movie before he ventures beyond speech. He's very good in the part, but don't expect a concert.
The extras include interactive "Sing Along" and "Party Mode" selections for the film (the former with subtitled lyrics, the latter adding user-selectable pop-up features), plus almost an hour of brief featurettes.
Blu-Ray
Studio: DreamWorks Animation, 2016
Aspect Ratio: 2.35:1
Audio Format: Dolby Atmos
Length: 92 mins.
MPAA Rating: PG
Directors: Walt Dohrn, Mike Mitchell
Starring: Anna Kendrick, Justin Timberlake, Zooey Deschanel
There are many definitions of a troll, but as they appear here, in a form first conceived by a Danish woodcarver in 1959 (and subsequently as popular toys), they're tiny, cute creatures with spiky, multicolored hair who do little besides sing, dance, hug, and party. The miserable Bergens, their enemies, believe that by eating a Troll they can be happy—at least for a day.