Holiday Kickoff? A Trio of Trinkets from Kinivo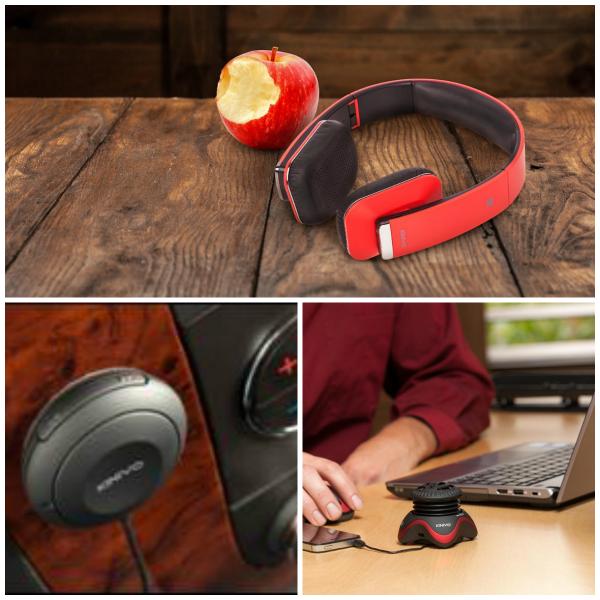 Christmas came early in my house. A package just arrived from Kinivo with an assortment of products that I felt I should share—start spreading that holiday joy just days after Halloween. It's never too early for that, right?
I hate to admit that I've never heard of Kinivo, but I've also never looked a gift horse in the mouth, so I dove right into the package. It contained three products: the Kinivo URBN headphones, the ZX100 mini-speaker, and the BTC455, a Bluetooth car kit.
BTC455 Bluetooth Car Kit
Let's start with the BTC455, MSRP $44.99. Now before you tell me that every car these days comes with Bluetooth audio, remember that the used and vintage car market is alive and well today. Even in the new car market, not every vehicle can stream Bluetooth audio; phone calls, yes—Bluetooth music, not necessarily. The BTC455 is a simple device. The main piece is a small disc that can be semi-permanently mounted on or near your dashboard via Velcro. The disc has a permanently-attached cable that comes out with two parts—one is a 12V power connector and the other is the 3.5mm audio output. If your car doesn't have an AUX input, you're out of luck. The BTC455 is a multipoint system, so two phones can be paired. It uses Bluetooth 4.0 and aptX for better audio capability if your phone supports that protocol.
Pairing the BTC455 is simple—it scans upon powering up. You can use it for hands-free calling and activate voice control with Siri and Google Voice. It has a microphone for both phone calls and phone controls. While streaming music, you can use the disc to skip tracks and pause playback. While it's just as easy to plug in from a phone's headphone jack to the AUX input, using the BTC455 with track control lets you put the phone away and concentrate on driving.
ZX100 Mini Speaker
The next little treat in the box from Kinivo was the ZX100, a cute little speaker that retails for $19.99. This isn't a new product, but it's still on the market. I was prepared to totally hate it. It doesn't have Bluetooth, it only has 3 watts of power, the speaker is small and it has what seemed to me a gimmicky bass resonator. What it does have is a USB connection, a lithium-Ion battery with up to 6 hours of playback, an 3.5mm connection and the ability to daisy-chain more devices. Its controls are a little bit fussy. Press an area on one "leg" for volume up, press another for volume down, another for powering on and off. There isn't much feedback that you're pressing the right spot to activate the controls.
So what did I like about the ZX100? It's insanely convenient. At 3.4 ounces, it's light enough to carry everywhere you need just slightly better sound. I have full desktop speakers that I use when I'm working in my office, but I often take my laptop to the living room or porch, and this little guy can easily come along wherever I set up shop. It sounds better than the laptop's built-in speakers and much better than my phone, so I can play YouTube videos with slightly better clarity and volume. It has a bass resonator that can be compressed when not needed, and when it is extended, it creates a slightly better sound. Is it high fidelity? Absolutely not, but for casual listening, it's better than the built-in speaker in most phones and many laptops, and it's very portable.
URBN Headphones
Saving the best for last, I dove into the URBN on-ear headphones, which retail for $99. Considering that I had never heard of this company until the UPS guy dropped off this box, I wasn't expecting much. I have to say I was surprised. They're very lightweight with a sleek, minimal design. They don't fit very securely, and they do let in a good bit of ambient noise, so you can hear traffic around you. (Guessing that's why they consider these an urban design.) They can be used with the included audio cable, but they have Bluetooth 4.0 with NFC pairing and aptX. The battery life is rated for 20 hours of talk/music playback and an astonishing 800 hours of standby time. The battery charges completely in about 3 hours. They come with a USB charging cable and they collapse to fit into the included sturdy carrying case with storage for the cables.
While they look and feel solid, it only matters if the sound is solid. What was most impressive was the very natural bass sound. It wasn't huge and impactful, but it was accurate and clean. Sadly, there is a bit of harshness in the high-end that wasn't very pleasant especially at louder listening levels. Also, all of the controls are on the right earpiece, and it's very confusing to figure out what each button does, and fiddly even after you've got it sussed out.
It is ridiculously early to start your holiday shopping. However, when this box of holiday goodies showed up, I had no choice but to open it immediately—it's a month too soon to find a Christmas tree to put it under.