Top 5 iPad Apps for Movie Lovers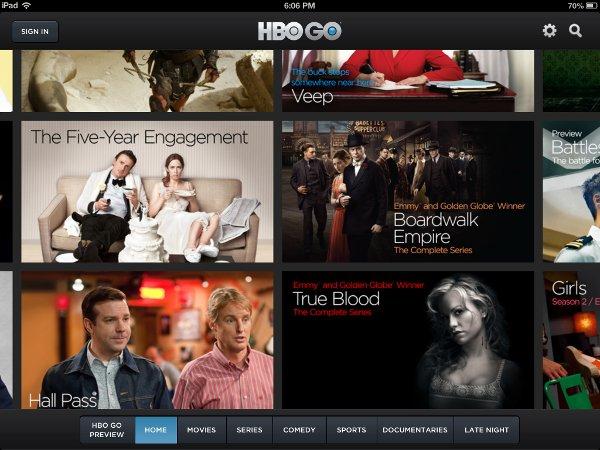 You have your primary screen (the TV), your secondary screen (the computer) and for all of those other times, there's the relative-newcomer third screen: the tablet. And for many of us, this means the Apple iPad specifically. With its large, breathtaking screen—a million more pixels than your HDTV, if you go all Retina on recent models—it delivers a truly cinematic experience just about anywhere. Throw in wired/wireless connectivity to your home A/V rig, a mighty multitasking processor, high-speed Internet access, a deep catalog of elegant applications and up to 128 gigabytes of local storage, and you can begin to understand the allure.
Since the not-so-humble Apple iPad is the "undisputed number one tablet" on the planet, per Apple CEO Tim Cook, we thought we'd take a look at five killer apps that most heartily embrace Home Theater readers'/editors' shared love of movies. All of these recommended apps are free to acquire, while usage fees vary from zero on up.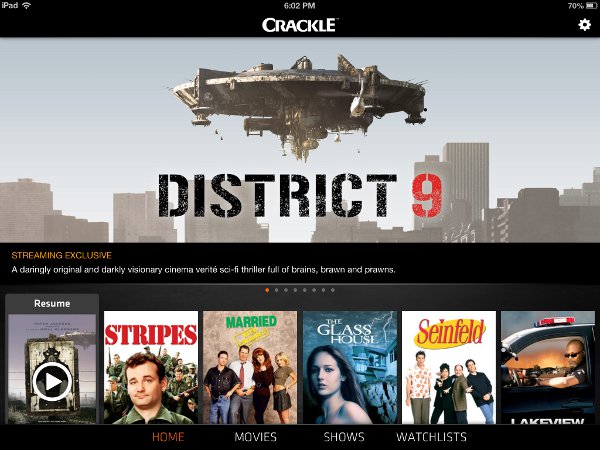 Crackle - Movies & TV
This Sony-owned video streaming service follows an unusual business model, serving up big-name, uncensored Hollywood movies and popular TV shows at no charge. Yes, there are commercial interruptions, some of which seem to occur at almost random moments frankly, but did I mention that it is currently all free? At least one well-known "premium" service I could name uses commercials to defray their operating costs, but hits users with a monthly fee besides. I do find the choice of ads here both ironic (I accidentally clicked through a Surface promo and was given the chance to buy one of Microsoft's tablets via my iPad!) and redundant (it's Food Network… again!) But despite the fact that most of the content I watched was Sony-affiliated, I found the studio's selection to be vast, varied and highly enjoyable. There's even made-for-Crackle original programming, making this one of the most robust freebies you could ask for.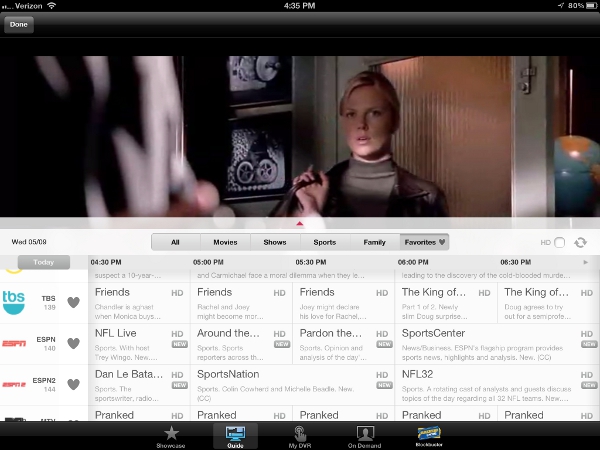 DISH Anywhere for iPad
DISH makes good on their claim to "Take your TV with you" in this seamless distillation of everything that makes the DISH Network satellite service/digital video recorder experience so enjoyable. With this free app—no additional charge for DISH subscribers to use it—every TV channel that you receive at home you can now tune in live on the iPad, in addition to whatever previous recordings you might have stored on the DVR hard drive. It works in conjunction with an Internet-connected Hopper/Hopper with Sling DVR, "Slingloaded" models, and other select boxes with an added Sling Adapter accessory. Managing the DVR from almost anywhere is also a snap, with a searchable program guide and scheduling of new recordings with just a few taps. Combining your complete programming package with an expansive personal archive of captured favorites and now the freedom to watch/control from any place you can jump online is a perfect storm of digital entertainment.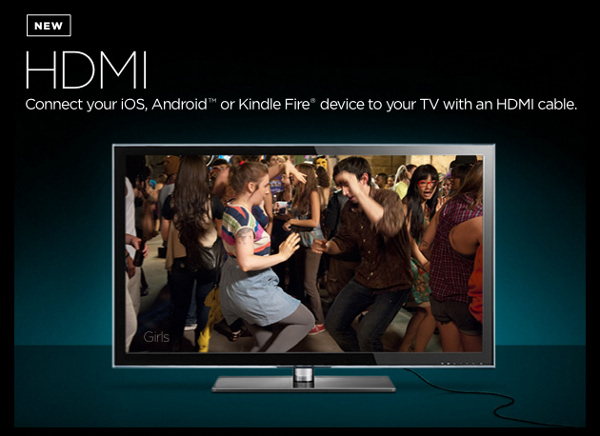 HBO GO
Like the beloved pay channel itself, only better, HBO GO takes the "Home" from Home Box Office and place-shifts it to wherever your iPad can get online, offering an amazing depth of genuinely premium content. There are lots of hot movies for your perusal—recent and vintage favorites—from a range of studios, not just HBO's parent company, Warner. Plenty of HB-Only sports, documentaries and series like True Blood, Boardwalk Empire andGame of Thrones (the veteran pay network seems to be enjoying a renaissance in original programming) are here for the streaming too, as well as classics like The Sopranos and more. It's included at no extra charge for active HBO subscribers, and the app provides some nifty interactive features as you watch certain shows, this in addition to conventional bonus content, much like the featurettes on a Blu-ray disc. Occasional "early premieres" are available online before they air on HBO, and a customized "Watchlist" will even line up the stuff you're interested in, and let you view seamlessly across different devices. AirPlay has also just been enabled, allowing wireless streaming from an Apple TV box to an HDTV, and you can now connect iOS devices to an HDTV via an (optional) HDMI cable when using the HBO GO app.
IMDb Movies & TV
We tried, but we just couldn't find a more comprehensive app/website for all things cinematical. The venerable IMDb (short for "Internet Movie Database") is a well-organized, frequently updated, cross-referenced rabbit hole of movie/TV facts, rumors and opinions that has long been my go-to site for researching movie/disc reviews and preparing for upcoming talent interviews. Film buffs had better not be in a rush, as I for one often find myself exploring way beyond what I came there to find out, filling my head with deliciously obscure yet profound knowledge (read: trivia). Want more? How about trailers for new, classic and "Coming Soon" releases, in addition to photos, reviews and recommendations, all within a completely redesigned iPad interface? And if you enable Location Services on the iPad, you can even purchase tickets for your local movie theater.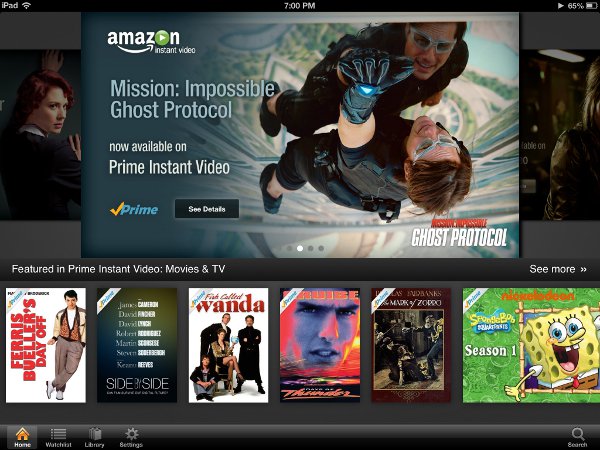 Amazon Instant Video for iPad
Amazon.com has long been a hot destination for affordably acquiring the latest Blu-rays and DVDs, but the site also provides many of those same movies and TV shows to rent or purchase in pure digital form. You can stream 'em, store 'em in The Cloud or download them to local flash memory… and you can watch 'em all on the iPad thanks to the Amazon Instant Video app. The online retail overlords also offer quite the nifty incentive to sign up for their $79/year Amazon Prime Membership: Along with a Two-Day Shipping upgrade on eligible physical purchases and a Kindle eBook lending library, you'll receive streaming access to all "Prime Instant Videos," a growing number of movies and shows from a host of major studios. Some grouse about the somewhat middlin' Prime selection, but keep in mind that these "free" rentals were an afterthought, a late addition to the Two-Day-Shipping-palooza, and they're an all-you-can-eat alternative to fuel your Instant Video iPad app.
Honorable Mention: Home Theater
Grab a free sample, download back issues, and browse complete virtual copies of everyone's favorite resource for gear, movies, lifestyle and more. Once downloaded, you'll find the Home Theater app in the iPad Newsstand, alongside your other periodicals.
LATEST VIDEO