Vivitek Qumi Q6 DLP LED Projector
Vivitek Qumi Q6 DLP LED Projector
PRICE
$599
AT A GLANCE
Plus
Powerful big-picture brightness
Extensive image adjustments
Accurate color reproduction
Exceptional flexibility
Minus
So-so blacks
Slightly soft focus
THE VERDICT
For such a small footprint, Vivitek's Qumi Q6 impresses with its big, bright picture, excellent color, and generous feature set.
Stepping up from the tiny, battery-fed Magnasonic and Sony portables to Vivitek's AC-powered, $599 Qumi Q6 puts you into new territory. At a compact 6.5 inches wide x 1.3 high x 4 deep, it's not going to slip into your pocket, but it will fit easily in a briefcase or backpack, and it comes with a padded carry pouch that holds the projector, its small power brick, the credit-card-style remote, and the included HDMI and HDMI-to-mini-HDMI cables. It's a stylish little thing with rounded corners that comes in seven colors, including the snappy brushed gold of my review sample. There are unraised and fairly invisible touch-sensitive controls on the top for operation and menu access that proved annoying—I inadvertently excited them every time I touched the projector. So I stuck with using the remote.
The Qumi Q6 is loaded with features and connections. There are two HDMI ports (one MHL compli- ant) and a USB port for a flash drive loaded with video or photos; an integrated Office Viewer opens Word, Excel, PowerPoint, text, or PDF documents. You can store content in the Q6's 4 gigabytes of internal memory or tap built-in wireless connectivity from either an Android or iOS device via a third-party app for your device from EZCast. I found the app suitable for use with static content, but less so for streaming video, where it tended to stutter and buffer on hi-res YouTube clips. There's a tiny built-in speaker and a 3.5mm analog stereo audio output. And the Q6 displays 3D video via 144-Hz DLP-Link glasses (not supplied), though only from PC sources playing 1024x768, 120-Hz signals and not from 3D Blu-ray players.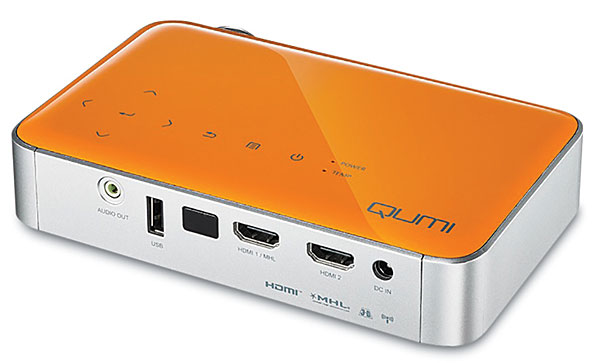 Compared with the true pocket projectors, the Q6 trades a bigger footprint and wall-power requirement for 800 LED-driven lumens of light output, while still delivering 1280 x 800 (WXGA, 720p) pixel resolution from its 0.45-inch DLP chip. The projector is spec'd for images from 30 to 90 inches, and at my target 65-inch size, peak white measured a bright 17.8 ft-L. Image size at 12 ft-L, my suggested minimum for dark-room movie watching, was a large 82 inches. And out of the box, the Q6's color tracked like a more expensive projector's, with grayscale hovering close to the 6500K (D65) color temperature standard across the full brightness range in the Movie preset.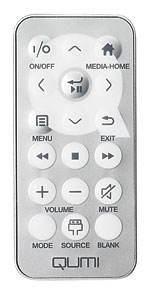 Menu options were closer to those of a more serious rig: about a half-dozen picture modes for presentations, gaming, movie-watching, or other scenarios, including a Bright mode that boosts light output even further but didn't share the accurate color of the Movie preset. Other settings included automatic or manual correction for vertical keystone; three color temps (including the preferred Warm setting for movies); gamma adjustments from 1.8 to 2.4, and the usual contrast, brightness, sharpness, color, and tint controls. A low-power mode provides a slower fan speed, but even when I used the high setting and sat within 3 feet of the projector, I never found fan noise obtrusive, and it disappeared completely when I was watching content at normal volume.
After I did some casual fiddling with the picture controls, image quality was really quite good with the Q6. That field of tall green grass that opens Rogue Nation now looked more natural and saturated compared with the performance of the pocket projectors. And in the excellent Blu-ray transfer of The Martian, fleshtones were well rendered (if perhaps leaning just a bit pink)—notably in close-ups of the crew in their space station and mothership, as well as in the face and torso of stranded astronaut Mark Watney (Matt Damon) as he strips off his space suit early in the movie to dress his body wound. The familiar red, white, and blue NASA logo rang true. The Qumi also nicely handled the dark "gray fence" scene from Ex Machina, where I saw less video noise in the gray slats and no distracting moiré on the vertical lines as the camera panned across.
So, what's not to love? The caveats again fall under the category of nitpicks from a spoiled enthusiast, and they need to be taken in the context of what is still, after all, a pretty small and inexpensive projector. That said, the Q6's worst faults were a fairly high black level compared with what a more expensive and larger projector might do (letterbox bars were closer to a light gray than black) and a lack of really fine focus, especially at 65 inches and beyond. Thanks to the bright, punchy picture, the lack of deep black was easily forgiven, even on scenes in The Martian that mixed bright highlights with the black background of deep space. Focus was mostly sharp, and close-ups easily revealed details in Watney's stubble, as well as in the grass-covered camouflage hat worn by Benji (Simon Pegg) in Rogue Nation. Still, I did find myself frequently revisiting the focus thumbwheel, yearning for that last modicum of sharpness that the Q6's small lens just couldn't muster.
Like I said, these are enthusiast nitpicks. Ultimately, I spent many hours being engrossed by the pictures from Vivitek's Qumi Q6, and I found it a surprisingly good projector that delivered impressive pictures for its size and cost.
Specs
Dimensions (WxHxD, Inches): 6.5 x 1.3 x 4
Weight (Pounds): 1.0
Resolution: 1280 x 800
Brightness: 800 lumens
Inputs: HDMI Ver.1.4b (2, 1 with MHL); USB (Type A) with document reader
Outputs: 3.5mm stereo analog audio
Miscellaneous: Recommended image size (inches), 30-90; throw distance (feet), 3.28 to 9.84
Company Info
Vivitek
(855) 885-2378
vivitekusa.com