Optoma ML750ST DLP LED Projector
Optoma ML750ST DLP LED Projector
PRICE
$549
AT A GLANCE
Plus
Convenient short-throw setup
Bright, big, contrasty pictures
Excellent focus and detail
Great out-of-box color
Minus
So-so blacks
Noticeable fan whine
Wireless dongle not included
THE VERDICT
The enhanced setup and performance from the Optoma ML750ST's high-quality, short-throw lens make this AC-powered mini projector an easy recommendation.
The "ST" in the model number of the Optoma ML750ST stands for "short throw" and denotes the newest version of the previously released (and still available) ML750. A shortthrow lens allows a projector to sit closer to the screen for a given image size. This can be a real convenience when you're trying to blast a large image from a tabletop, which might otherwise require the projector to be placed behind audience members (who cast shadows with every trip to the loo). But I quickly found that a short-throw lens seems to yield another, more significant benefit. I'll get to that in a moment.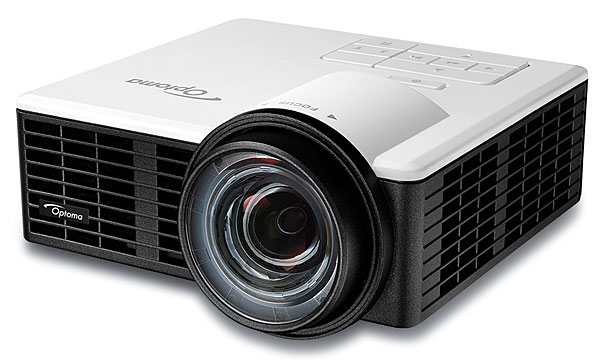 Measuring 4.1 inches wide x 1.5 high x 4.2 deep, the ML750ST is rated for 700 lumens from its LED light source, and it uses a 1280 x 800 (WXGA, 720p) resolution DLP chip. The projector has a single HDMIMHL input, a "universal I/O port" with an included adapter for a VGA computer connection, a microSD card slot that adds up to 32 GB to the onboard 1.5 GB of internal memory, and a USB port for a thumb drive. Like the Vivitek Qumi Q6, which costs $50 more, there's an integrated document reader, but unlike the Q6, wireless mirroring from an iOS or Android device requires an optional USB dongle (model WUSB, $30); as with the Q6, wireless connectivity requires the use of an EZCast app. Viewing 3D requires a PC-driven 1024x768, 120-Hz signal and DLP-Link glasses (not supplied). Control is via buttons on the projector's top or the included credit-card remote. A protective carry bag is provided.
The Optoma's menus are fairly sophisticated and offer Cinema, Photo, Eco, Bright, and PC presets with adjustable contrast, brightness, saturation, and hue settings, along with three color temp options. The Cinema mode was essentially accurate for contrast and brightness, and grayscale tracking stayed close to the D65 standard. Manual or automatic vertical keystone correction is provided.
As for that extra benefit of a short-throw lens: Upon setting up the Optoma, I quickly realized that its proximity to the screen appears to give it more efficient use of the available light output. The projector threw its 65-inch image from just 44 inches away from the screen, much closer than any other projector I tested, and it gave me a super-bright (for an LED mini projector, anyway) 23.1 ft-L peak white output. For the sake of comparison, the Vivitek measured a still excellent 17.8 ft-L at the same image size from 87 inches away, though with 100 more rated lumens output.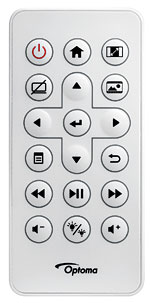 The Optoma's brightness edge was quite noticeable, and with black levels comparable to the Q6's, the added brightness also brought it some additional contrast and punch. The Martian suddenly looked awesome in a way it hadn't before, taking on the kind of engaging brightness, contrast, and color that I've seen from this disc on my reference projector. The colors generally seemed more saturated and had more pop, and I began noticing things like the American flags on the astronauts' space suits. Meanwhile, stark whites displayed in the exteriors of the space ships or in the pristine cleanroom-like interiors were appropriately neutral, and shadow details became more obvious in darker areas of the image. While watching the Rogue Nation opener, I noticed for the first time, in the background, the blue of the sky and the white of the clouds—and I even noticed that the woods behind the field where Benji is hiding were shot near the twilight hour and hanging onto their last bits of fall color. Focus, adjustable via the Optoma's lens ring, remained satisfyingly crisp at all times, even when I temporarily blew the image up to my full 92-inch screen.
Like the Vivitek, however, the $550 ML750ST was not without its faults. Deep blacks remained fairly light by enthusiast standards, though again delivered no distracting penalty on most content, thanks to the high brightness. More serious to me was fan noise that, though not particularly loud, seemed higher in pitch than I'm used to and called some attention to itself within 5 feet or so of the projector. It was drowned out by movie soundtracks at normal volume but might be distracting during a slide presentation. And though the Optoma is rated for an image up to 200 inches, don't count on that. At 170 inches, the largest I could test in my room, it was way too dark to see any of what makes this projector's performance stand out.
But at any reasonable image size up to 80 or 90 inches, the ML750ST was indeed special. At the beginning of my survey, I knew I'd have to lower my enthusiast expectations and account for the engineering trade-offs required to achieve compact size and affordability. What I didn't expect was to find even one projector among four that I could comfortably recommend for even quasi-serious movie watching. No, the Optoma won't go as bright or as black as my $4,000 reference projector. But it practically fits into the palm of my hand, and it threw a highly satisfying image for my critical eye at about one-seventh of the price. The ML750ST just wowed me with its combination of performance, portability, and low cost. It's a great value.
Specs
Dimensions (WxHxD, Inches): 4.1 x 1.5 x 4.2
Weight (Pounds): 0.8; power supply, 0.3
Resolution: 1280 x 800
Brightness: 700 lumens (LED Brightness spec)
Inputs: HDMI 2.0, with MHL; USB (Type A) with document reader; universal I/O (VGA with supplied adapter); microSD; Wi-Fi mirroring (optional dongle required)
Outputs: 3.5mm stereo analog audio
Miscellaneous: Recommended image size (inches), 25-200; throw distance (feet), 1.4 to 11.3
Company Info
Optoma
(888) 289-6786
optomausa.com