Ten More Must-See Rockumentaries to Shelter in Place With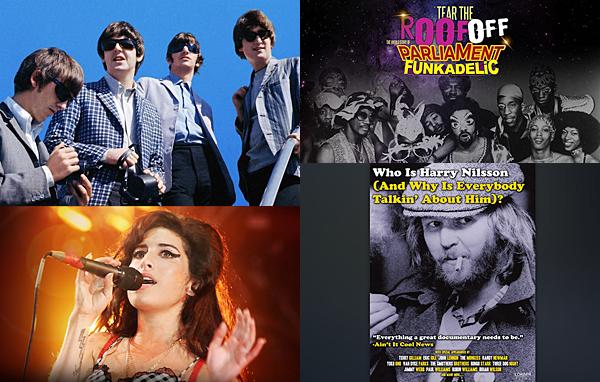 So . . . seen anything good lately? Now that we have almost nothing but time on our hands as we collectively self-quarantine behind closed doors and chill in front of our screens, there's no better time than the here and now to catch up on all the great rock documentaries we've been meaning to delve into via the streaming universe. Naturally, we here at S&V assume you've already devoured—and loved—the half-dozen rock docs I recommended
here
just a few short weeks ago, so what should you watch next?
Glad you asked.
For this rockumentary-centric sequel (which is most decidedly NOT subtitled Electric Boogaloo), I went back to the streaming well and selected ten additional rock docs of note from Netflix, Prime Video, and Hulu for a cumulative 15 hours and 9 minutes more of eminently viewable rock & roll-related history lessons. One fine-tuning note before you get started, however—since all these rockumentaries are supremely dialogue-heavy, you may need to adjust your center channel for each viewing/listening session, as no two docs here (there, or anywhere, for that matter) are mixed/presented at comparable volume levels. And now, on with the rockumentary show!
THE BEATLES: EIGHT DAYS A WEEK – THE TOURING YEARS (Hulu)
Until we get Peter Jackson's long-awaited recut version of Let It Be later this year, Eight Days a Week, Ron Howard's 2016 widescreen look at The Beatles' life on (and off) the road, is at the toppermost of The Fabs' docu-canon. It's a fairly well-known fact that The Beatles stopped playing live in the mid-1960s because their shows became more about the spectacle rather than the performances themselves, and Eight Days provides ample evidence of such, both visually and aurally. As drummer Ringo Starr notes about playing in the fishbowl amidst 56,500 screaming fans at New York's Shea Stadium, "I couldn't hear anything at all, so I followed their asses" — as in, he reacted to the way guitarist/vocalist John Lennon and bassist/vocalist Paul McCartney's respective backsides moved to the grooves they were making. Their markedly young audiences' cacophonous, high-pitched shrieking consistently surrounds you in the overall mix—one overseen by current Beatles remix/remasterer Giles Martin, and one he didn't need to goose at all to get the effect across in the least. The Beatles' resolve to leave the road behind and regroup as a stellar studio collective ultimately led to the creation of a number of long-playing album masterworks (Sgt. Pepper, The Beatles, Abbey Road, et al) that continue to stand the test of time. And that's something I'll gladly take NINE days a week, if at all possible.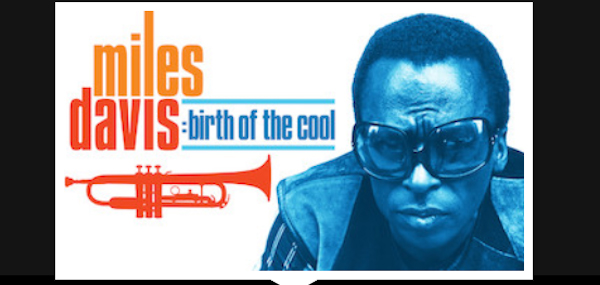 MILES DAVIS: BIRTH OF THE COOL (Netflix)
The lengths fellow artists and lifelong admirers alike go to in 2019's Birth of the Cool to describe all the groundbreaking sounds Miles Davis got with his heavenly trumpet is truly remarkable—but they all paint quite the vivid picture for how one of the 20th century's undisputed jazz innovators kept upping his creative ante. Key audio selections amassed from Davis' be-bop origins, the height of the Miles Davis Quintet improv era, the late-1960s electrified futuristic funk of Bitches Brew, and his electronic/hip-hop foreshadowings all serve to highlight his inherent ingenuity, not to mention the contributions of the many legendary sidemen Miles worked with over the years to boot (including the likes of Charlie Parker, Ron Carter, Tony Williams, Herbie Hancock, and scores more). Director Stanley Nelson and his Cool producers were also quite wise in tapping Carl Lumbly (Alias, the Justice League animated series) to replicate Davis' infamous vocal rasp in all the voiceovers that were directly taken from the man's own words, as Lumbly nimbly nails all the shades and tones of the master's wispy inflections at every turn. Without a doubt, Miles Davis' avatar could replace the word "cool" in any dictionary on earth, and everyone would instantly get the parallel.
20 FEET FROM STARDOM (Netflix)
Background singers were clearly ahead of these socially distanced times as depicted in 2013's Twenty Feet From Stardom. (In case you're wondering, while Twenty is spelled out in the doc's actual title, it appears only in numeric form on Netflix's menus as replicated above.) The sound is designed to steer a clear down-the-middle path for presenting the myriad of angelic voices and many of the innovative ways they've supported the bands and artists in front of them for decades on end. (Audio geeks will also get a kick out of the visualized variations of logos for phrases like "High Fidelity," Vivid Stereo," and "Stereophonic" that are part of the onscreen graphics surrounding each interviewee's name.) Here, via director Morgan Neville's keen eye, the life and career journeys undertaken by the likes of Darlene Love, Lisa Fischer, and Merry Clayton will all tug at your heart. Your ears will melt at the control Fischer displays during a solo-session scat clinic, as well as her improv and intonation mastery following Sting's supportive push during a rehearsal for his "Hounds of Winter." That said, Stardom's best moments come when Clayton returns to the studio to recount the night she was called out of bed (with her curlers intact!) to cut a backing vocal for The Rolling Stones' 1969 Let It Bleed classic, "Gimme Shelter." Watching both her and Stones frontman Mick Jagger separately react and grin broadly to the playback of her taking the key lines, "Rape! Murder! It's just a shot away!" up another octave to reach that signature moment with the slight crack in her voice is truly priceless. The smiles on their respective faces instantly erase any distance, real or imagined, between star and backup.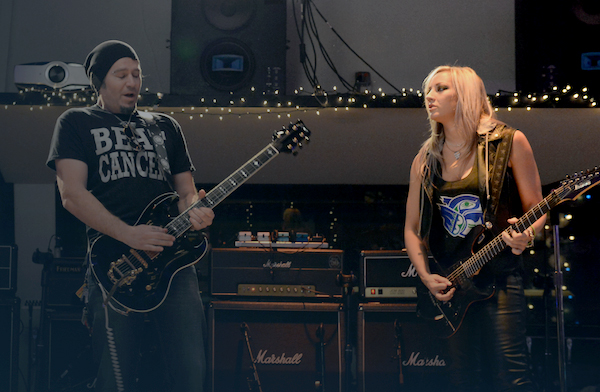 HIRED GUN (Prime Video)
This one could almost be retitled Five Feet From Stardom, since many a hired gun tends to stand closer to their respective frontmen than some of their other bandmates, but I digress. 2017's Hired Gun palpably gets across the urgent "play today, gone tomorrow" feeling many sidemen and sidewomen feel practically every time they get onstage, seeing how what sometimes feels like a surefire long-term gig can be halted at a moment's notice due to career shifts, personality conflicts, or creative differences. Director Fran Strine makes sure to get great coverage of studio-shot guitar and drum solo spots that are all mixed right down the middle, giving you the flavor of each highlighted player's style. (Huzzahs galore to guitarist Phil X and drummer Kenny Aronoff here.) Some of the hotshot hired guns even come together for full band performances that get interspersed throughout the various interview segments. (I also happen to agree with the suggestion to call them the On the Side Band.) I was quite fascinated to hear how former Billy Joel drummer Liberty "Lib" DeVitto suggested the celebrated Piano Man change the original reggae tempo of his "Only the Good Die Young" demo to instead springboard from the jazzier intro Lib had offered up, something he had modified from Mitch Mitchell's tasteful opening to The Jimi Hendrix Experience's 1967 lead-off Axis: Bold as Love track, "Up From the Skies." As guitarist Jay Graydon (featured soloist on Steely Dan's "Peg") oh-so-perfectly puts it, "Before Pro Tools, there were pros," and Hired Gun is a pro's pro chronicle all the way.
THE WRECKING CREW (Hulu)
Lovingly shot by Denny Tedesco, son of the late studio guitar master Tommy Tedesco, 2008's The Wrecking Crew tells the tale of the 12 vital California-based session musicians (or 15, or 30 — no one seems to know for sure exactly how many of them there really were!) responsible for the backing tracks on many of the initial rock era's most endearing hits ("The Beat Goes On," "Good Vibrations," "You've Lost That Lovin' Feelin'," and "California Dreamin'," to name barely a few). Just hearing the telltale beats, riffs, and hooks created and played by the likes of drummer Hal Blaine, bassist Carol Kaye, and Tedesco himself as isolated from the finished tracks all go to show just how invaluable they were to the making of the soundtrack to many of our lives. As visionary Beach Boys impresario Brian Wilson notes, The Wrecking Crew were the only musicians he wanted in the studio to lay down the bed tracks for iconic albums like 1966's Pet Sounds because he felt "the spirit and the know-how" behind what they did was "the focal point of the music." Hearing the Crewmembers recount exactly how the ceramic walls and echo chamber in Phil Spector's favored Gold Star Studios in Los Angeles contributed to the "swimming" echo and individual track leakage that comprised the infamous Wall of Sound unlocked the secret sauce for many a track that still wrecks me to this day, baby.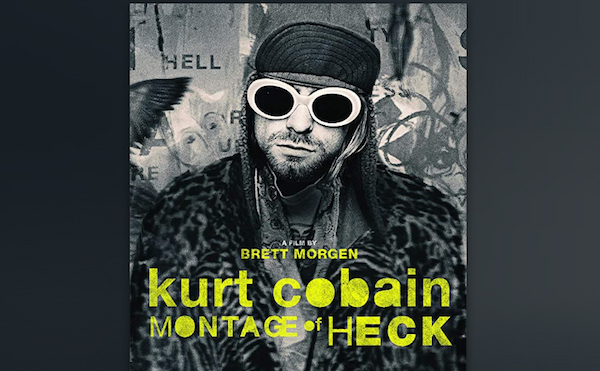 KURT COBAIN: MONTAGE OF HECK (Prime Video)
The ever-popular tortured artist effect is in full swing during the entirety of this two-hour warts-and-all look at the life and psychologically damaged times of Nirvana's late frontman, Kurt Cobain. Directed by Brett Morgen (who also helmed The Rolling Stones' quite revealing 2012 doc centered around their off-camera interviews, Crossfire Hurricane), 2015's Montage delves river-deep into the man's inner workings, and is further enhanced by colorfully illustrated animated sequences along with a myriad of telling lines, lyrics, drawings, and poetic musings literally coming to life off the pages of his many personal notebooks. This doc (which initially aired on HBO) also reinforces Cobain's intrinsic knack for writing catchy melodies in songs that were often slathered with punkified headbanging crunch (see the slyly subversive "Come as You Are" and most especially the gamechanging "Smells Like Teen Spirit"). The compositional thread of the most affecting song in the Nirvana canon, "All Apologies," harvested here from the band's infamous 1994 MTV Unplugged episode, tells a most haunted tale. Note the arc of Cobain's revealing lead vocal, which is equal parts steely reserve, measured confession, outright shame, and utter vehemence. Plus, during this and the other included Unplugged clips, you can zero in on all the fibers and textures apparent on Cobain's infamous "lived-in" green mohair cardigan, which sold at an auction for $334,000 last October. Depending on your streaming plan, you may have to shell out an additional rental fee to see it, but it's one Heck of a legacy laid bare that's totally worth the added freight.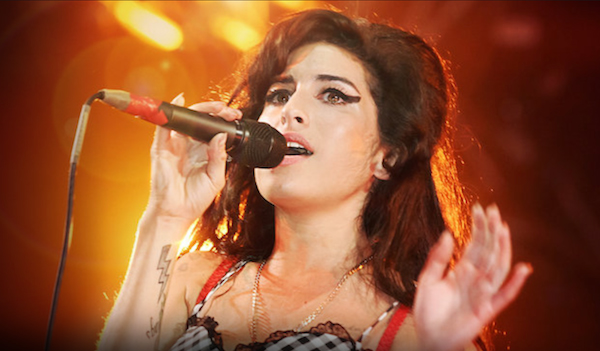 AMY (Netflix)
While 2015's Amy propels forward via a trajectory hellbent on reaching its seemingly unavoidably sad final note, Amy Winehouse's innate talent at creating a modernized blend of R&B, jazz, and soul simply cannot be denied. Director Asif Kapadia makes sure there are plenty of opportunities to let Winehouse's truly unique voice (the reigning benchmark for the 21st Century until Adele emerged in full bloom) do the bulk of the talking all throughout these two-plus hours that, like it or not, had to be interspersed with her unavoidable tabloid exploits. Thankfully, dialog editor Tony Lewis heroically makes sure the sound design for challenging home recordings came up to spec, while Kapadia and his video team did wonders with the most intimate, then-little-seen footage that came from of-era MiniDVs, home video cameras, and DVD recorders. Most telling is the extended sequence with Winehouse, then a virtual unknown, working out all the nuances and subtleties for "Valerie" and "Back to Black" in a tight vocal booth in producer Mark Ronson's New York studio in 2006. It's chilling to watch, and hear, her observation about "Black" after she's clearly nailed it: "Oh, it's a bit upsetting at the end, isn't it?" Though Winehouse ultimately said "no no no" to a full-life rehab, Amy goes a long way in shoring up the legacy of yet another career vocal giant gone too soon.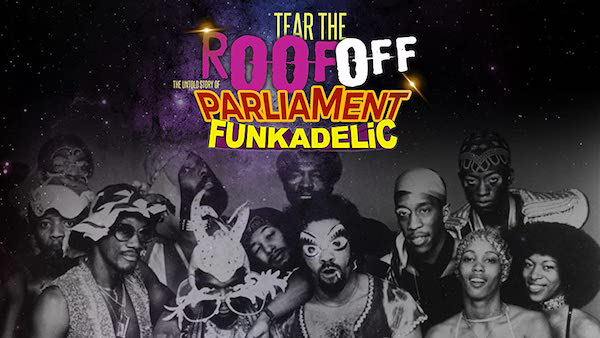 TEAR THE ROOF OFF: THE UNTOLD STORY OF PARLIAMENT FUNKADELIC (Prime Video)
Bobby J. Brown's 2016 hourlong doc examines the seedy underbelly that permeated the ultimate merger of 1950s New Jersey-bred R&B doo-wop innovators The Parliaments with the down-and-dirty funky soul of their original backing band, Funkadelic. There's no disputing the mad genius of George Clinton and his abject will in bringing the P-Funk sound to arena-filled, hyped-up audiences during their 1970s heyday, though there IS plenty of dispute when it comes to examining the treatment of his bandmates, many of whom share their stories—the good, the bad, and the ugly—here, no-holds-barred. Unfortunately, Tear the Roof Off includes no direct participation from Clinton himself to either counter or confirm their claims (or even to toot his own freaky horn). That being said, it's still a fascinating look at how prescient P-Funk were in predicting decades in advance that an African-American president would get to the White House (hello, Chocolate City!) and the way they showed us how to land a life-size spaceship onstage. Not only that, but we get the self-admitted revelation that Clinton culled the signature bass line for P-Funk's 1976 Top 5 Soul chart hit "Give Up the Funk" from the innovative low-end tones on David Bowie's 1975 No. 1 Pop hit, "Fame." Regardless of any pitfalls, Tear the Roof Off is one Funkin' A good time.
KYGO: STOLE THE SHOW – DIRECTOR'S CUT (Hulu)
How does one man go from posting mild-mannered remixes on Soundcloud (check out his take on Ed Sheeran's "I See Fire," for starters) to being the first artist ever to glean over 1 billion (that's billion with a capital B!) streams on Spotify? If you're the Norwegian DJ known as Kygo, it's fascinatingly chill, as 2017's Stole the Show (which initially debuted as an Apple Music doc) clearly shows. Welcome to the cool breeze of tropical house, an electronic style of music that could also be described as, "What if yacht rock had a comparable EDM counterpart?" It's illuminating to see how the yin-yang relationship between Kygo and Myles Shear, his whirling dervish of a manager, comes together to literally take over the modern era's burgeoning streaming world. Their journey to the top culminates with a sold-out headlining show at Barclays Center in Brooklyn, New York in 2016, one that's beautifully lensed by director Saman Kesh to show just how a new generation of concertgoing fans truly appreciate the ways bursts of fireworks, flying confetti, and their own glowing bracelets all add up to a stunning, shared live experience. It also doesn't hurt that Kygo's own ace keyboard chops (which he began developing on his father's piano at age 3 or 4) buttress his knack for melody and lyrics brought to life by a series of impassioned vocalists. Here, Kygo shows us the wave of the future, one trop house drop at a time.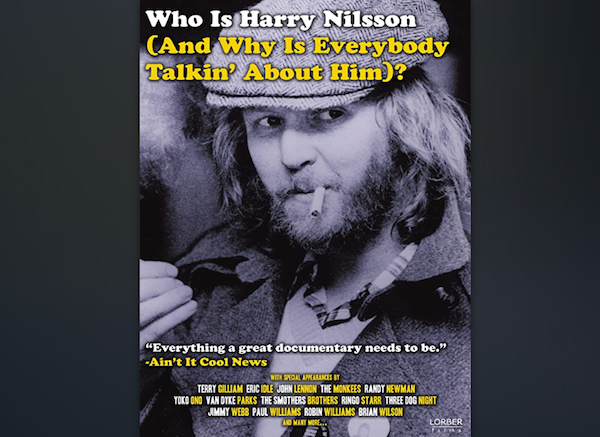 WHO IS HARRY NILSSON (AND WHY IS EVERYBODY TALKING ABOUT HIM)? (Prime Video)
The short answer to this 2010 doc's titular Q may in fact be, "Harry Nilsson's the guy who wrote a number of uber-popular songs you hear somewhere in your life practically every day and can't get out of your head—but in a good way." True, perhaps director John Scheinfeld spends too much time on Nilsson's inevitable hardscrabble decline as both an artist and a person—though, even so, Nilsson was a man who literally went out with the roar of an actual earthquake and not a whimper when he passed away in 1994. Yet one can't help but rubberneck in wonder at the sheer audacity of the infamous "Lost Weekend" Nilsson spent with his good friend John Lennon as they maddeningly heckled The Smothers Brothers at the Troubadour in Hollywood (and subsequently got tossed out of the club as a result). But as the doc rolls on through its well-cut first half—one that's interspersed with scores of A-list talking heads and keenly selected excerpts from Nilsson's own audio diaries—you realize just how many Nilsson songs you really DO know. Whether it's the X-rated kiss-off punchline of "You're Breaking My Heart," the breaking-point ache achieved by extending the "ihh" in the word "live" during the heightened choruses to "Without You," his Midnight Cowboy-appropriated single rendition of Fred Neil's "Everybody's Talkin'" (wherein the line "the echoes of my mind" take on another rich layer based on its production), Nilsson had chops for days. Make sure you watch all the way through the credits (and close that inevitable lower-right-quadrant Prime Video "Next Up" window too!) so you can enjoy Eric Idle's lovingly cheeky acoustic tribute, "Harry." Everybody's just wild about, well, you should know exactly who by now.